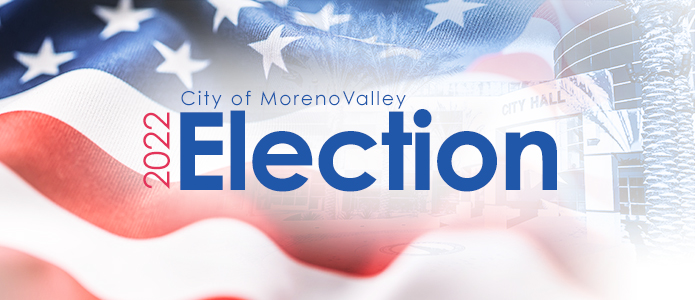 Notice of Election

(Tuesday, November 8, 2022)
Election Information
The City of Moreno Valley is a general law city. Effective with the November 2016 election, the City Council consists of four Council Members, elected by and from a geographical district, and a Mayor elected at large. 
The next general municipal election for the City of Moreno Valley will be held on November 8, 2022 for three Council seats; District 2, 4 and the Mayor's. Council Members serve four-year staggered terms and the Mayor serves a two‑year term.
The nomination period commenced on Monday, July 18, 2022 and ends at 4:30 p.m. on Friday, August 12, 2022.
Please note*
If an incumbent does not file for re-election, the nomination period will be extended to 5:30 p.m. on Wednesday, August 17, 2022 for the corresponding district.
**Qualified candidate forms will be published after the nomination period has closed.
Official Notice of Election: In English | en Español
Get Involved — Run for Office
Please contact the City Clerk's office for more information.
For more information about this election and voting in Riverside County, check the Riverside Registrar of Voters website: voteinfo.net.
Active Political Action/Open Committees
Committee forms will be posted here. Political Action Committee forms are posted on the PAC/Open Committees page.