The City of Moreno Valley provides trash, recycling and special waste handling services to residents and businesses through a contract with Waste Management. No other haulers are authorized to operate within the City.
Place all waste in the appropriate container and close the lid. See Pick the Right Cart.

Trash, recyclables and greenwaste placed outside of carts will not be collected.

Place your carts at the curb by 6 am on your collection day.

Roll carts into the street and place them against the curb with the handles facing your home.

Place carts at least two feet apart from other carts and objects.

Emptied carts must be removed from curbside by 6 pm on the same day and placed out of public view.
Here's what should go in each cart:
Gray Cart — Recyclables
Flattened Cardboard and Paperboard
Food and Beverage Containers
Food and Beverage Cans
Glass Bottles and Containers
Paper
Do Not Include
No Loose Plastic Bags
No Serveware
No Plastic Containers
No Foam Containers
No Hazardous Waste
Green Cart — Greenwaste
Food waste and soiled paper
Produce
Meat, Fish and Poultry
Dairy
Bread, pasta, rice, grains, coffee grounds, and food-soiled paper
Yard Waste
Do Not Include
No Loose Plastic Bags
No Foam Containers
No Clothing, Furniture or Carpet
No Hazardous Waste
Maroon Cart — Trash
Animal Waste
Disposable Diapers
Broken Ceramic Dishes & Pots
Garden Hose
Candy, Snack and Food Wrappers
Chip Bags
Foam Containers
Do Not Include
No Hazardous Waste
No Electronics
No Batteries, Tires or Paint
No Flammable Material
Here's an illustration:
Trash Schedule
New Waste Collection Calendar and Reminder System
Moreno Valley, in partnership with WRCOG has launched a new waste collection calendar and reminder system. You can look up the collection schedule for your address and sign up to receive collection day reminders (email, phone call, text message). You can also print your collection schedule, or embed it into your personal iCal, Google Calendar, or Microsoft Outlook Calendar.
The new systems includes a material look-up tool, called the Waste Wizard. Try it out: search for materials like "Newspaper," "Wrapper," "Pool chemicals," "Sharps," or "Clothes." There is also a fun Waste Sorting game . After each level, you can customize a digital park. At the end of the game, you can print a certificate of achievement.
Access the new system online here, or download it to your mobile device:
This map shows the pickup locations/dates for residents in the City: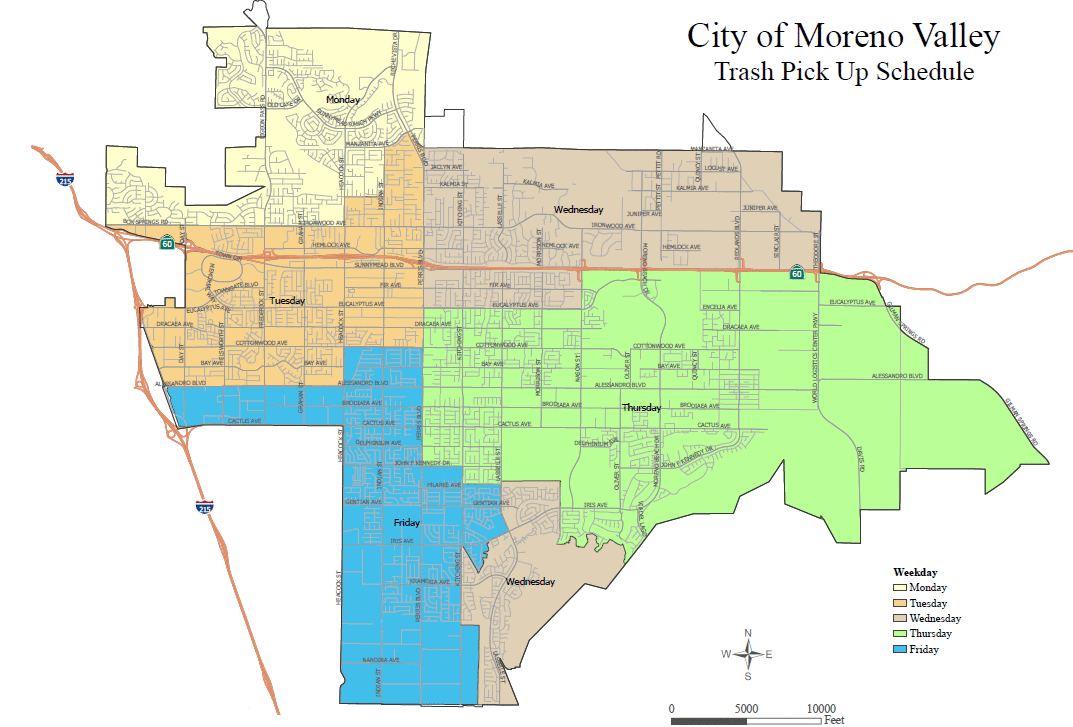 Questions & Answers