The City of Moreno Valley provides trash, recycling and special waste handling services to residents and businesses through a contract with Waste Management. No other haulers are authorized to operate within the City.
Place all waste in the appropriate container and close the lid. See Pick the Right Cart.

Trash, recyclables and greenwaste placed outside of carts will not be collected.

Place your carts at the curb by 6 am on your collection day.

Roll carts into the street and place them against the curb with the handles facing your home.

Place carts at least two feet apart from other carts and objects.

Emptied carts must be removed from curbside by 6 pm on the same day and placed out of public view.
Here's what should go in each cart:
Gray Cart — Recyclables
Cardboard
Detergent boxes
Cardboard egg cartons
Food boxes
Aluminum/Tin
Bottles/Jars
Bulk Mail
Paper Bags
Magazines
Newspapers
Office Paper
Phone books
Cleaning products
Milk/Water jugs
Soda Bottles
Plastic Bottles
Green Cart — Greenwaste
Grass & Leaves
(loose — not bagged)
Lawn Clippings
Pruning & Weeds
Small Cuttings from Bushes and Shrubs
Twigs and Small Branches
Wood Chips
Maroon Cart — Trash
Animal Waste
Disposable Diapers
Food Waste
Drinking Glasses
Glass or Ceramic Plates
Palm Fronds & Cactus
Plastic Baggies
Plastic Wrap
Soiled Napkins & Paper Plates
Foam Egg Cartons
Waxed Paper
Window Glass & Mirrors
Plastic Grocery Bags
Trash Schedule
New Waste Collection Calendar and Reminder System
Moreno Valley, in partnership with WRCOG has launched a new waste collection calendar and reminder system. You can look up the collection schedule for your address and sign up to receive collection day reminders (email, phone call, text message). You can also print your collection schedule, or embed it into your personal iCal, Google Calendar, or Microsoft Outlook Calendar.
The new systems includes a material look-up tool, called the Waste Wizard. Try it out: search for materials like "Newspaper," "Wrapper," "Pool chemicals," "Sharps," or "Clothes." There is also a fun Waste Sorting game . After each level, you can customize a digital park. At the end of the game, you can print a certificate of achievement.
Access the new system online here, or download it to your mobile device:
This map shows the pickup locations/dates for residents in the City: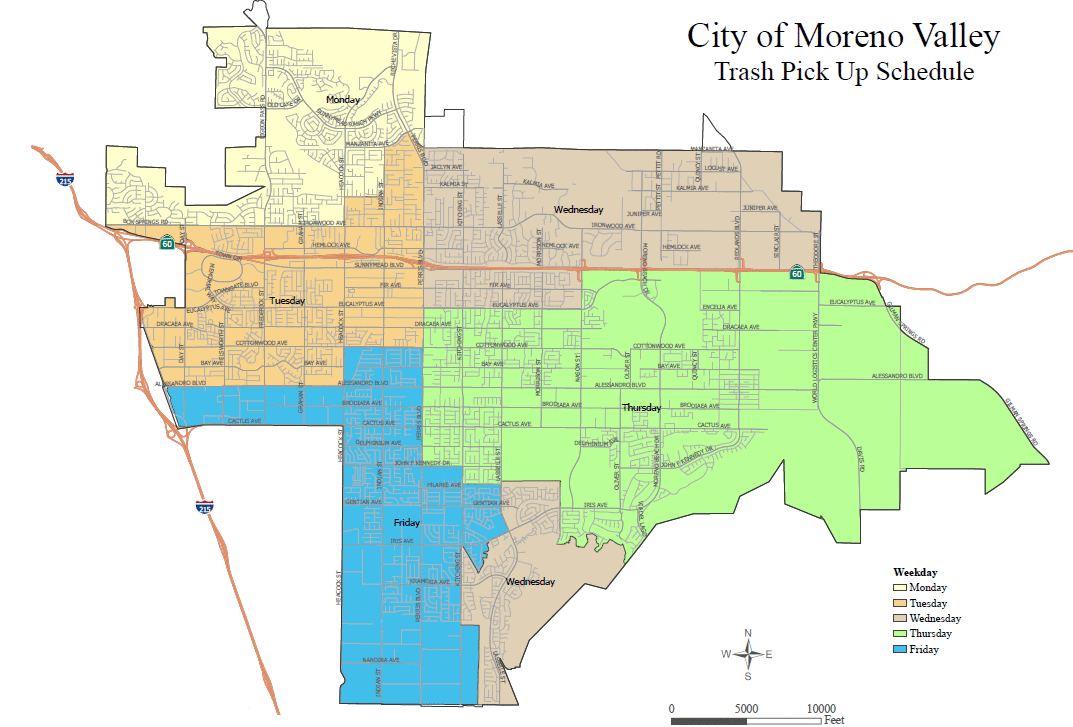 Questions & Answers