City of Moreno Valley Honors Kobe Bryant with Special "M" Lighting
Box Springs Mountain Icon to Glow Purple and Gold in Tribute to Late NBA Star and Eight Others
For immediate release: January 27, 2020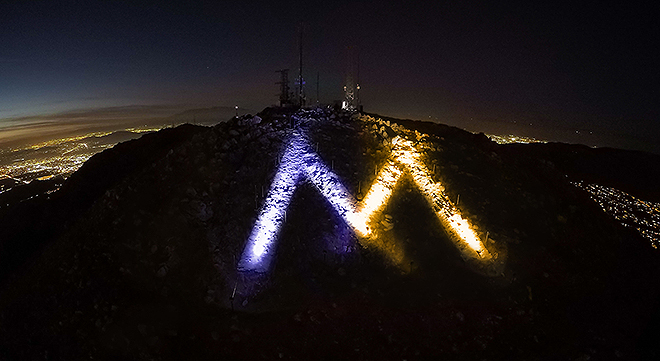 Moreno Valley's iconic "M" on Box Springs Mountain will be lighted in purple and gold tonight, January 27, in honor of Kobe Bryant. The famed Los Angeles Laker lost his life yesterday in a helicopter crash. Also killed were his 13-year-old daughter and seven others.
"Kobe Bryant was one of the greatest basketball players of all time," explained Dr. Yxstian Gutierrez, Mayor of Moreno Valley, "and over his 20-year career and after, he had become a beloved member of the Southern California community. In recognition of all those killed, and in honor of Kobe's achievements and the high esteem in which his memory will always be held by so many of us in Moreno Valley, we'll light the M for them tonight."
The City lights the M in various colors almost nightly in recognition of causes and people especially important to the community.
# # #
Upon request, this news release will be made available in appropriate alternative formats to persons with disabilities, in compliance with the Americans with Disabilities Act of 1990. Any person with a disability who requires a modification or accommodation in order to participate in this meeting should direct such requests to Guy Pegan, ADA Coordinator, at 951.413.3120 at least 72 hours before the meeting. The 72-hour notification will enable the City to make reasonable arrangements to ensure accessibility to this meeting.