Moreno Valley Hosts Annual Inland Empire Commercial Real Estate Conference
For immediate release: January 23, 2020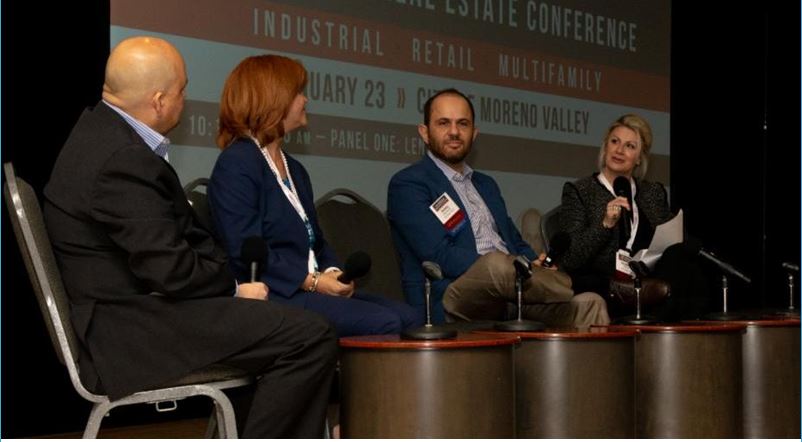 Commercial real estate lenders discuss the business development climate in the Inland Empire at the Annual Inland Empire Commercial Real Estate Conference held in Moreno Valley, January. 23, 2020.
Commercial real estate owners, developers and property managers from across Southern California along with economic development executives, buyers and lenders active in the retail, industrial and multi-family sectors converged on Moreno Valley today for the Annual Inland Empire Commercial Real Estate Conference.
The event, held Jan. 23 at the City's Conference & Recreation Center, featured speakers who provided insight into economic trends affecting commercial real estate in what is one of the nation's most active markets.
"As a center of commercial real estate development in the region, we were proud to host this important event," said Dr. Yxstian Gutierrez, Mayor of Moreno Valley, the second-largest City in Riverside County. "Commercial development has been the catalyst for much of the tremendous job growth we've seen in Moreno Valley."
The Mayor noted that the City's population has grown five percent in the past five years, and that Moreno Valley has added approximately 20,000 new jobs in just the past six years. The City's employment rate stands at 96%.
# # #
Upon request, this news release will be made available in appropriate alternative formats to persons with disabilities, in compliance with the Americans with Disabilities Act of 1990. Any person with a disability who requires a modification or accommodation in order to participate in this meeting should direct such requests to Guy Pegan, ADA Coordinator, at 951.413.3120 at least 72 hours before the meeting. The 72-hour notification will enable the City to make reasonable arrangements to ensure accessibility to this meeting.