Moreno Valley Honored as "Public Partner of the Year"
Recognition from Inland Empire Economic Partnership
For immediate release: January 17, 2020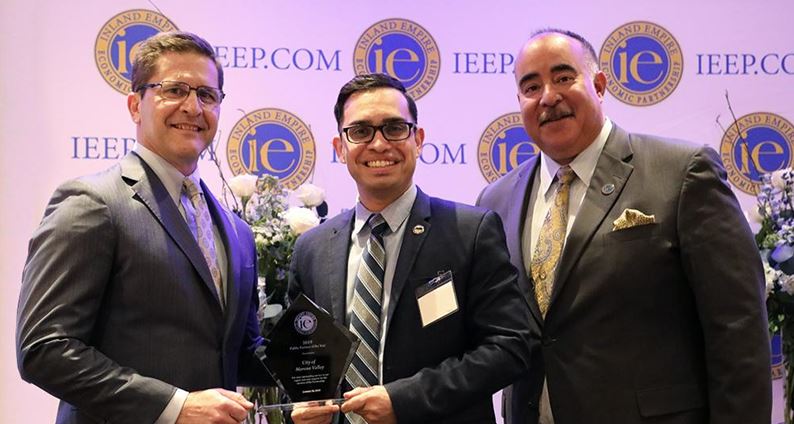 Dr. Yxstian Gutierrez, Mayor of Moreno Valley, accepts the Inland Empire Economic Partnership's award for the City as Public Partner of the Year at ceremonies at Ontario Jan. 16. Photo by Leonardo Rivas
City leaders from Moreno Valley proudly accepted the City's designation as Public Partner of the Year from the Inland Empire Economic Partnership (IEEP). The recognition was presented at the organization's annual dinner on Jan. 16.
Moreno Valley, Riverside County's second-largest City, was chosen for the IEEP honor in recognition of its successful efforts to attract and support business development and job creation.
Moreno Valley has created 20,000 new local jobs in the past six years and its employment rate stands at 96 percent. In addition, according to Environics Analytics, MoVal's economic growth has increased the median value of owner-occupied housing by almost 51 percent, raised average household income by more than 36 percent to $85,356, and increased the number of residents attending and completing college.
"The Board of Directors of the Inland Empire Economic Partnership are pleased to honor the City of Moreno Valley as the Public Partner of the Year," said IEEP President and CEO Paul Granillo. "The City of Moreno Valley continues to be a leader in business attraction and workforce development. This award acknowledges the leadership of the City Council and staff for their hard work and continued partnership with the greater Inland Empire."
"We are proud of the work we continue to do to make Moreno Valley a great place to live, work, raise a family and retire," said Dr. Yxstian Gutierrez, Mayor of Moreno Valley. "It's an honor to accept this award on behalf of our Council, our outstanding City staff and our many community partners."
# # #
Upon request, this news release will be made available in appropriate alternative formats to persons with disabilities, in compliance with the Americans with Disabilities Act of 1990. Any person with a disability who requires a modification or accommodation in order to participate in this meeting should direct such requests to Guy Pegan, ADA Coordinator, at 951.413.3120 at least 72 hours before the meeting. The 72-hour notification will enable the City to make reasonable arrangements to ensure accessibility to this meeting.