Moreno Valley Mayor Pro Tem Chosen to Chair March Joint Powers Commission
Victoria Baca is First Latina to Lead the March JPC
For immediate release: January 7, 2020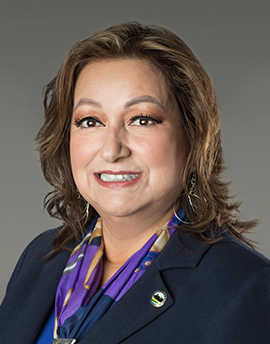 Moreno Valley Mayor Pro Tem Victoria Baca has been chosen to chair the March Joint Powers Commission (JPC), the decision-making body of the March Joint Powers Authority (JPA). Baca, selected by her fellow Commission members, previously served as Vice Chair, and has been a Commission member for four one-year terms since 2014. She will serve as Chair for the 2020 calendar year.
March Joint Powers Authority (JPA) is a public entity created to address the use, reuse, and joint use of surplus land and facilities from the former March AFB. The four individual public entities that cooperatively form the JPA are the cities of Moreno Valley, Perris and Riverside, and the County of Riverside.
"The City of Moreno Valley has always been an active participant in the March Joint Powers Authority," said JPA Executive Director Danielle M. Kelly, "and I look forward to Mayor Pro Tem Baca's business- friendly attitude leading the agency into a new decade."
Dr. Yxstian Gutierrez, Mayor of Moreno Valley, noted the cultural significance of Baca's selection. "Mayor Pro Tem Baca has done so much in her life to support and advance the Latino community," Gutierrez said. "Her selection as the first Latina to chair the JPC is something our entire City can take pride in."
"It has been my honor to represent the City of Moreno Valley and its residents on the Commission," said Baca, "and I will do my very best as Chair to advance economic development that can help improve the quality of life for all residents of our region."
# # #
Upon request, this news release will be made available in appropriate alternative formats to persons with disabilities, in compliance with the Americans with Disabilities Act of 1990. Any person with a disability who requires a modification or accommodation in order to participate in this meeting should direct such requests to Guy Pegan, ADA Coordinator, at 951.413.3120 at least 72 hours before the meeting. The 72-hour notification will enable the City to make reasonable arrangements to ensure accessibility to this meeting.