Moreno Valley Honored for Redevelopment Project and Small Business Support
City Wins Top Awards from Inland Empire Economic Partnership.
For immediate release: November 20, 2019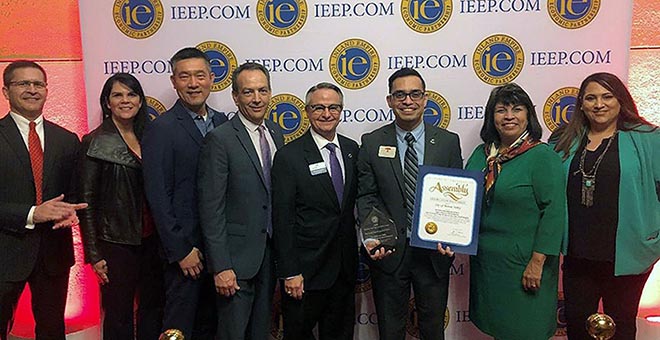 Moreno Valley officials were proud to accept two "Turning Red Tape into Red Carpet" awards recently from the Inland Empire Economic Partnership (IEEP) for the City's redevelopment and small-business assistance efforts. The annual awards recognize cities, counties and agencies for their business-friendly practices and job-creation efforts. 
The Quarter, a mixed-use redevelopment project, won top honors in the Real Estate Redevelopment and Reuse category, which recognizes innovative real estate development or adaptive reuse projects.
Several years in the making, the project transformed a blighted area into an attractive new commercial development called The Quarter, featuring two hotels, a full-service gas station, several new restaurants and other retailers. 
Small Business Wednesdays won the top award in the Business Retention and Expansion category, which recognizes initiatives intended to retain and grow existing businesses.
The program was created to offer training and support for entrepreneurs and current small-business owners. More than 70 free workshops and training events have been provided through the Small Business Wednesdays initiative. 
"We are so proud of our efforts to create an environment in Moreno Valley that supports job creation and commercial investment," said Dr. Yxstian Gutierrez, Mayor of Moreno Valley. "The Quarter project and Small Business Wednesdays are two great examples of our approach."
The City was also recognized in the Cooperation Among Cities, Counties or Agencies category for the MoVaLEARNS program, which provides stipends to qualifying Moreno Valley College students to help them stay in school and graduate.
The IEEP is a regional economic development organization that has been working to improve the economic vitality of the Inland Empire for more than 30 years. Award recipients were recognized at the annual IEEP Turning Red Tape into Red Carpet Awards ceremony held November 14 at the Mission Inn in Riverside.
For more information about the awards or to learn more about establishing a new business in the City, please contact the Economic Development Department at EDTeam@moval.org or at 951-413-3460.
For more information, contact Moreno Valley Parks & Community Services at 951-413-3701.
# # #
Upon request, this news release will be made available in appropriate alternative formats to persons with disabilities, in compliance with the Americans with Disabilities Act of 1990. Any person with a disability who requires a modification or accommodation in order to participate in this meeting should direct such requests to Guy Pegan, ADA Coordinator, at 951.413.3120 at least 72 hours before the meeting. The 72-hour notification will enable the City to make reasonable arrangements to ensure accessibility to this meeting.