Moreno Valley Community Day of Service
Event Set for Saturday, November 2
For immediate release: October 24, 2019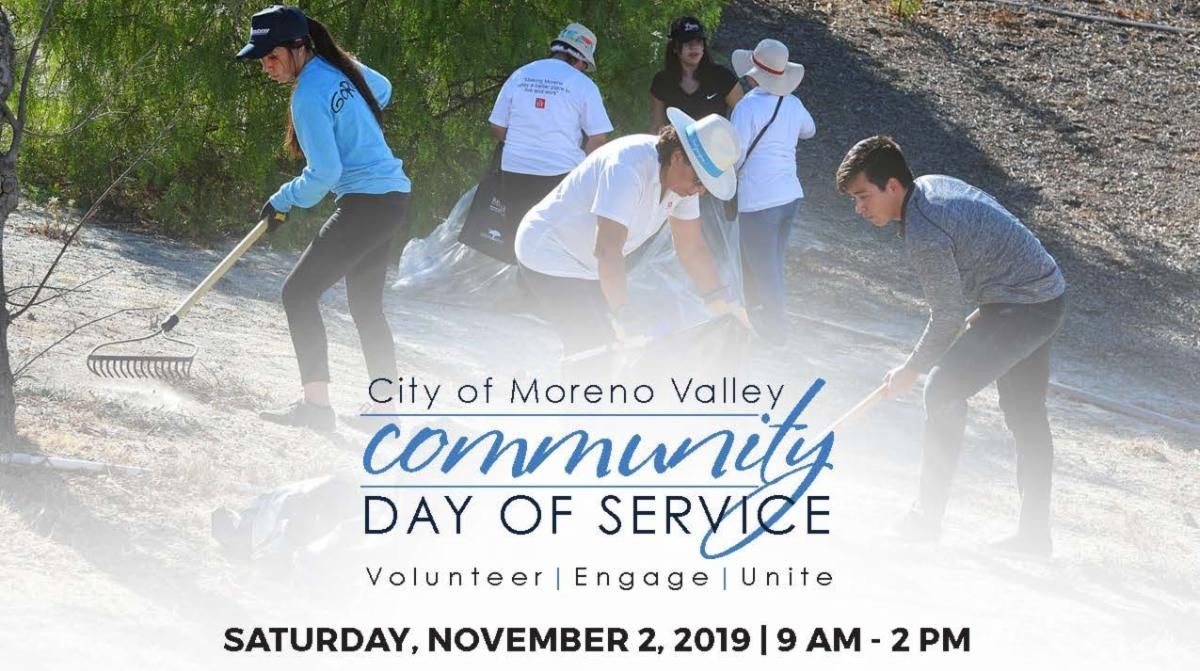 Moreno Valley residents are invited to join in the City's annual Community Day of Service on Saturday, Nov. 2, from 9 a.m. - 2 p.m. This event is perfect for families, service clubs and anyone who wants to make a positive difference in our community. This year the City is providing two opportunities to help:
An Opportunity to Serve:
Sunnymead Park Community Clean-up: 12655 Perris Blvd.
Activities: Help restore planters, plant trees, paint bleachers, and clear weeds and litter.  Please bring rakes, shovels and gloves.
*All volunteers are required to complete a waiver prior to participating in the Sunnymead Park Clean-Up.
An Opportunity to Give Back:
MoVal Gives Back: Moreno Valley Senior Center, 25075 Fir Ave.
Activities: Help our neighbors in need by donating new, unwrapped toys; new and gently used coats; and unexpired and non-perishable food; or by participating in our blood drive.
*Blood donors must be 15 or older.
"I'm always so proud of the way our community pulls together," said Dr. Yxstian Gutierrez, Mayor of Moreno Valley. "The Community Day of Service is a great way for residents to make a real difference in a relatively short time, and I look forward to working side-by-side with other volunteers."
Residents who host their own clean-up or give-back event are invited to share photos on social media. Use these tags to let people know how you are giving back to our MoVal community: #MoValGivesBack, #KeepMoValBeautiful, #Recycle, #MoValCommunityDayofService2019.
For more information, please email MoValRecycles@moval.org or call 951-413-3109. 
# # #
Upon request, this news release will be made available in appropriate alternative formats to persons with disabilities, in compliance with the Americans with Disabilities Act of 1990. Any person with a disability who requires a modification or accommodation in order to participate in this meeting should direct such requests to Guy Pegan, ADA Coordinator, at 951.413.3120 at least 72 hours before the meeting. The 72-hour notification will enable the City to make reasonable arrangements to ensure accessibility to this meeting.