Free Household Hazardous Waste and Electronic Waste Collection Event
For immediate release: October 7, 2019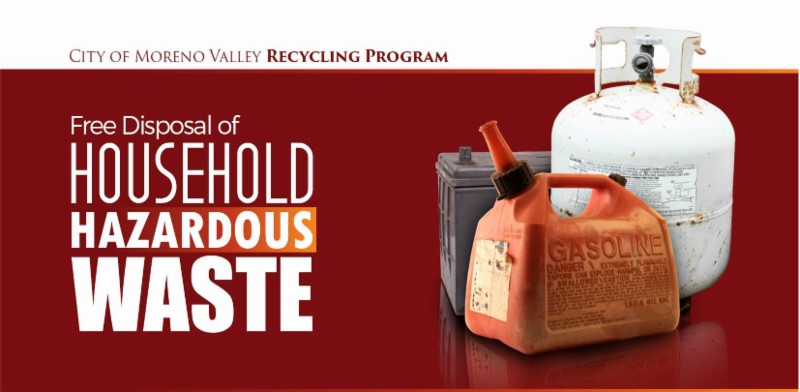 Looking for a safe and free way to dispose of hazardous household waste? Moreno Valley is holding a free Household Hazardous Waste and Electronic Waste Collection Event on Saturday, Oct. 19.
FREE Household Hazardous Waste and Electronic Waste Collection Event
Saturday, Oct.19, 9 a.m. to 2 p.m.
City Yard, 15670 Perris Blvd.
Residents are allowed to make multiple trips to the collection event, but are limited to 125 pounds or 15 gallons of material per trip. Individual containers should not exceed five gallons or weigh more than 50 pounds. Business or non‐profit waste will not be accepted.
These items will be accepted:
Household products (cleaners, paint, pesticides, lightbulbs, etc.)
Used motor oil, filters, antifreeze, and fuel
Household and automotive batteries
Unused medication (except controlled substances)
Sharps (needles/syringes or lancets)
Electronic waste (televisions, computers, VCRs, telephones, etc.)
These items will NOT be accepted:
Explosives or ammunition
Radioactive waste
Asbestos waste
Compressed gas cylinders over 40 pounds
Infectious waste (other than sharps)
Bulky items (sofas, mattresses, appliances, used tires, etc.)
Controlled substances
For more information about the Free Household Hazardous Waste and E-Waste Collection Event, visit www.moval.org or contact the Recycling Program at 951-413-3109.
# # #
Upon request, this news release will be made available in appropriate alternative formats to persons with disabilities, in compliance with the Americans with Disabilities Act of 1990. Any person with a disability who requires a modification or accommodation in order to participate in this meeting should direct such requests to Guy Pegan, ADA Coordinator, at 951.413.3120 at least 72 hours before the meeting. The 72-hour notification will enable the City to make reasonable arrangements to ensure accessibility to this meeting.