MoVal Residents Get FREE Admission to the Southern California Fair on Moreno Valley Day, Saturday, Oct. 12
For immediate release: October 3, 2019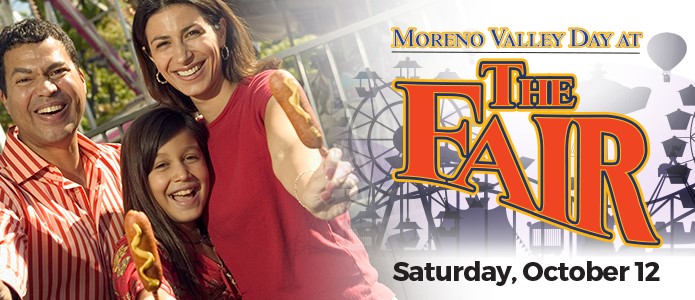 The City of Moreno Valley invites all residents to attend Moreno Valley Day at the Southern California Fair. Admission will be FREE for all MoVal residents on Saturday, Oct. 12. Just present a photo ID showing you live in Moreno Valley and be the City's guest at the Fair!
The Southern California Fair, celebrating its 106th year, is held at the SoCal Fair and Event Center, 18700 Lake Perris Dr., in Perris. It features rides, games, live music, livestock, exhibits, motorcycle racing and stunts and more – plus all that delicious fair food! The Fair runs from Oct. 5-13.
# # #
Upon request, this news release will be made available in appropriate alternative formats to persons with disabilities, in compliance with the Americans with Disabilities Act of 1990. Any person with a disability who requires a modification or accommodation in order to participate in this meeting should direct such requests to Guy Pegan, ADA Coordinator, at 951.413.3120 at least 72 hours before the meeting. The 72-hour notification will enable the City to make reasonable arrangements to ensure accessibility to this meeting.