Mayor Pro Tem Victoria Baca Honored as a "Woman of Achievement"
Baca Praised by Librería del Pueblo for Working to Improve Residents' Lives
For immediate release: October 2,2019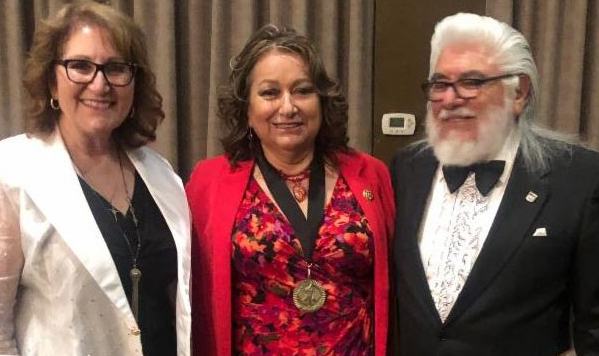 Moreno Valley Mayor Pro Tem Victoria Baca (center) with Assemblymember Eloise Reyes (Dist. 47) and Danny Morales, Exec. Dir. of Librería del Pueblo, Inc., after being recognized with the Woman of Achievement award.
Moreno Valley Mayor Pro Tem Victoria Baca was honored recently as a Woman of Achievement in Riverside and San Bernardino Counties for her work to improve people's lives. The recognition was bestowed upon eight distinguished women at a special dinner by Librería del Pueblo, Inc., a non-profit organization that provides immigrants with a wide range of services and educational programs to help them transition into American society. 
"We chose Mayor Pro Tem Baca for this award in recognition of her many years of service as an advocate for the community, both as a public official and in her personal life," explained Librería del Pueblo, Inc., Executive Director Danny Morales. "She exemplifies for people across southern California the qualities of a servant leader, and she has helped many find their way to a better life."
Dr. Yxstian Gutierrez, Mayor of Moreno Valley, agreed and said Baca is tireless in her advocacy for the employment, education and civil rights of under-served populations. "She's a soft-spoken leader with a spine of steel and a fierce determination to stand up for people who are struggling on the margins of society," Mayor Gutierrez said.
Mayor Pro Tem Baca, a native of Los Angeles, has lived in Moreno Valley since 1990. She bears the distinction of being the first Latina elected to both the Moreno Valley Unified School District Board of Education and the Moreno Valley City Council. As a Council member, she represents the City's District 1.
# # #
Upon request, this news release will be made available in appropriate alternative formats to persons with disabilities, in compliance with the Americans with Disabilities Act of 1990. Any person with a disability who requires a modification or accommodation in order to participate in this meeting should direct such requests to Guy Pegan, ADA Coordinator, at 951.413.3120 at least 72 hours before the meeting. The 72-hour notification will enable the City to make reasonable arrangements to ensure accessibility to this meeting.