Moreno Valley Welcomes New Floor & Décor
New Business Will Revitalize "The District"
For immediate release: September 19,2019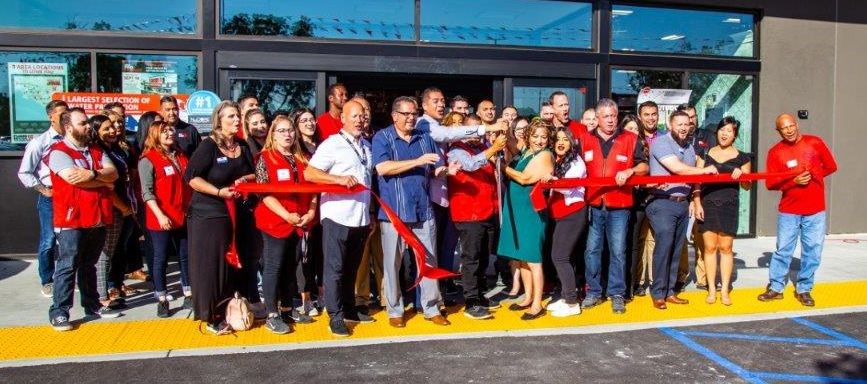 The City of Moreno Valley was pleased to celebrate the official Grand Opening and Ribbon Cutting Ceremony for Floor & Décor on Wednesday, September 18. The 102,000-square-foot retail store and design center opened its doors at 24318 Hemlock Ave. at The District shopping center.
"The new Floor & Décor is a great addition to Moreno Valley," said Dr. Yxstian A. Gutierrez, Mayor of Moreno Valley. "Floor & Décor not only brings more jobs to the community but, as the anchor store, will serve as a catalyst to revitalize the entire 'The District' shopping center. We couldn't be happier to welcome them."
"Floor & Décor is thrilled to open our doors in Moreno Valley," said Jesse Fernandez, Store Manager. "With the launch of our ninth store in the area, we are committed to providing customers with an extensive array of flooring products at unbeatable prices, and we look forward to forming relationships with this great community, one shopper at a time."
Floor & Décor participated in the City's Hire MoVal program, which offers incentives to businesses, including hosting job recruitment events at the Moreno Valley Employment Resource Center, in exchange for hiring Moreno Valley residents.
Established in 2000, Georgia-based Floor & Décor offers homeowners and professional contractors access to a superstore-range of selections at warehouse prices with showroom quality. Each Floor & Décor location is bolstered by a local focus that creates a store experience and mix of products meeting the needs of each market served.
For more information about the City's new businesses or to learn more about establishing a new business in Moreno Valley, please visit www.morenovalleybusiness.com and contact the Economic Development Department at EDTeam@moval.org or at 951-413-3460.
# # #
Upon request, this news release will be made available in appropriate alternative formats to persons with disabilities, in compliance with the Americans with Disabilities Act of 1990. Any person with a disability who requires a modification or accommodation in order to participate in this meeting should direct such requests to Guy Pegan, ADA Coordinator, at 951.413.3120 at least 72 hours before the meeting. The 72-hour notification will enable the City to make reasonable arrangements to ensure accessibility to this meeting.