MoVaLEARNS – Mayor's Challenge Will Help MVC Students Finish School
For immediate release: August 28,2019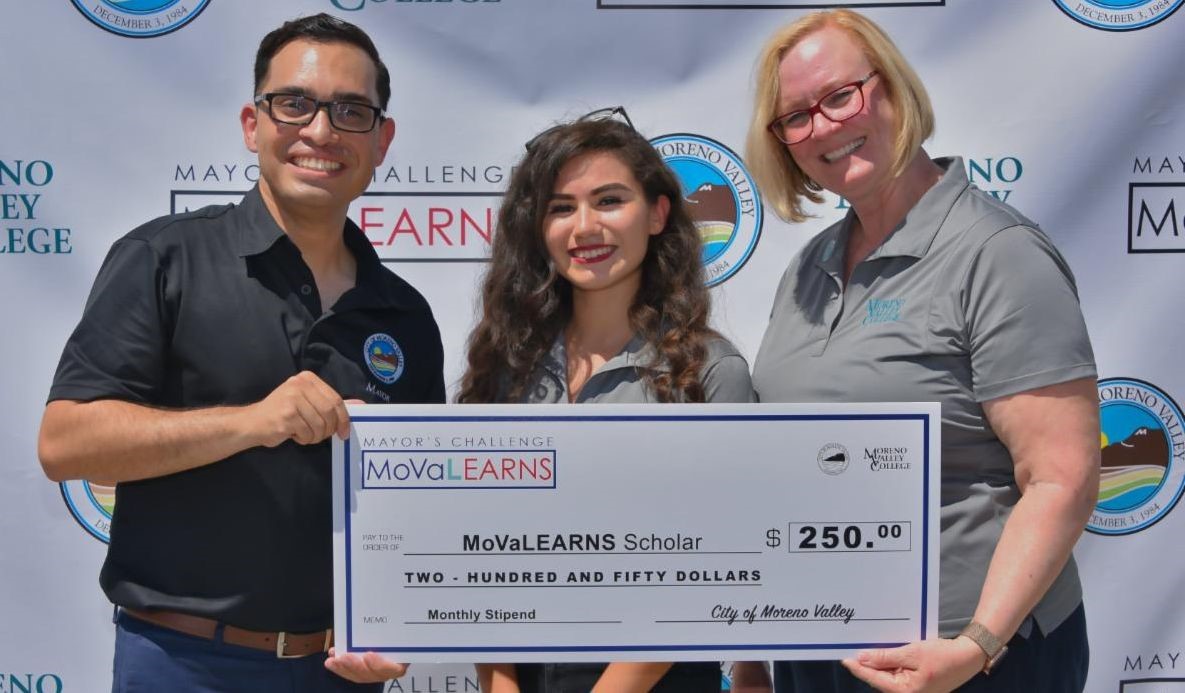 Fifty Moreno Valley College students are starting school this week with a much better chance of staying in school and graduating thanks to the MoVaLEARNS – Mayor's Challenge initiative, which provides qualified students with a total $2,000 stipend for the 2019-20 school year.
MoVaLEARNS – Mayor's Challenge is a first-of-its-kind monthly stipend program designed to encourage students to stay in college. The 50 students, enrolled in the Moreno Valley College Career & Technical Education (CTE) program, will receive a $250 stipend for eight months. Dr. Yxstian A Gutierrez, Mayor of Moreno Valley, surprised students with the first monthly installment at the recent kick-off event held during the annual Welcome Day festivities.
"We want to increase our local graduation rate by helping students avoid the Earn vs Learn trap, which is when they take a break from school to earn money at a low-wage job, but then get stuck in that job and never return to school," explained Mayor Gutierrez. "We are the first City in the nation to think outside the box with this innovative program."
"MoVaLEARNS – Mayor's Challenge is future-thinking and a bold investment in our community, offering an exciting pathway out of the Earn vs Learn trap. It will enhance student success and benefit workforce development in our City," said Dr. Robin Steinback, Moreno Valley College President. 
Bloomberg Philanthropies provided the initial $100,000 start-up funds to test and develop the program as part of the Mayor's Challenge national competition. Last June, the Mayor and City Council approved funding for the first two years of the new program.
Photos from the event are available on the City's Facebook page.
# # #
Upon request, this news release will be made available in appropriate alternative formats to persons with disabilities, in compliance with the Americans with Disabilities Act of 1990. Any person with a disability who requires a modification or accommodation in order to participate in this meeting should direct such requests to Guy Pegan, ADA Coordinator, at 951.413.3120 at least 72 hours before the meeting. The 72-hour notification will enable the City to make reasonable arrangements to ensure accessibility to this meeting.