Mayor Gutierrez Presents 2019 Community Leadership Awards
For immediate release: August 27,2019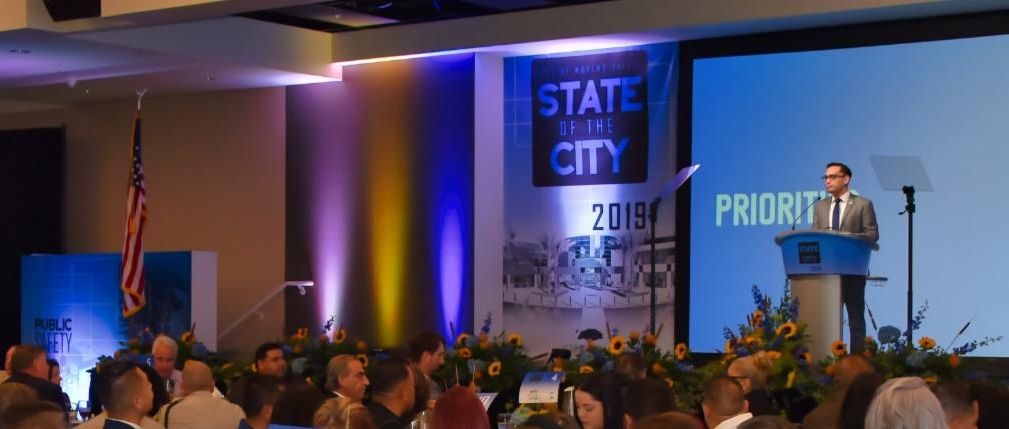 Emphasizing this year's theme of "community," Yxstian A Gutierrez, Mayor of Moreno Valley, presented four Community Leadership awards at the recent State of the City address to recognize some of the people and organizations that help make the community so strong and healthy.
"This event is really meant to be a celebration of what we as a community are accomplishing together," Mayor Gutierrez explained.
Community Leadership Awards were presented to the following:
Large Business Owner: Iddo Benzeevi, Highland Fairview
Small Business Owners: Carina and Fadi Ballout, The Cupcake and Espresso Bar 
Educator of the Year: Dr. Robin Steinback, President, Moreno Valley College
Innovator of the Year: Karma Automotive (accepted by Chief Revenue Officer John Maloney).
Photos from the State of the City event may be accessed on the City's Facebook page.
# # #
Upon request, this news release will be made available in appropriate alternative formats to persons with disabilities, in compliance with the Americans with Disabilities Act of 1990. Any person with a disability who requires a modification or accommodation in order to participate in this meeting should direct such requests to Guy Pegan, ADA Coordinator, at 951.413.3120 at least 72 hours before the meeting. The 72-hour notification will enable the City to make reasonable arrangements to ensure accessibility to this meeting.