City of Moreno Valley Honored for Outstanding Financial Reports
For immediate release: July 18,2019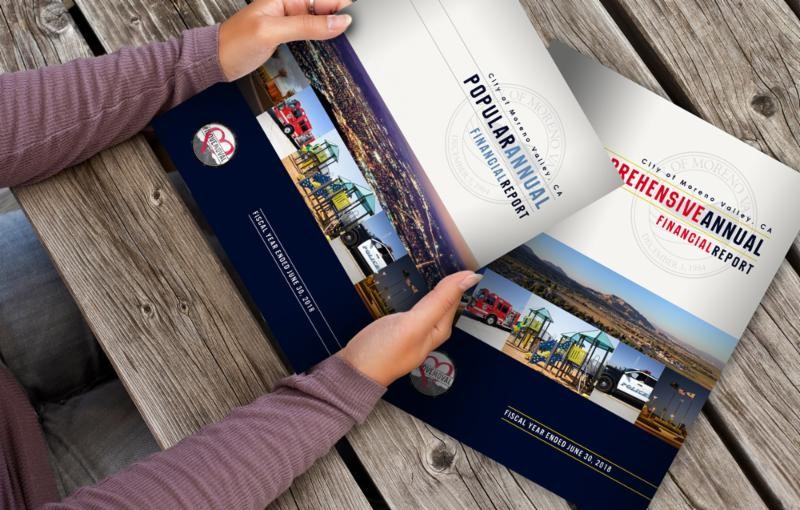 The City of Moreno Valley has been awarded the highest form of recognition for governmental accounting and financial reporting for its Fiscal Year 2017/18 Comprehensive Annual Financial Report (CAFR).
This marks the 21st consecutive year the City has earned the Certificate of Achievement for Excellence in Financial Reporting from the Government Finance Officers Association (GFOA) of the United States and Canada.
The City was also honored with GFOA's Award for Outstanding Achievement for its Popular Annual Financial Report (PAFR). MoVal has earned this distinction every year since it began publishing the PAFR in 2014. 
"Our City staff makes a very intentional effort to communicate with residents in plain, understandable language because we want our work to be transparent," said Moreno Valley Mayor Yxstian A. Gutierrez. "The more we can engage our residents with the work of City government, the better."
Both reports -- CAFR and PAFR -- are available on the City's website.
MoVal's CAFR and PAFR were judged by impartial panels to have met the highest standards of the programs, and were honored for their ability to clearly explain the City's fiscal picture to a lay audience and motivate members of the public to learn more.
Moreno Valley, ranked in 2017 by Fiscal TImes as the third most fiscally strong city in the nation, recently approved a balanced budget for the eighth straight year.
# # #
Upon request, this news release will be made available in appropriate alternative formats to persons with disabilities, in compliance with the Americans with Disabilities Act of 1990. Any person with a disability who requires a modification or accommodation in order to participate in this meeting should direct such requests to Guy Pegan, ADA Coordinator, at 951.413.3120 at least 72 hours before the meeting. The 72-hour notification will enable the City to make reasonable arrangements to ensure accessibility to this meeting.