My MoVal Summit to Connect Volunteers with Local Positions
For immediate release: July 10,2019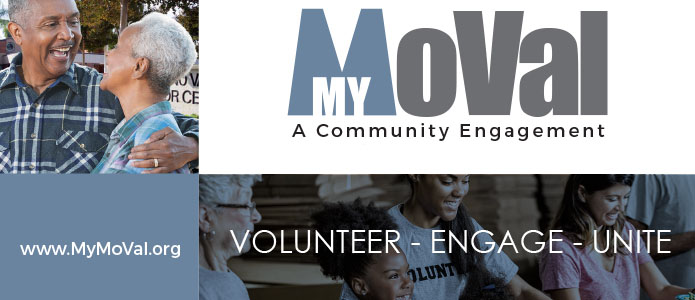 Want to volunteer in Moreno Valley but don't know where to start? The City of Moreno Valley has a site for that! MyMoVal.org connects potential volunteers with a wide range of local opportunities. And later this month, the City will host a live-and-in-person version of the website called the My MoVal Summit. 
People wanting to know more about volunteering will be able to talk with other volunteers about their experiences and meet representatives of local organizations in need of volunteer help. 
The My MoVal Summit is set for Thursday, July 18, from 5-7 p.m. at the Conference & Recreation Center, 14075 Frederick St., next to City Hall.
"Whenever I meet other mayors, it's always clear to me that we in Moreno Valley are very fortunate to have so many residents ready and willing to give their time and effort in volunteer service," said Mayor Yxstian Gutierrez. "That's why we use MyMoVal.org and the My MoVal Summit, to make sure we take residents up on their interest in serving."
City programs looking for volunteer help include Adopt-a-Neighborhood; Adopt-a-Road; Adopt-a-Street; Animal Care; Anti-Graffiti Patrol; Boards and Commissions; Citizen Patrol; Code Enforcement; Community Clean-ups; Community Emergency Response Team (CERT); Employment Resource Center; Fire and Police Reserve, Explorer Program; Keep Moreno Valley Clean and Beautiful; and Literacy Tutoring.
Other organizations and charitable causes also use MyMoVal.org.
# # #
Upon request, this news release will be made available in appropriate alternative formats to persons with disabilities, in compliance with the Americans with Disabilities Act of 1990. Any person with a disability who requires a modification or accommodation in order to participate in this meeting should direct such requests to Guy Pegan, ADA Coordinator, at 951.413.3120 at least 72 hours before the meeting. The 72-hour notification will enable the City to make reasonable arrangements to ensure accessibility to this meeting.