Meet Moreno Valley's First Responders at the 2019 Public Safety Expo March 23
Bring the entire family for a fun day filled with live police and firefighting demonstrations, hands-on exhibits, giveaways, and much more!
For immediate release: March 19, 2019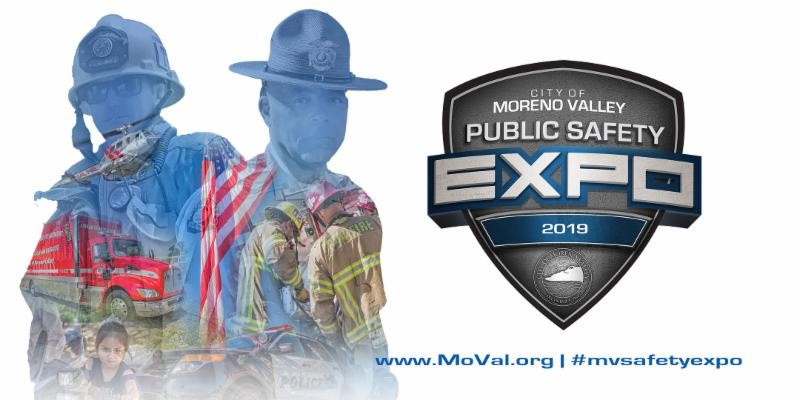 Don't miss the City of Moreno Valley's 6th Annual Public Safety Expo this Saturday, March 23 from 10 a.m. to 2 p.m. at the Moreno Valley Civic Center.
Moreno Valley's finest police officers and firefighters will give residents an interactive look into how they keep our City safe. The Public Safety Expo's schedule is packed with exciting police and fire demonstrations and hands-on exhibits for all ages.
Bring the whole family to meet your Moreno Valley police officers and firefighters, eat delicious food from a variety of vendors, and enjoy music and giveaways.
The Public Safety Expo also provides an opportunity for job seekers and students to find out more about a career with the Riverside County Sheriff's Department, CAL FIRE/ Riverside County Fire Department, the military or one of the other regional agencies that serve Moreno Valley.
Don't miss this opportunity to get up close and personal with Moreno Valley's heroes!
The 2019 Public Safety Expo will include:
Live fire suppression and car-cutting demonstrations - See first-hand how Moreno Valley firefighters free car accident victims trapped in vehicles
Live demonstrations by the Hazardous Device Team Robotics - Watch the HDT robot maneuver to safely evaluate potentially threatening objects
K-9 unit demonstrations of finding and apprehending a suspect, sniffing out drugs, and locating a missing person
Learn about Alert MoVal- the City of Moreno Valley's emergency notification system to keep your family safe and informed during an emergency
Learn "sidewalk CPR" and how to use Automated External Defibrillators (AEDs)
An interactive house trailer which provides a controlled environment to learn how to properly extinguish a stove fire, how to respond appropriately to a smoke detector, and how to escape a house fire safely
Fire engines, police cars and motorcycles, helicopters and other emergency response vehicles
Tours of the Emergency Operations Center which will allow visitors to learn more about the Citywide Camera System and the City's state-of-the-art disaster preparedness and response system
A "quiet room" for children with special needs who may need to take a break while at the Public Safety Expo
Demonstrations and displays are subject to change as emergency needs arise. The 2019 Public Safety Expo will be held at the Moreno Valley Civic Center, 22850 Calle San Juan de Los Lagos between Frederick Street and Veterans Way.
Free parking is available at the Moreno Valley Civic Center and at the Moreno Valley Conference and Recreation Center.
For more information, please contact the Moreno Valley City Council Office at 951.413.3008 or visit the Public Safety Expo web page.
# # #
Upon request, this news release will be made available in appropriate alternative formats to persons with disabilities, in compliance with the Americans with Disabilities Act of 1990. Any person with a disability who requires a modification or accommodation in order to participate in this meeting should direct such requests to Guy Pegan, ADA Coordinator, at 951.413.3120 at least 72 hours before the meeting. The 72-hour notification will enable the City to make reasonable arrangements to ensure accessibility to this meeting.