City Launches Small Business Wednesdays to Help Owners Thrive
For immediate release: January 8, 2019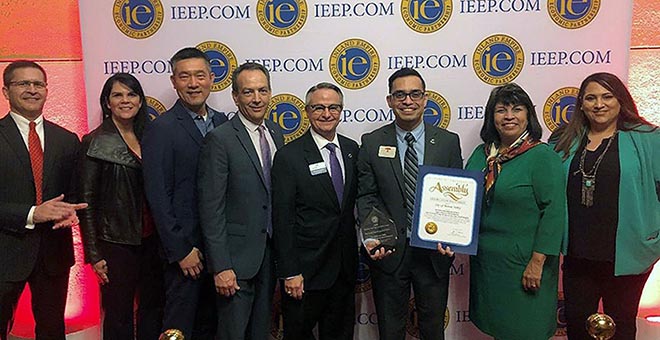 Free and low-cost workshops, expert assistance will be available through 2019
There has never been a better time to start or grow a business in Moreno Valley.
The City is launching Small Business Wednesdays beginning January 9 to provide specialized workshops and technical assistance to small businesses every Wednesday through 2019.
"Small businesses are the backbone of our local economy," said Mayor Yxstian Gutierrez. "Small Business Wednesdays are just another way the City of Moreno Valley is providing entrepreneurs the information and technical assistance they need to transform their dreams into reality."
The free and low cost-workshops and one-on-one expert consulting will help everyone from the start-up entrepreneur to the seasoned business owner.
Workshops will cover everything from getting your business up and running to writing a business plan, cybersecurity, financial management and government contracting.
The first workshop will be "How to Start a Small Business" on Wednesday, January 9, 2019 from 9 am to 11 am.
To view the full list of workshops for 2019 and to register, please visit www.morenovalleybusiness.com/events.
All workshops will be held at the Moreno Valley Employment Resource Center located at 12625 Frederick Street, Suite K‑3, in the TownGate Shopping Center. Please register early as workshops may fill up quickly.
The City is able to offer these critical resources through partnerships with key business partners, including the U.S. Small Business Administration (SBA), Inland Empire Small Business Development Center (IESBDC), Inland Empire Women's Business Center (IEWBC), SCORE, Moreno Valley College, Riverside Community College District and the Moreno Valley Fire Department.
In addition to Small Business Wednesdays, the Economic Development Department is available to assist new and existing Moreno Valley businesses with site selection, demographics and other business needs.
For more information about Small Business Wednesdays or to start a new business in Moreno Valley, please visit www.morenovalleybusiness.com and contact the Economic Development Department at EDTeam@moval.org or at (951) 413-3460.
# # #
Upon request, this news release will be made available in appropriate alternative formats to persons with disabilities, in compliance with the Americans with Disabilities Act of 1990. Any person with a disability who requires a modification or accommodation in order to participate in this meeting should direct such requests to Guy Pegan, ADA Coordinator, at 951.413.3120 at least 72 hours before the meeting. The 72-hour notification will enable the City to make reasonable arrangements to ensure accessibility to this meeting.