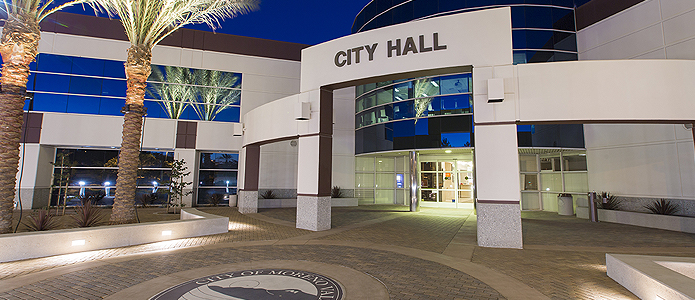 Special Financing Districts provide funding for the operation and maintenance of street lighting. These services are funded in part through a parcel charge collected on the annual property tax bill.
Reporting a Street Light Outage
In Moreno Valley
Please call 951.413.3470, email streetlights@moval.org, or submit a Street Light Repair Request and we will forward your request to the appropriate party. 
To assist us in determining which street light is out, please provide the unique pole number when submitting the request.  Each street light has a tag with the pole number either at eye level or at the base of the pole.
Edgemont CSD
Street lights within the Edgemont Community Services District (ECSD) service area can be reported by calling 951.653.5120.  The ECSD service area is generally the western city boundary at Alessandro Blvd. to Cottonwood Ave to Frederick St. with an additional area west of Day St., north of Cottonwood Ave. to the northern city boundary.
Use the MoVal App
The MoVal app is the easiest way for you to report issues such as graffiti, potholes, code violations, or broken streetlights.
The app is available for both IOS (Apple) and Android devices: