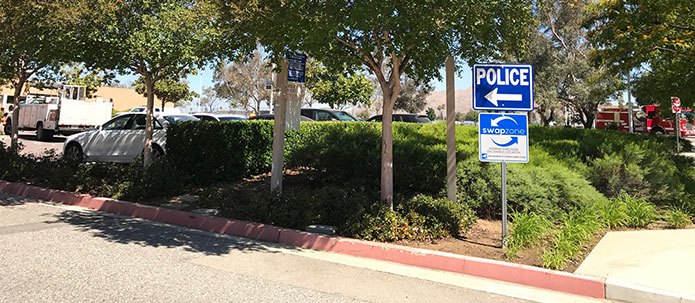 With distinct signage and a Citywide Camera recording transactions, Moreno Valley's Swap Zone provides an alternative to meeting a stranger at a private residence or unfamiliar location.
As the number of online person-to-person sales has grown along with the use of websites like Craigslist and LetGo, local communities have seen an increase in related crime including assaults, robberies, and other thefts.
A Swap Zone has been set up in the Police Department parking lot, 22850 Calle San Juan de Los Lagos, Moreno Valley. Oufitted with a camera and located in a highly visible location, the Swap Zone provides residents with another option to buy and sell items and another place for visitation exchanges of children in families with custodial arrangements.
MVPD Swap Zone
Police Department Parking Lot
22850 Calle San Juan de Los Lagos
Moreno Valley
Map Link
The Swap Zone is solely an exchange location. The City cannot provide assurances against unfavorable interactions between buyers and sellers. The Swap Zone is to be used only for lawful exchanges of items, with the exception of weapons or any other dangerous materials. The Moreno Valley Police Department is not responsible for the value, authenticity, or legitimacy of the transactions.
Safety Tips
Use sites like Moreno Valley's "Swap Zone" to help document these types of transactions.
Do not meet in a secluded place or invite strangers into your home.
Be particularly careful when buying/selling high value items.
Tell a friend or family member where you're going.
Take your cell phone with you.
Consider having a friend accompany you.
Never purchase anything online using your credit card from a site that does not have SSL (Secure Sockets Layer).
Ask a lot of questions.
Avoid meetings at night.
Trust your instincts