David Marquez
Meet David Marquez
A resident since 1983, Councilmember Marquez was elected to the Moreno Valley City Council in 2016 to represent District 3.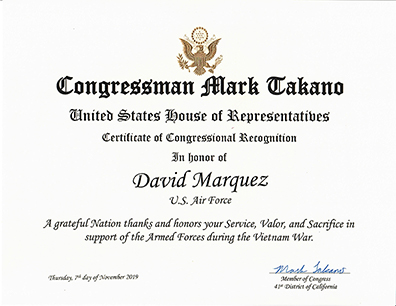 Councilmember Marquez has long been an active volunteer with the City of Moreno Valley, participating in and coordinating neighborhood clean-ups since 2004.  For his work, he was honored as the recipient of Riverside County's "2016 Volunteer Award from Moreno Valley."

As a member of the City Council, Councilmember Marquez believes that accessibility is key to effective leadership. He is out in the community to be sure he hears the concerns of his constituents. He also enjoys his work as a volunteer with several non-profit organizations, such as The Salvation Army and Community Now, and veterans organizations and events, including the VFW, American Legion, U.S. Vets and the annual Daisy Walk.

Councilmember Marquez serves as a Commissioner for the Riverside County Habitat Conservation Agency (RCHCA); a Director for Riverside Transit Agency (RTA); and a Commissioner for the Riverside Conservation Agency (RCA).
Councilmember Marquez is also a member of the California Contract Cities Agency (CCCA) and the National Association of Latino Elected Officials (NALEO).

Councilmember Marquez served his country as a member of the U.S. Air Force for more than seven years, including tours in Vietnam and Thailand and a brief tour on Guam.  During his service, he was stationed at Chanute Air Force Base (AFB) in Illinois; McClellan AFB in California; Lackland AFB in Texas; and Davis-Monthan AFB in Arizona.

He earned a degree in Police Science at Rio Hondo College in Whittier.  His varied career includes experience as a skilled diesel mechanic and as a police officer for the City of Montebello.  He retired from Caterpillar and Pepsi Bottling.
Councilmember Marquez is the proud parent of four adult children and has 10 grandchildren.  All of his children and grandchildren attended or are attending school in the Moreno Valley Unified School District and at Moreno Valley College.
Learn more...
Committee and Board Participation