Welcome to the Parks and Community Services Department (PCS) Virtual Community Center!
Until we can get together again, the Virtual Community Center page serves as a one-stop-shop for virtual activities, programs, events and classes for all ages.  The Parks and Community Services Department is committed to providing services and engaging the community throughout these unprecedented times.
For up-to-date information, follow us on our social media pages at www.MoVal.org/social/.
*The City of Moreno Valley does not endorse or affiliate with the creators nor content related to non-City produced links.

Get the latest scoop
See the Parks & Community Services programs, events and activities in the latest edition of the Soaring Activity Guide.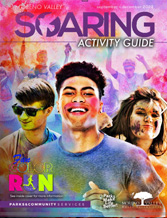 Find a Park
Get all facility locations, amenities and rental information.
Got an Idea?
 If you have suggestions or ideas for the Virtual Community Center, please email
Recreation@MoVal.org
.
Events, Challenges and Classes
Try CLIC
CLIC is a virtual community portal that provides digital access and online resources for personal and professional growth to all members of the community.

Visit www.moval.org/clic to find;
WiFi access
Low cost internet
Low cost or free computer hardware
Computer literacy
Financial, educational, business and career resources
Leisure and wellness activities