2023 Veterans Day:
Saturday, November 11, 2023
Check back for details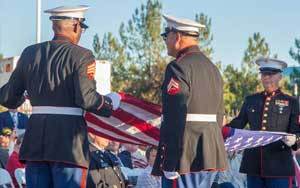 Join new Mayor Ulises Cabrera, as he honors our nation's heroes during the annual Veterans Day Ceremony on Friday, November 11 at 11 a.m. at the Civic Center Veterans Memorial. Mayor Gutierrez's remarks will also be livestreamed on Facebook, YouTube and on MV3.
"I hope each of us will take a moment this Veterans Day to consider the example of service our veterans set," said Mayor Gutierrez, "and think of how we can be of service to our nation and to our neighbors."