Libraries Closed for Annual Staff Training Day
For immediate release: October 1, 2023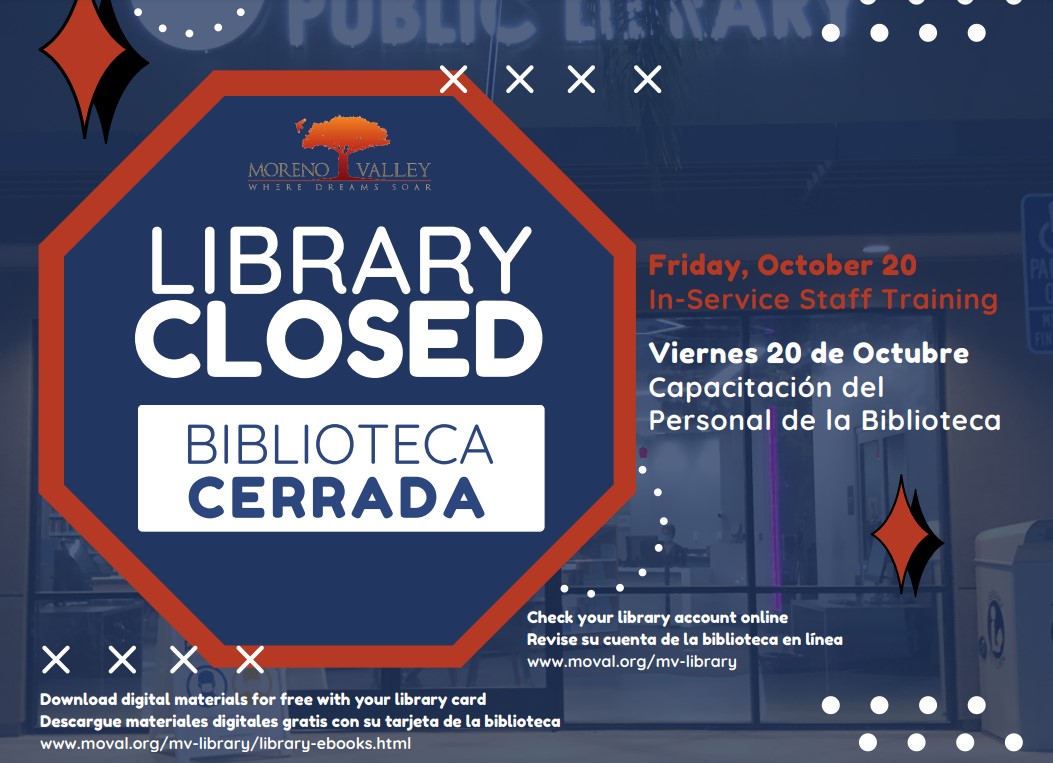 Moreno Valley Public Library depends on having thoughtful, creative, and engaged library workers and encourages their professional growth. Moreno Valley Public Library will hold its annual in-service training day on Friday, October 20, 2023. All Moreno Valley library locations will be closed for the day to enable staff to attend this important staff development training day. Regular hours of library service will resume on Saturday, October 21.
The training will provide an opportunity for staff to learn new strategies and practices that will enable them to better serve our residents. We apologize for any inconvenience this may cause. 
As usual, patrons can look to the library website www.moval.org/mv-library to access patron account information, item renewals, or fine-free checkouts of ebooks, digital audiobooks, and streaming video. For your convenience, book drops at Iris Plaza and Main Libraries will be accessible on the day of the library closure. Thank you for understanding, and we look forward to seeing you at the library!
Call for additional information or assistance with registration, Main Library at 951.413.3880; Iris Plaza Branch 951.413.3670; or Moreno Valley Mall Branch 951.413.3761; or email citylibrary@moval-library.org.
# # #
About Moreno Valley Public Library
The fundamental goal of the Moreno Valley Public Library is to provide services that will contribute to the educational development and cultural vitality of Moreno Valley. Visitors to the Main Library (25480 Alessandro Blvd.), Iris Plaza Branch (16170 Perris Blvd. Suite C3), Moreno Valley Mall Branch (22500 Town Circle, Suite 2078) locations will find titles in both traditional and modern formats, public computers, WiFi, Veterans' resources, state park passes, family-friendly special events and other free ongoing activities for all ages. The Library Commission, comprising seven members appointed by the City Council, advises and makes recommendations to the City Council on operations. Library services are operated under contract to Library Systems & Services, LLC. For more information, visit www.moval.org/mv-library.
.