Moreno Valley City Council and Congressman Mark Takano Tour Affordable Housing Project
For immediate release: July 7, 2023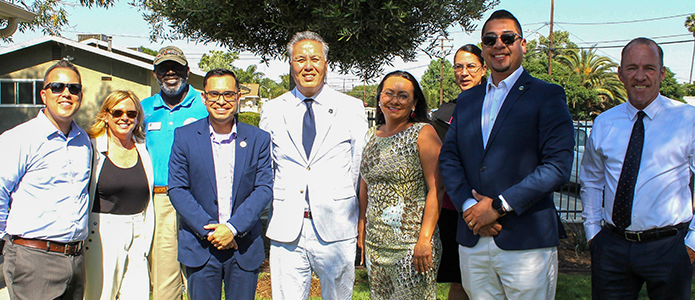 On Wednesday, July 5, the Moreno Valley City Council joined Congressman Mark Takano (CA-39) and city and county leaders to tour one of Moreno Valley's premier affordable housing developments.
Mayor Ulises Cabrera, Council Member Elena Baca-Santa Cruz, and Riverside County Supervisor Yxstian Gutierrez joined Congressman Takano on an informative showcase of the Myers Park apartments in District One. Myers Park was made possible thanks to funds from the US Department of Housing and Urban Development (HUD) provided through the City of Moreno Valley.
The tour illustrated how the collaboration of Federal, County and City housing agencies can help create sustainable, affordable housing for working families. Representatives from Mary Erickson Community Housing, which owns the property, led the delegation.
"I was honored to join Congressman Takano and Mary Erickson Community Housing on a tour of Myers Park, a prime example of affordable housing done right," said Mayor Ulises Cabrera. "California's housing crunch is becoming more critical each day. Moreno Valley is stepping up and working with partners like Mary Erickson to provide housing for residents of all income levels. I am pleased Congressman Takano could see our great work so far."
"A crucial part of being good stewards of our community is providing access to housing, regardless of income level," said District One Council Member Elena Baca-Santa Cruz. "It takes all of us to create healthy and inclusive communities for everyone. I was thrilled to join Congressman Takano, Mary Erickson Community Housing, and the entire delegation to show our progress, and hopefully this will lead to increased funding opportunities for local affordable housing programs."
"The Mary Erickson Community Housing community serves as a testament to what effective federal collaboration can do for the people of Moreno Valley," said Representative Mark Takano (CA-39). "I was thrilled to see how good stewardship of HUD dollars will directly translate to more affordable housing, and I am looking forward to continued progress to ensure that everyone has access to quality housing."
Myers Park was first acquired by Mary Erickson Community Housing in 2010 and was financed with HUD Neighborhood Stabilization Program funds provided by the City of Moreno Valley. The 27-unit neighborhood features clean and desirable two-bedroom/one-bathroom apartments in a park-like setting. The community is exclusively reserved for very low-income renters, and has covenants in place to keep Myers Park affordable for the next 60 years.
The City of Moreno Valley continues to work with partners like Mary Erickson Community Housing to create desirable affordable communities for Moreno Valley families, seniors, and veterans. For more information on Moreno Valley's affordable housing programs, visit moval.org/fms.
# # #
---
El Concejo Municipal de Moreno Valley y el Congresista Mark Takano Recorren el Proyecto de Vivienda Asequible
El miércoles 5 de julio, el Concejo Municipal de Moreno Valley se unió al Congresista Mark Takano (CA-39) y a los líderes de la ciudad y el condado para recorrer uno de los principales desarrollos de viviendas asequibles de Moreno Valley.
El alcalde Ulises Cabrera, la concejal Elena Baca-Santa Cruz y el supervisor del condado de Riverside, Yxstian Gutiérrez, se unieron al congresista Takano en una exhibición informativa de los apartamentos de Myers Park en el Distrito Uno de Moreno Valley. Myers Park fue posible gracias a los fondos del Departamento de Vivienda y Desarrollo Urbano (HUD) proporcionados a través de la Ciudad de Moreno Valley.
El recorrido ilustró cómo la colaboración de las agencias de vivienda federales, del condado y de la ciudad puede ayudar a crear viviendas sostenibles y asequibles para las familias trabajadoras. Representantes de Mary Erickson Community Housing, propietaria de la propiedad, encabezaron la delegación.
"Tuve el honor de unirme al congresista Takano y Mary Erickson Community Housing en un recorrido por Myers Park, un excelente ejemplo de vivienda asequible bien hecha", dijo el alcalde Ulises Cabrera. "La crisis de vivienda de California cada día se está volviendo más crítica. Moreno Valley está intensificando y trabajando con socios como Mary Erickson para proporcionar viviendas a residentes de todos los niveles de ingresos. Me complace que el congresista Takano haya podido ver nuestro gran trabajo hasta ahora".
"Una parte crucial de ser buenos administradores de nuestra comunidad es brindar acceso a la vivienda, independientemente del nivel de ingresos", dijo la concejal del Distrito Uno, Elena Baca-Santa Cruz. "Se necesita de todos nosotros para crear comunidades saludables e inclusivas para todos. Me emocionó unirme al congresista Takano, a Mary Erickson Community Housing y a toda la delegación para mostrar nuestro progreso y, con suerte, esto conducirá a más oportunidades de financiación para los programas locales de vivienda asequible".
"La comunidad de Mary Erickson Community Housing sirve como testimonio de lo que la colaboración federal efectiva puede hacer por la gente de Moreno Valley", dijo el representante Mark Takano (CA-39). "Me emocionó ver cómo la buena administración de los dólares de HUD se traducirá directamente en viviendas más asequibles, y espero con ansias el progreso continuo para garantizar que todos tengan acceso a viviendas de calidad".
Myers Park fue adquirido por primera vez por Mary Erickson Community Housing en 2010 y fue financiado con fondos del Programa de Estabilización de Vecindarios de HUD proporcionados por la Ciudad de Moreno Valley. El vecindario de 27 unidades cuenta con apartamentos limpios y atractivos de dos habitaciones y un baño en un entorno tipo parque. La comunidad está reservada exclusivamente para inquilinos de muy bajos ingresos y tiene convenios vigentes para mantener Myers Park asequible durante los próximos 60 años.
La Ciudad de Moreno Valley continúa trabajando con socios como Mary Erickson Community Housing para crear comunidades deseables y asequibles para las familias, las personas mayores y los veteranos de Moreno Valley. Para obtener más información sobre los programas de vivienda asequible de Moreno Valley, visite moval.org/fms.
.
# # #
Upon request, this news release will be made available in appropriate alternative formats to persons with disabilities, in compliance with the Americans with Disabilities Act of 1990. Any person with a disability who requires a modification or accommodation in order to participate in this meeting should direct such requests to the ADA Coordinator at 951.413.3350 or adacoordinator@moval.org at least 72 hours before the meeting. The 72-hour notification will enable the City to make reasonable arrangements to ensure accessibility to this meeting.