City of Moreno Valley Receives Highest Economic Development Recognition Award
For immediate release: June 23, 2023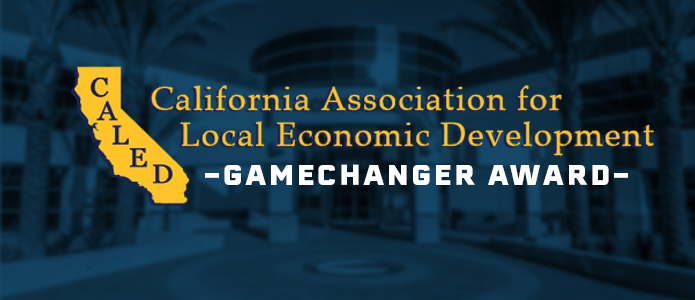 On Thursday, June 22, 2023, the California Association for Local Economic Development (CALED) bestowed the City of Moreno Valley with its Award of Excellence Grand Prize in the Gamechanger Category, the highest recognition in the field of economic development in the state of California.
CALED is honoring Moreno Valley for the City's multiple cross-departmental projects that have demonstrated continued dedication to investing in infrastructure, layering financing tools, and leveraging partnerships. The City's "game-changing" approach has attracted transformational development, including bringing in new companies, the creation of 30,000 local jobs, increasing the annual average household income from $63,000/year to $95,000/year, and the generation of millions in property tax, sales tax, and utility users' tax revenues to support public safety, parks & community services.
"The steadfast and focused efforts of the Moreno Valley Economic Development Department have made this award possible, and I am proud to see their efforts recognized by such a prominent organization," said Mayor Ulises Cabrera. "On behalf of the City of Moreno Valley, our residents, and our business partners, I would like to extend our gratitude to CALED for this prestigious award, and congratulate our City Staff for their outstanding work."
CALED, the 800-member premier statewide professional development organization, represents cities, counties, state and federal agencies, economic development corporations, and the private sector. Since 1980, CALED has been dedicated to advancing its members' ability to achieve excellence in developing economic services for their communities and business clientele.
The Moreno Valley Economic Development Department (EDD) works closely with new industrial and commercial ventures to create new jobs and develop quality retail and dining opportunities for the community.
To learn more about Moreno Valley's thriving business economy, visit morenovalleybusiness.com.
# # #
---
La ciudad de Moreno Valley recibe el máximo galardón al desarrollo económico
El jueves 22 de junio de 2023, la Asociación de Desarrollo Económico Local de California (CALED, por sus siglas en inglés) otorgó a la Ciudad de Moreno Valley su Premio de Excelencia en la categoría de "Cambio de Juego", el reconocimiento más alto en el campo del desarrollo económico en el estado de California.
CALED está honrando a Moreno Valley por los múltiples proyectos interdepartamentales de la ciudad que han demostrado una dedicación continua a la inversión en infraestructura, la utilización de herramientas financieras y el aprovechamiento de asociaciones. El enfoque "cambiador de juego" de la ciudad ha atraído un desarrollo transformador, incluida la llegada de nuevas empresas, la creación de 30,000 empleos locales, el aumento del ingreso promedio anual de los hogares de $63,000 al año a $95,000 al año y la generación de millones en impuestos a la propiedad, impuestos sobre las ventas y tarifas de servicios públicos para apoyar la seguridad pública, los parques y los servicios comunitarios.
"Los esfuerzos constantes y enfocados del Departamento de Desarrollo Económico de Moreno Valley han hecho posible este premio, y me enorgullece ver que sus esfuerzos son reconocidos por una organización tan prominente", dijo el alcalde Ulises Cabrera. "En nombre de la Ciudad de Moreno Valley, nuestros residentes y nuestros socios comerciales, me gustaría expresar nuestro agradecimiento a CALED por este prestigioso premio, y felicitar a nuestro personal de la Ciudad por su destacado trabajo".
CALED, la organización de desarrollo profesional estatal de primer nivel con 800 miembros, representa a ciudades, condados, agencias estatales y federales, corporaciones de desarrollo económico y el sector privado. Desde 1980, CALED se ha dedicado a mejorar la capacidad de sus miembros para lograr la excelencia en el desarrollo de servicios económicos para sus comunidades y clientes empresariales.
El Departamento de Desarrollo Económico de Moreno Valley (EDD) trabaja en estrecha colaboración con nuevas empresas industriales y comerciales para crear empleos y desarrollar oportunidades de venta al por menor y gastronomía de calidad para la comunidad.
Para obtener más información sobre la próspera economía empresarial de Moreno Valley, visita morenovalleybusiness.com.
# # #
Upon request, this news release will be made available in appropriate alternative formats to persons with disabilities, in compliance with the Americans with Disabilities Act of 1990. Any person with a disability who requires a modification or accommodation in order to participate in this meeting should direct such requests to the ADA Coordinator at 951.413.3350 or adacoordinator@moval.org at least 72 hours before the meeting. The 72-hour notification will enable the City to make reasonable arrangements to ensure accessibility to this meeting.