City Leadership Celebrates New Partnership with B–ON & Karma Automotive
For immediate release: May 1, 2023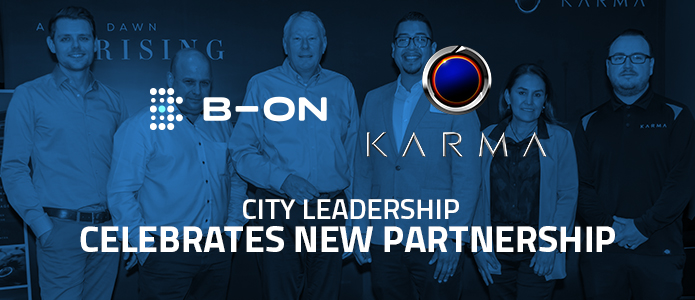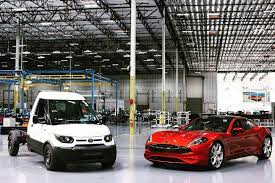 On Tuesday, April 25, Mayor Ulises Cabrera and City Staff met with executives from Karma Automotive and B–ON to celebrate an innovative new partnership between the two great electric vehicle manufacturers.
During the meeting, the City highlighted the unique support opportunities available exclusively to Moreno Valley businesses. The City of Moreno Valley's extensive employment programs, local business incentives, and educational workshops impressed Karma and B–ON executives. Business visits like this are common for Moreno Valley, and the City regularly welcomes new businesses and implements support strategies for community-wide success.
"The City and I are delighted to celebrate the partnership between Karma and B–ON," said Mayor Ulises Cabrera. "The partnership has the potential to create additional Moreno Valley jobs and will keep us leaning toward the future. Technology is evolving rapidly through artificial intelligence, automation, and information sharing, so I am proud Moreno Valley is at the forefront of attracting modern companies."
"The electric commercial vehicle market is heavily supply-driven—demand for the product continues to greatly outpace how fast manufacturers can make it, and likely will for years to come," said Stefan Krause, Founder, Chairman and CEO of B–ON. "The City of Moreno Valley is home to all of the world-class talent, state-of-the-art equipment, and innovative partner companies like Karma Automotive that B–ON needs to get a leg up on the competition and produce for the booming North, South, and Latin American markets."
"It's abundantly clear to us at Karma that the market for commercial electric vehicles is poised for rapid growth," said Marques McCammon, CEO of Karma Automotive. "B–ON's product is a proven winner in this market, and we are proud to partner with them to manufacture vehicles in Moreno Valley. Their product, combined with our existing technical expertise and customized, flexible manufacturing operational capabilities, is a recipe for success."
First announced in February 2023, the partnership between Karma Automotive and B–ON makes Moreno Valley the only city in California boasting two electric vehicle producers.
Karma's 555,000-square-foot Innovation and Customization Center offers a comprehensive range of flexible vehicle manufacturing, engineering, and customization services. The facility can produce 30,000 vehicles per year and is further supported by world-class engineering, homologation testing, vehicle certification, and supply chain management services.
Moreno Valley's Economic Development Team works at the speed of business to create an environment where all local companies can thrive. To learn more about Moreno Valley's exciting business climate, visit morenovalleybusiness.com.
# # #
---
El liderazgo de la ciudad celebra una nueva asociación con B–ON & Karma Automotive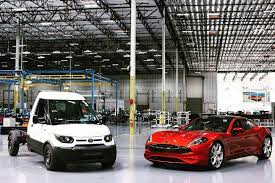 El martes 25 de abril, el alcalde Ulises Cabrera y el personal de la ciudad se reunieron con ejecutivos de Karma Automotive y B–ON para celebrar una nueva asociación innovadora entre los dos grandes fabricantes de vehículos eléctricos.
Durante la reunión, la Ciudad destacó las oportunidades únicas de apoyo disponibles exclusivamente para las empresas de Moreno Valley. Los extensos programas de empleo de la Ciudad de Moreno Valley, los incentivos comerciales locales y los talleres educativos impresionaron a los ejecutivos de Karma y B–ON. Las visitas a negocios como esta son comunes para Moreno Valley, y la Ciudad regularmente da la bienvenida a nuevos negocios e implementa estrategias de apoyo para el éxito de toda la comunidad.
"La Ciudad y yo estamos encantados de celebrar la asociación entre Karma y B–ON", dijo el alcalde Ulises Cabrera. "La asociación tiene el potencial de crear empleos adicionales en Moreno Valley y nos mantendrá inclinados hacia el futuro. La tecnología está evolucionando rápidamente a través de la inteligencia artificial, la automatización y el intercambio de información, por lo que estoy orgulloso de que Moreno Valley esté a la vanguardia de la atracción de empresas modernas".
"El mercado de vehículos comerciales eléctricos está fuertemente impulsado por la oferta y demanda: la demanda del producto continúa superando en gran medida la rapidez con la que los fabricantes pueden fabricarlo, y probablemente seguirá así en los próximos años", dijo Stefan Krause, fundador, presidente y CEO de B–ON. "La ciudad de Moreno Valley es el hogar de todo el talento de clase mundial, equipos de última generación y compañías asociadas innovadoras como Karma Automotive que B–ON necesita para obtener una ventaja sobre la competencia y producir para los florecientes mercados de Norte, Sur y América Latina".
"Está muy claro para nosotros en Karma que el mercado de vehículos eléctricos comerciales está preparado para un crecimiento rápido", dijo Marques McCammon, CEO de Karma Automotive. "El producto de B–ON es un ganador comprobado en este mercado, y estamos orgullosos de asociarnos con ellos para fabricar vehículos en Moreno Valley. Su producto, combinado con nuestra experiencia técnica existente y capacidades operativas de fabricación personalizadas y flexibles, es una receta para el éxito".
Anunciada por primera vez en febrero de 2023, la asociación entre Karma Automotive y B–ON convierte a Moreno Valley en la única ciudad de California que cuenta con dos productores de vehículos eléctricos.
El Centro de Innovación y Personalización de 555,000 pies cuadrados de Karma ofrece una amplia gama de servicios flexibles de fabricación, ingeniería y personalización de vehículos. La instalación puede producir 30,000 vehículos por año y está respaldada por ingeniería de clase mundial, pruebas de homologación, certificación de vehículos y servicios de gestión de la cadena de suministro.
El Equipo de Desarrollo Económico de Moreno Valley trabaja a la velocidad de los negocios para crear un entorno donde todas las empresas locales puedan prosperar. Para obtener más información sobre el emocionante clima de negocios de Moreno Valley, visite morenovalleybusiness.com.
# # #
Upon request, this news release will be made available in appropriate alternative formats to persons with disabilities, in compliance with the Americans with Disabilities Act of 1990. Any person with a disability who requires a modification or accommodation in order to participate in this meeting should direct such requests to the ADA Coordinator at 951.413.3350 or adacoordinator@moval.org at least 72 hours before the meeting. The 72-hour notification will enable the City to make reasonable arrangements to ensure accessibility to this meeting.