City of Moreno Valley Wins American Planning Association Award for Kaiser Permanente Expansion Project
For immediate release: April 7, 2023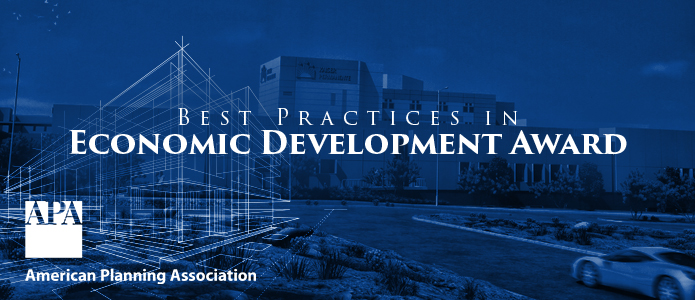 The City of Moreno Valley has been awarded the prestigious Best Practices in Economic Development Award by the American Planning Association. This national award honors projects or programs that exemplify world-class planning and economic development efforts.
The City was given this award for implementing best planning practices for the ongoing Moreno Valley Kaiser Permanente Expansion Project. The expansion project reimagines the Kaiser Permanente facility into a state-of-the-art medical campus, providing a full range of healthcare services to aid the Moreno Valley community.
"Our Community Development Department has always exemplified the gold standard of planning," said Mayor Ulises Cabrera. "This award only underscores this fact. My colleagues on the Council and I congratulate our City Planners for consistently finding and implementing innovative and transformative solutions to keep Moreno Valley building toward a brighter future."
The Kaiser Permanente expansion project was designed, planned, and began construction during the COVID-19 pandemic. When the world locked down and in-person meetings became impossible, City Staff and Kaiser found creative ways to collaborate and plan to ensure the project moved forward safely. The City's award-winning and highly innovative digital plan room, SimpliCITY, made the collaboration possible.
Once completed, the new Kaiser Permanente Medical Center will create an anticipated 4,000 new high-paying jobs in Moreno Valley.
Learn more about the City of Moreno Valley's award-winning Community Development Department at moval.org/cdd.
# # #
---
La Ciudad de Moreno Valley Gana el Premio de la Asociación Americana de Planificación por el Proyecto de Expansión de Kaiser Permanente
La Ciudad de Moreno Valley ha ganado el prestigioso Premio a las Mejores Prácticas en Desarrollo Económico de la Asociación de Planificación Americana. Este premio nacional honra proyectos o programas que ejemplifican los esfuerzos de desarrollo económico y planificación de clase mundial.
La Ciudad recibió este premio por implementar las mejores prácticas de planificación para el Proyecto de Expansión de Moreno Valley Kaiser Permanente en curso. El proyecto de expansión reinventa las instalaciones de Kaiser Permanente en un campus médico de última generación, brindando una gama completa de servicios de atención médica para ayudar a la comunidad de Moreno Valley.
"Nuestro Departamento de Desarrollo Comunitario siempre ha sido un ejemplo del estándar dorado de la planificación", dijo el Alcalde Ulises Cabrera. "Este premio solo subraya este hecho. Mis colegas en el Concejo y yo felicitamos a nuestros planificadores de la Ciudad por encontrar e implementar constantemente soluciones innovadoras y transformadoras para que Moreno Valley siga construyendo hacia un futuro más brillante".
El proyecto de expansión de Kaiser Permanente fue diseñado, planificado y comenzó a construirse durante la pandemia de COVID-19. Cuando el mundo se cerró y las reuniones en persona se volvieron imposibles, el personal de la Ciudad y Kaiser encontraron formas creativas de colaborar y planificar para garantizar que el proyecto avanzara de manera segura. La galardonada y altamente innovadora sala de planos digitales de la Ciudad, SimpliCITY, hizo posible la colaboración.
Una vez terminado, el nuevo Kaiser Permanente Medical Center creará 4,000 nuevos empleos bien remunerados en Moreno Valley.
Obtenga más información sobre el galardonado Departamento de Desarrollo Comunitario de la Ciudad de Moreno Valley en moval.org/cdd.
# # #
Upon request, this news release will be made available in appropriate alternative formats to persons with disabilities, in compliance with the Americans with Disabilities Act of 1990. Any person with a disability who requires a modification or accommodation in order to participate in this meeting should direct such requests to the ADA Coordinator at 951.413.3350 or adacoordinator@moval.org at least 72 hours before the meeting. The 72-hour notification will enable the City to make reasonable arrangements to ensure accessibility to this meeting.