City of Moreno Valley Congratulates College Basketball Star Lamont Butler on Historic NCAA Performance
For immediate release: April 4, 2023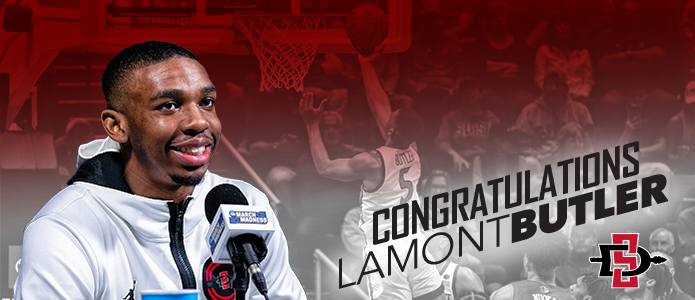 The City of Moreno Valley congratulates Moreno Valley native Lamont Butler on his incredible performance throughout the National Collegiate Athletic Association's (NCAA) Tournament.
Lamont Butler cemented his place in NCAA history when he made a game-winning shot in the final seconds against Florida Atlantic during the Final Four, propelling the San Diego State Aztecs to the NCAA Championship Game. It was the first time San Diego State University (SDSU) made it to the Championship.
"The Moreno Valley City Council and I are incredibly proud of Mr. Butler on his astonishing performance during the NCAA tournament," said Mayor Ulises Cabrera. "Lamont's buzzer-beating shot is indisputably among the best moments in Final Four history, and to see another Moreno Valley resident's dreams soaring on the national stage brings a strong sense of pride to our city."
Lamont Butler grew up in Moreno Valley and attended high school at Riverside Poly. He led the Riverside Poly Bears to two California Interscholastic Federation (CIF) championships, and broke the all-time scoring record held by fellow Riverside Poly alum and NBA Hall-of-Famer Reggie Miller.
He is not the first Moreno Valley native to rise to stardom at SDSU—Clippers superstar Kawhi Leonard was also an Aztec. The City of Moreno Valley looks forward to what will come next in the promising basketball career of Lamont Butler.
Sports superstars have to start somewhere, so if you would like more information about the City of Moreno Valley's many great athletic programs, please visit moval.org/sports.
# # #
---
La ciudad de Moreno Valley felicita a la estrella del baloncesto universitario Lamont Butler por su histórica actuación en la NCAA
La Ciudad de Moreno Valley felicita al nativo de Moreno Valley, Lamont Butler, por su increíble desempeño durante el Torneo de la Asociación Atlética Nacional Universitaria (NCAA).
Lamont Butler consolidó su lugar en la historia de la NCAA cuando hizo un tiro ganador en los últimos segundos contra Florida Atlantic durante el Final Four, impulsando a los San Diego State Aztecs al Juego de Campeonato de la NCAA. Fue la primera vez que la Universidad Estatal de San Diego (SDSU) llegó al Campeonato.
"El Concejo Municipal de Moreno Valley y yo estamos increíblemente orgullosos del Sr. Butler por su asombrosa actuación durante el torneo de la NCAA", dijo el alcalde Ulises Cabrera. "El tiro de Lamont es indiscutiblemente uno de los mejores momentos en la historia del Final Four, y ver los sueños de otro residente de Moreno Valley elevarse en el escenario nacional trae un fuerte sentido de orgullo a nuestra ciudad".
Lamont Butler creció en Moreno Valley y asistió a la escuela secundaria en Riverside Poly. Llevó a los Riverside Poly Bears a dos campeonatos de la Federación Interescolar de California (CIF), y rompió el récord de anotación de todos los tiempos en poder de su compañero de Riverside Poly y miembro del Salón de la Fama de la NBA, Reggie Miller.
No es el primer nativo de Moreno Valley en alcanzar el estrellato en SDSU: la superestrella de los Clippers, Kawhi Leonard, también fue Aztec. La ciudad de Moreno Valley espera con ansias lo que vendrá después en la prometedora carrera de baloncesto de Lamont Butler.
Las superestrellas del deporte tienen que comenzar en alguna parte, así que si desea obtener más información sobre los excelentes programas deportivos de la Ciudad de Moreno Valley, visite moval.org/sports.
# # #
Upon request, this news release will be made available in appropriate alternative formats to persons with disabilities, in compliance with the Americans with Disabilities Act of 1990. Any person with a disability who requires a modification or accommodation in order to participate in this meeting should direct such requests to the ADA Coordinator at 951.413.3350 or adacoordinator@moval.org at least 72 hours before the meeting. The 72-hour notification will enable the City to make reasonable arrangements to ensure accessibility to this meeting.