City of Moreno Valley Hits the Ground Running in 2023
For immediate release: March 30, 2023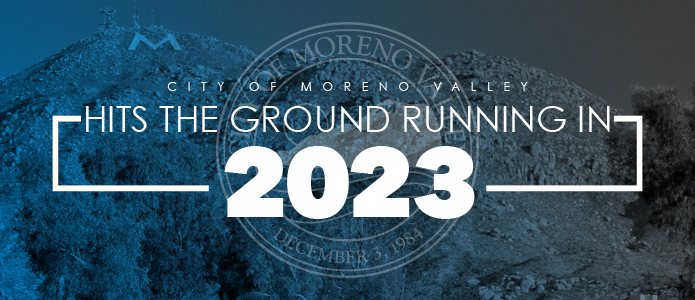 From repairing roads to beautifying parks, enriching the arts, bringing in new businesses, helping the homeless, and everything in between, Moreno Valley's Mayor, Council, and City Staff work hard every day to serve the community.
"Looking back at my first 100 days in office, I know Moreno Valley is on the path to a stronger and brighter future," said Mayor Cabrera. "The City Council and I have hit the ground running on programs and initiatives that will better our community. We are quickly establishing MoVal as the most dynamic City in Riverside County. I can't wait to see what the future brings."
Arts
Laid the foundation to develop a Public Art Policy, which will include a Mural Program
Hosted the inaugural Festival of Arts at the Civic Center Amphitheater
Invited local artists to display artwork at City facilities through the City's Art Loan Program
Business
Welcomed Texas Roadhouse, Kids Empire, A Better You, and more to Moreno Valley's Businesses Community with Dunkin, Aldi, Habit Burger, and Dutch Bros slated to open soon
Championed Karma's partnership with B-ON landing a deal to manufacture commercial electric vehicles in Moreno Valley, making Moreno Valley the only City in California with two EV manufacturers within City limits
Hosted a Job Fair featuring prominent local employers
Community
Commenced the Parks Rehabilitation & Refurbishment Program, a $6 million parks renovation project that is the largest in the City's history
Held a special study session on homelessness to listen to ideas and concerns from the Moreno Valley community about tackling the homelessness crisis
Saw various appointments to boards and commissions to bolster community engagement
Debuted brand new soccer field lights at Victoriano Park
Held a Telephone Town Hall to listen to ideas and concerns from the Moreno Valley community
Created Moreno Valley's inaugural Adult Flashlight Egg Scramble and Glowing Crazy Egg Hunt
Beautified Westbluff and John F. Kennedy Memorial Parks
Welcomed a delegation from our sister City San Juan de Los Lagos
Grants
Received $2 million in federal funding from Congressman Mark Takano to enhance the Homeless to Work and Rapid Rehousing programs
Awarded with a $250,000 CalTrans Sustainable Planning Transportation Grant for the City's ongoing Electric Vehicle Charging Infrastructure Master Plan
Received $56,000 from the Edward Byrne Memorial Grant to enhance the City's public safety initiatives
Accepted over $2 million in US Department of Housing and Urban Development (HUD) Home American Rescue Plan (HOME-ARP) grant to assist residents in accessing affordable housing, create tenant protection programs, and make shelter easily accessible
Won over $26,000 in State Homeland Security Program grants to fund the City's Community Emergency Response Team (CERT) program
Garnered over $56,000 in Emergency Management Performance Grants (EPMG) toward enriching the City's Emergency Management programs
Housing
Approved the City of Moreno Valley to enter the Pro-Housing Designation Program, which incentivizes cities and counties in housing, community development, and infrastructure
Approved the commencement of phase two of the Courtyards at Cottonwood, a groundbreaking affordable housing development that will give dozens of low-income families and seniors a safe and affordable place to live
Public Safety
Launched the Catalytic Converter Tipline to create a credibility check to decrease catalytic converter theft in Moreno Valley
For more information on everything the City is doing to ensure Moreno Valley remains a beautiful place to live and thrive, visit moval.org/news.
# # #
---
La cuidad de Moreno Valley se pone manos a la obra en 2023
Desde la reparación de carreteras hasta el embellecimiento de parques, el cultivo de las artes, la incorporación de nuevos negocios, la ayuda a las personas sin hogar y todo lo demás, el Alcalde, el Concejo Municipal y los empleados de la Ciudad de Moreno Valley trabajan duro todos los días para servir la comunidad.
"Mirando hacia atrás en mis primeros 100 días en el cargo, sé que Moreno Valley está en camino hacia un futuro más fuerte y brillante", dijo el Alcalde Cabrera. "El Concejo Municipal y yo hemos comenzado programas y iniciativas que mejorarán nuestra comunidad. Rápidamente estamos estableciendo a MoVal como la ciudad más dinámica del condado de Riverside. No puedo esperar a ver lo que trae el futuro ".
La siguiente es una lista parcial de los logros recientes de la Ciudad de Moreno Valley:
ARTE
Sentamos las bases para desarrollar una Política de Arte Público, que incluirá un Programa de Murales
Organizamos el Festival de las Artes inaugural en el Anfiteatro del Centro Cívico
Artistas locales fueron invitados a exhibir obras de arte en las instalaciones de la Ciudad a través el Programa de Préstamo de Arte de la Ciudad
NEGOCIOS
Le dimos la bienvenida a Texas Roadhouse, Kids Empire, A Better You y más a la comunidad de Moreno Valley con Dunkin, Aldi, Habit Burger y Dutch Bros programados para abrir pronto
Atrajimos la asociación de Karma con B-ON y llegamos a un acuerdo para fabricar vehículos eléctricos comerciales en Moreno Valley. Esto convirtió a Moreno Valley en la única ciudad de California con dos fabricantes de vehículos eléctricos dentro de los límites de la ciudad.
Organizamos una feria de empleo con destacados empleadores locales
COMUNIDAD
Empezamos el Programa de Renovación y Restauración de Parques, un proyecto de renovación de parques de $6 millones que es el más grande en la historia de la Ciudad
Tuvimos una Sesión de Estudio Especial sobre personas sin hogar para escuchar ideas y preocupaciones de la comunidad sobre cómo abordar el crisis de personas sin hogar.
Vimos varios nombramientos en juntas y comisiones para reforzar la participación de la comunidad
Debutamos nuevas luces de campo de fútbol en Victoriano Park
Tuvimos una asamblea pública telefónica para escuchar ideas y preocupaciones de la comunidad de Moreno Valley
Creamos dos eventos especiales: Moreno Valley's Adult Flashlight Egg Scramble and Glowing Crazy Egg Hunt
Embellecimos dos parques: Westbluff y John F. Kennedy Memorial
Dimos la bienvenida a una delegación de nuestra ciudad hermana San Juan de Los Lagos
SUBVENCIONES
Recibimos $2 millones en fondos federales del congresista Mark Takano para mejorar los programas Homeless to Work y Rapid Rehousing
Nos concedieron una Subvención de Transporte de Planificación Sostenible de CalTrans de $ 250,000 para el Plan Maestro de Infraestructura de Carga de Vehículos Eléctricos en curso de la Ciudad
Recibimos $56,000 de la subvención en memoria de Edward Byrne para mejorar las iniciativas de seguridad pública en la ciudad
Se aceptaron más de $2 millones en la subvención del Plan de Rescate de Hogares Estadounidenses (HOME-ARP) del Departamento de Vivienda y Desarrollo Urbano de EE. UU. (HUD) para ayudar a los residentes a acceder a viviendas asequibles, crear programas de protección de inquilinos y hacer que los refugios sean fácilmente accesibles
Ganamos más de $26,000 en subvenciones del Programa de Seguridad Nacional del Estado para financiar el programa del Equipo de Respuesta a Emergencias Comunitarias (CERT) de la Ciudad
Conseguimos más de $56,000 en Subsidios de Desempeño para el Manejo de Emergencias (EPMG) para enriquecer los programas de Manejo de Emergencias de la Ciudad
ALOJAMIENTO
Aprobamos que la Ciudad de Moreno Valley ingrese al Programa de Designación Pro-Vivienda, que incentiva a las ciudades y condados en vivienda, desarrollo comunitario y infraestructura
Aprobamos el comienzo de la fase dos de Courtyards at Cottonwood, un desarrollo de viviendas asequibles que brindará a docenas de familias de bajos ingresos y personas mayores un lugar seguro y asequible para vivir
SEGURIDAD PÚBLICA
Lanzamos la línea de consejos sobre convertidores catalíticos para crear una verificación de credibilidad para disminuir el robo de convertidores catalíticos en Moreno Valley
Para obtener más información sobre todo lo que está haciendo la Ciudad para garantizar que Moreno Valley siga siendo un hermoso lugar para vivir y prosperar, visite moval.org/news.
# # #
Upon request, this news release will be made available in appropriate alternative formats to persons with disabilities, in compliance with the Americans with Disabilities Act of 1990. Any person with a disability who requires a modification or accommodation in order to participate in this meeting should direct such requests to the ADA Coordinator at 951.413.3350 or adacoordinator@moval.org at least 72 hours before the meeting. The 72-hour notification will enable the City to make reasonable arrangements to ensure accessibility to this meeting.