Moreno Valley Welcomes Another Commercial Electric Vehicle Manufacturer
For immediate release: February 1, 2023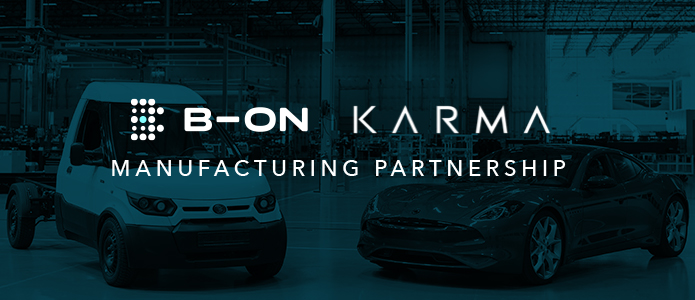 The City of Moreno Valley continues to lead the way in cutting-edge electric vehicle production. Karma Automotive, one of the nation's premier electric luxury car manufacturers, has partnered with Luxembourg-based B-ON to produce electric light-commercial vehicles at their Moreno Valley facility.
The Mayor and City Council are thrilled about the partnership, and welcome B-ON to the Moreno Valley community.
"Karma has been a dedicated member of Moreno Valley's business community for years and represents the future of luxury electric vehicles," said Moreno Valley Mayor Ulises Cabrera. "This new partnership is estimated to create new local manufacturing jobs and places a brighter spotlight on Moreno Valley as a hub for automotive innovation. Karma's partnership with B-ON makes Moreno Valley the only city in California boasting two EV manufacturers. The future of electric vehicle manufacturing is happening right here in Moreno Valley."
"We are very focused on bringing new business to our state-of-the-art ISO-certified manufacturing facility, the Karma Innovation & Customization Center (KICC) in Moreno Valley," said Jeff Wawryzniak, CEO of Karma Automotive. "Our partnership with B-ON – the electric vehicle solutions provider – will not only place Karma as a leader in the customized flexible manufacturing space but will also put the City of Moreno Valley on the global stage as an ideal environment for growth and business opportunities."
"In Moreno Valley, we have the necessary infrastructure, talented resources, and an ever-growing market for manufacturers, and we look forward to creating good-paying jobs in the months to come as our business continues to grow," Wawryzniak added.
Karma Automotive has based its manufacturing operations in Moreno Valley since 2015. Karma's 555,000-square-foot Innovation and Customization Center can produce 30,000 vehicles per year. Production of B-ON's electric delivery trucks will begin later in 2023, with full-scale production starting in 2024. Karma currently has the capacity to employ 330 people per shift during full production.
For more information on Moreno Valley's growing and innovative business community, visit morenovalleybusiness.com.
# # #
---
Moreno Valley da la bienvenida a otro fabricante de vehículos eléctricos comerciales
La ciudad de Moreno Valley continúa liderando el camino en la producción de vehículos eléctricos. Karma Automotive, uno de los principales fabricantes de automóviles eléctricos de lujo del país, se ha asociado con B-ON, con sede en Luxemburgo, para producir vehículos comerciales ligeros eléctricos en sus instalaciones de Moreno Valley.
El alcalde y el Concejo Municipal están encantados con la asociación y dan la bienvenida a B-ON a la comunidad de Moreno Valley.
"Karma ha sido un miembro dedicado a la comunidad empresarial de Moreno Valley durante años y representa el futuro de los vehículos eléctricos de lujo", dijo el alcalde de Moreno Valley, Ulises Cabrera. "Se estima que esta nueva asociación creará nuevos empleos de fabricación local y pondrá un foco más brillante en Moreno Valley como un centro para la innovación automotriz. La asociación de Karma con B-ON hace de Moreno Valley la única ciudad en California que cuenta con dos fabricantes de vehículos eléctricos. El futuro de la fabricación de vehículos eléctricos está sucediendo aquí mismo en Moreno Valley".
"Estamos muy enfocados en traer negocios nuevos a nuestra planta de fabricación el Centro de Innovación y Personalización de Karma (KICC) con certificación ISO de última generación en Moreno Valley", dijo Jeff Wawryzniak, CEO de Karma Automotive. "Nuestra asociación con B-ON, el proveedor de soluciones para vehículos eléctricos no solo colocará a Karma como líder en el espacio de fabricación flexible personalizado, sino que también colocará a la Ciudad de Moreno Valley en el escenario global como un entorno ideal para el crecimiento y las oportunidades comerciales".
"En Moreno Valley, tenemos la infraestructura necesaria, recursos talentosos y un mercado en crecimiento constante para los fabricantes, y esperamos crear empleos bien remunerados en los próximos meses a medida que nuestro negocio continúe creciendo", agregó Wawryzniak.
Karma Automotive ha basado sus operaciones de fabricación en Moreno Valley desde 2015. El Centro de Innovación y Personalización de 555,000 pies cuadrados de Karma puede producir 30,000 vehículos por año. La producción de los camiones de reparto eléctricos de B-ON comenzará más adelante en el 2023, y la producción a gran escala comenzará en el 2024. Actualmente, Karma tiene capacidad para emplear a 330 personas por turno en plena producción.
Para obtener más información sobre la creciente e innovadora comunidad empresarial de Moreno Valley, visite
morenovalleybusiness.com
# # #
Upon request, this news release will be made available in appropriate alternative formats to persons with disabilities, in compliance with the Americans with Disabilities Act of 1990. Any person with a disability who requires a modification or accommodation in order to participate in this meeting should direct such requests to the ADA Coordinator at 951.413.3350 or adacoordinator@moval.org at least 72 hours before the meeting. The 72-hour notification will enable the City to make reasonable arrangements to ensure accessibility to this meeting.