Mayor Gutierrez and the Moreno Valley City Council Celebrate the Grand Opening of Kalaveras
For immediate release: November 17, 2022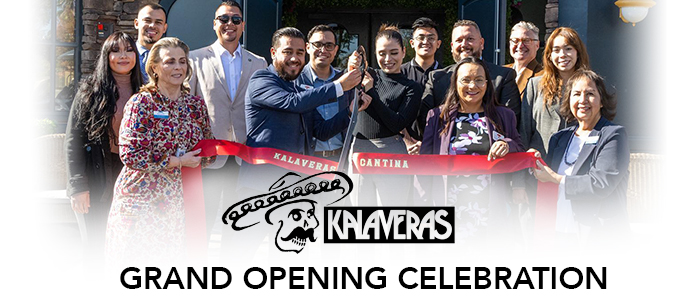 Mayor Yxstian Gutierrez, the Moreno Valley City Council, and the Chamber of Commerce celebrated the grand opening of Kalaveras on Wednesday, November 16, 2022.
Mayor Gutierrez and the City Council helped cut the ribbon to officially welcome Kalaveras, the newest addition to Moreno Valley's ever-expanding lineup of unique dining options.
"I am honored to welcome Kalaveras, another wonderful family-owned local business, to Moreno Valley," said Mayor Gutierrez. "Kalaveras' delicious Latin-American cuisine and unique Day of the Dead-inspired decor will fit right in with our dynamic community. Kalaveras' grand opening signals that we continue to be a destination for exciting dining options in the Inland Empire and beyond."

Kalaveras is among the fastest-growing restaurants in the region, opening 17 new locations within the past six years. Kalaveras will be yet another dependable source of local employment, and revenue from businesses like Kalaveras will lead to more significant public safety and community services funding.

Kalaveras is the newest business to open in Moreno Valley in 2022, joining the ranks of Raising Cane's, Sprouts Farmers Market, Mr. Fries Man, Capriotti's Sandwich Shop, Orleans & York, and many others.
Kalaveras is located at 23060 Alessandro Boulevard in Moreno Valley.
Learn more about exciting new and upcoming businesses in Moreno Valley by visiting morenovalleybusiness.com.
# # #
---
El alcalde Gutiérrez y el Concejo Municipal de Moreno Valley celebran la Gran Inauguración de Kalaveras
El alcalde Yxstian Gutiérrez, el Concejo Municipal de Moreno Valley y la Cámara de Comercio celebraron la gran inauguración de Kalaveras el miércoles 16 de noviembre de 2022.
El alcalde Gutiérrez y el Concejo Municipal ayudaron a cortar la cinta para dar la bienvenida oficial a Kalaveras, la incorporación más reciente a la línea de opciones gastronómicas únicas de Moreno Valley.
"Me siento honrado de darle la bienvenida a Kalaveras, otra maravillosa empresa local y familiar, a Moreno Valley", dijo el alcalde Gutiérrez. "La deliciosa cocina latinoamericana de Kalaveras y la decoración única inspirada en el Día de los Muertos encajarán perfectamente con nuestra comunidad dinámica. La gran inauguración de Kalaverasindica que seguimos siendo un destino para emocionantes opciones gastronómicas en Inland Empire y más allá".

Kalaveras es uno de los restaurantes de crecimiento más rápido en la región, abriendo 17 nuevas ubicaciones en los últimos seis años. Kalaveras será otra fuente confiable de empleo local, y los ingresos de empresas como Kalaveras conducirán a una financiación más significativa de la seguridad pública y los servicios comunitarios.

Kalaveras es el negocio más nuevo en abrir en Moreno Valley en 2022, uniéndose a las filas de Raising Cane's, Sprouts Farmers Market, Mr. Fries Man, Capriotti's Sandwich Shop, Orleans & York, y muchos otros.
Kalaveras está ubicado en 23060 Alessandro Boulevard en Moreno Valley.
Obtenga más información sobre emocionantes negocios nuevos y futuros en Moreno Valley visitando morenovalleybusiness.com.
# # #
Upon request, this news release will be made available in appropriate alternative formats to persons with disabilities, in compliance with the Americans with Disabilities Act of 1990. Any person with a disability who requires a modification or accommodation in order to participate in this meeting should direct such requests to Guy Pegan, ADA Coordinator, at 951.413.3120 at least 72 hours before the meeting. The 72-hour notification will enable the City to make reasonable arrangements to ensure accessibility to this meeting.