Mayor Gutierrez and City Council to Dedicate New Segment of Juan Bautista de Anza Trail
For immediate release: May 13, 2022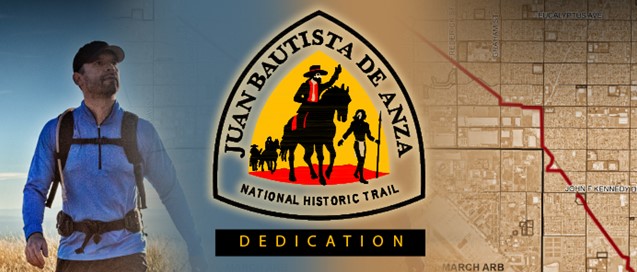 The City of Moreno Valley invites the community to the grand opening of the newest segment of the historic Juan Bautista de Anza trail on Wednesday May 18.
Mayor Yxstian Gutierrez and the Moreno Valley City Council will dedicate the trail at El Potrero Park at 2 p.m.
"This newest section of the Juan Bautista de Anza trail is yet another way we're keeping Moreno Valley beautiful, healthy and active," said Mayor Gutierrez. "This trail is our newest open space where Moreno Valley residents can walk, run, or ride their bikes. This trail has something for everyone, and I can't wait to officially open it to the public."
The Juan Bautista de Anza trail is the latest addition to Moreno Valley's growing network of 25 multi-use trails. The roughly eight-mile trail runs from Towngate Boulevard in the north to Lake Perris in the south.
This newest two-mile segment, to be dedicated on May 18, stretches from El Potrero Park to Lake Perris. El Potrero Park is located at 16841 Via Pamplona.
HISTORY:
The historic 1,200-mile trail, which dates back to the 18th century, runs from the San Francisco Bay Area in the north to the Arizona/Mexico border in the south. The trail is named after Juan Bautista de Anza, a Spanish military leader who established one of the first non-native settlements in California.
More information can be found at movalparks.org.
# # #
---
El Alcalde Gutiérrez y el Concejo Municipal Dedicarán Nuevo Segmento del Sendero Juan Bautista de Anza
La Ciudad de Moreno Valley invita a la comunidad a la gran inauguración del segmento más nuevo del histórico sendero Juan Bautista de Anza el miércoles 18 de mayo.
El Alcalde Yxstian Gutiérrez y el Concejo Municipal de Moreno Valley inaugurarán el sendero en el Parque El Potrero a las 2 p.m.
"Esta sección más nueva del sendero Juan Bautista de Anza es otra forma en que mantenemos a Moreno Valley hermoso, saludable y activo", dijo el alcalde Gutiérrez. "Este sendero es nuestro espacio abierto más nuevo donde los residentes de Moreno Valley pueden caminar, correr o andar en bicicleta. Este sendero tiene algo para todos, y no puedo esperar para abrirlo oficialmente al público".
El sendero Juan Bautista de Anza es la última incorporación a la creciente red de 25 senderos de usos múltiples de Moreno Valley. El sendero de aproximadamente ocho millas va desde Towngate Boulevard en el norte hasta el lago Perris en el sur.
Este nuevo segmento de dos millas, que se dedicará el 18 de mayo, se extiende desde El Potrero Park hasta Lake Perris. El Parque El Potrero está ubicado en Via Pamplona 16841.
HISTORIA:
El sendero histórico de 1,200 millas, que data del siglo XVIII, se extiende desde el Área de la Bahía de San Francisco en el norte hasta la frontera entre Arizona y México en el sur. El sendero lleva el nombre de Juan Bautista de Anza, un líder militar español que estableció uno de los primeros asentamientos no nativos en California.
Se puede encontrar más información en movalparks.org
# # #
Upon request, this news release will be made available in appropriate alternative formats to persons with disabilities, in compliance with the Americans with Disabilities Act of 1990. Any person with a disability who requires a modification or accommodation in order to participate in this meeting should direct such requests to Guy Pegan, ADA Coordinator, at 951.413.3120 at least 72 hours before the meeting. The 72-hour notification will enable the City to make reasonable arrangements to ensure accessibility to this meeting.