Mayor Gutierrez Reflects on an Accomplished 2021
For immediate release: December 30, 2021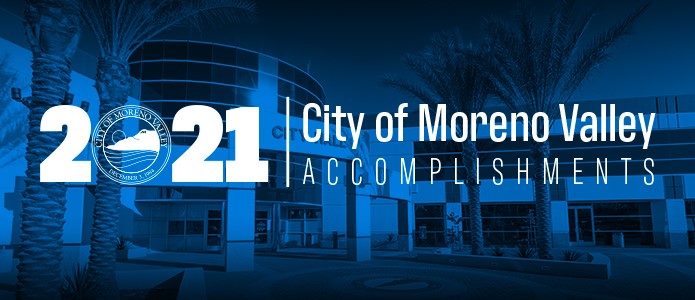 From saving residents from eviction to feeding those in need to repairing roads, the City of Moreno Valley continued to focus on providing services to MoVal residents throughout 2021.
City Hall was buzzing with activity this year. With the new Civic Center Amphitheater opening in June, Moreno Valley came alive with exciting community events that attracted thousands of people from across the City and beyond.
"I am incredibly proud of everything we have achieved as a community to overcome the challenges of 2021," said Dr. Yxstian Gutierrez, Mayor of Moreno Valley. "The City of Moreno Valley continued to do what we do best—collaborate, innovate, and deliver world-class customer service."
The following is a partial list of the City's achievements this year:
COVID-19 RESPONSE
The City continued to assist residents who were struggling during the pandemic. This year alone, the City's MoVal Meals, Senior Eats and Family Service Association (FSA) program distributed 139,409 meals to residents across Moreno Valley.
The City implemented the "We've Got You Covered" program, distributing 650,000 free masks and hand sanitizers to Moreno Valley residents and businesses.
The MoVal Rental Rescue program was expanded, offering rental assistance support for up to 12 months of unpaid rent, plus an additional three months of future rent, for families hit hard by the effects of the pandemic.
The City created the Coronavirus Resources webpage, linking residents to trusted virus information and local resources.
COMMUNITY DEVELOPMENT
Over 5,000 building permits were issued this year, as well as over 24,000 building & safety construction inspections. Over 24,000 customers were helped in 2021.
The animal shelter logged over 9,400 visits, over 7,000 field service calls, and celebrated over 2,000 positive outcomes for sheltered pets.
The City completed its MoVal 2040 general plan update, which charts the course of Moreno Valley for the next 20 years.
COMMUNITY ENHANCEMENT
The City's Code Enforcement team conducted over 14,000 neighborhood service inspections and assisted over 13,000 customers this year so far.
The City's Homeless to Work and Homeless Assistance programs continued to assist people in need, allowing people experiencing homelessness a gateway to employment and an opportunity to get back on their feet.
ECONOMIC DEVELOPMENT
The recently-revamped Business and Employment Resource Center (BERC), which stayed open throughout the pandemic, served over 16,000 customers looking to jumpstart their career path in 2021, with an average of 1,500 customers served per month.
More businesses continue to open in the City, including La Surtidora, Ross Dress for Less, the new Perris Pavilion Food Hall, and many more. A second electric car manufacturer, AYRO, commenced operations in Moreno Valley in 2021.
FIRE DEPARTMENT
Our Moreno Valley Firefighters responded to nearly 20,000 calls for service, including 16,000 emergency medical calls and nearly 700 fire calls.
The City's Fire Prevention Team inspected 1,700 businesses and 684 apartments, ensuring Moreno Valley remains safe from fire.
The City unveiled its game-changing SAFER program in October. SAFER, which stands for Smoke Alarm and Fire Education Resources, gives out one free smoke and carbon monoxide alarm to Moreno Valley households in need. The alarms were donated to the City by Moreno Valley businesses.
POLICE DEPARTMENT
Our police officers continue to make illegal fireworks a top non-emergency priority, issuing thousands of dollars in tickets throughout 2021 and making several arrests for illegal fireworks sales.
The Department is also ramping up enforcement of illegal dumping, with several arrests made for illegal dumping in 2021.
Overall, Moreno Valley police officers responded to over 126,000 calls for service throughout 2021.
PUBLIC WORKS
Nearly 5,000 potholes were filled throughout Moreno Valley in 2021, with an average of about 500 potholes filled per month.
Graffiti abatement crews responded to over 12,500 locations across Moreno Valley.
Over 116 miles of roadway were striped throughout 2021, and over 16,000 miles of curbs were swept throughout the year, with an average of 1,500 miles per month.
The Moreno Beach Drive Bridge Project, the largest public works project in City history which will replace the existing bridge over the 60 freeway with a new seven-lane bridge, commenced construction.
FINANCIAL & MANAGEMENT SERVICES
The CLiC Program (Computer Learning & Internet Connectivity) continues to be recognized statewide, recently winning the California Society of Municipal Finance Officers (CSMFO) Innovation Award. CLiC bridges the digital divide by encouraging equity of access in the digital world.
The City launched a sweeping broadband survey that aimed to better understand Moreno Valley residents' internet needs.
The City unveiled the MoVal Vendor Preference (MVP) program, which gives Moreno Valley-based businesses an advantage when bidding for goods, equipment, supplies, and materials.
PARKS & COMMUNITY SERVICES
The Parks team conducted over 1,700 classes throughout 2021, and nearly 800 classes at the Senior Community Center.
Hundreds of residents of all ages attended the quarterly Beautify MoVal Community Days of Service, where we cleaned up Moreno Valley parks throughout the City.
The City teamed up with NBA superstar Kawhi Leonard to unveil the Kawhi Leonard Basketball Court at Weston Park.
The Carla J. Thornton Teen SPOT opened, offering a fun and unique space for Moreno Valley teens to access the internet, get homework help, and socialize.
AWARDS
City Manager's Office - Media & Communications Division
NATOA Awards for Overall Excellence in Government Programming, Public Service Announcement, Intern Production, and Instructional/Training Videos.
International Design Awards for the State of the City, MVU Annual Report, Current Activity, and Soaring Activity Guide.
American Advertising Federation Gold Award for Corporate Social Responsibility Television.
STAR Awards for Public Affairs and Weekly or Monthly News.
CAPIO award for Excellence in Public Information and Communications, Video Production.
Economic Development/Community Development Department
Turning Red Tape into Red Carpet Award for Innovative Use of Technology for Moreno Valley's Digital Plan Room.
Financial & Management Services
Certificate of Achievement for Excellence in Financial Reporting, Popular Annual Finance Reporting, and the Distinguished Budget Presentation Awards from the Government Finance Officers Association (GFOA), which are the highest governmental awards in reporting.
California Society of Municipal Finance Officers (CSMFO) Innovation Award for the CLiC (Computer Learning and Internet Connectivity) program.
Technology Services Division
Municipal Information Systems Association of California (MISAC) award for Excellence in Information Technology Practices.
Parks & Community Services
Keep America Beautiful President's Circle Award for Moreno Valley's Beautify program.
Moreno Valley Public Library
California Humanities Library Innovation Lab Grant Award for the "Celebrating MoVal Cultures" project.
# # #
---
El alcalde Gutiérrez reflexiona sobre un 2021 muy logrado
Desde salvar a los residentes del desalojo, a alimentar a los necesitados, a reparar las carreteras, la Ciudad de Moreno Valley continuó manteniendo el enfoque en la prestación de servicios a los residentes del MoVal a lo largo de 2021.
El Ayuntamiento estuvo lleno de actividad este año. Con la inauguración del nuevo Anfiteatro del Centro Cívico en junio, Moreno Valley revivió con emocionantes eventos comunitarios que atrajeron a miles de personas de toda la Ciudad y más allá.
"Estoy increíblemente orgulloso de todo lo que hemos logrado como comunidad para superar los retos del 2021", dijo el doctor Yxstian Gutiérrez, Alcalde de Moreno Valley. "La ciudad de Moreno Valley siguió haciendo lo que mejor sabemos hacer: colaborar, innovar y ofrecer un servicio al cliente de primera clase".
La siguiente es una lista parcial de los logros de la Ciudad este año:
RESPUESTA DE COVID-19
La Ciudad siguió ayudando a los residentes que estaban luchando durante la pandemia. Solo este año, el programa de Comidas MoVal, Comidas para Mayores y la Asociación de Servicios Familiares (FSA) distribuyeron 139,409 comidas a residentes en todo Moreno Valley.
La Ciudad implementó el programa "Los Tenemos Cubiertos" "We've Got You Covered", distribuyendo 650 mil mascarillas y desinfectantes de manos gratuitos a residentes y negocios de Moreno Valley.
Se amplió el programa de Asistencia de Renta (MoVal Rental Rescue), que ofrece asistencia para cubrir impago de renta hasta por 12 meses, más tres meses adicionales de futura renta pagada, para familias muy afectadas por los efectos de la pandemia.
La Ciudad creó la página web de Recursos para el Coronavirus, que vincula a los residentes con información de virus de confianza y recursos locales.
DESARROLLO COMUNITARIO
Este año se expidieron más de 5,000 permisos de construcción, así como más de 24,000 inspecciones de construcción y seguridad. Más de 24,000 clientes recibieron ayuda en 2021.
El refugio de animales registró más de 9,400 visitas, más de 7,000 llamadas de servicio de campo y celebró más de 2,000 resultados positivos para mascotas protegidas.
La Ciudad completó su actualización del plan general MoVal 2040, que traza el curso de Moreno Valley para los próximos 20 años.
MEJORA DE LA COMUNIDAD
El equipo de aplicación de código de la ciudad llevó a cabo más de 14,000 inspecciones de servicio de barrio y asistió a más de 13,000 clientes este año hasta el momento.
Los programas de Ayuda A Las Personas Sin Hogar Para Trabajar y Asistencia A Las Personas Sin Hogar de la ciudad siguieron ayudando a las personas necesitadas, lo que permitió a las personas sin hogar obtener empleo y tener la oportunidad de recuperarse.
DESARROLLO ECONÓMICO
El recientemente remodelado Centro de Recursos Empresariales y de Empleo (BERC), que permaneció abierto durante toda la pandemia, atendió a más de 16,000 clientes que buscaban iniciar su carrera profesional en 2021, con un promedio de 1,500 clientes atendidos por mes.
Siguen abriéndose más negocios en la Ciudad, entre ellos La Surtidora, Ross Dress for Less, el nuevo Salón de Alimentos Perris Pabilón, y muchos más. Un segundo fabricante de autos eléctricos, AYRO, inició operaciones en Moreno Valley en 2021.
DEPARTAMENTO DE BOMBEROS
Nuestros Bomberos de Moreno Valley respondieron a casi 20,000 llamadas de servicio, incluyendo 16,000 llamadas médicas de emergencia y casi 700 llamadas de incendios.
El Equipo de Prevención de Incendios de la Ciudad inspeccionó 1,700 negocios y 684 apartamentos, lo que aseguró que Moreno Valley se mantenga a salvo del fuego.
La Cuidad dio a conocer su programa SAFER en octubre. SAFER, que significa Recursos para la Educación sobre Alarma de Humo y Fuego, da una alarma gratuita de humo y monóxido de carbono a los hogares Moreno Valley que la necesitan. Las alarmas fueron donadas a la Ciudad por negocios de Moreno Valley.
DEPARTAMENTO DE POLICÍA
Nuestros oficiales de policía continúan haciendo de los fuegos artificiales ilegales una prioridad máxima que no es de emergencia, emitiendo miles de dólares en multas a lo largo de 2021 y haciendo varios arrestos por venta ilegal de fuegos artificiales.
El Departamento también está intensificando la aplicación de los vertidos ilegales, con varias detenciones por vertidos ilegales en 2021.
En total, los policías del Valle de Moreno respondieron a más de 126,000 llamadas de servicio a lo largo de 2021.
OBRAS PÚBLICAS
Casi 5,000 baches se llenaron en todo Moreno Valley en 2021, con un promedio de unos 500 baches llenos por mes.
Los equipos de reducción de grafitis respondieron a más de 12,500 ubicaciones en todo Moreno Valley.
A lo largo de 2021 se recorrieron más de 116 millas de carreteras y se recorrieron más de 16,000 millas de bordillos durante todo el año, con un promedio de 1,500 millas al mes.
Comenzó a construirse el Proyecto del Puente de Moreno Beach Drive, el proyecto de obras públicas más grande de la historia de la ciudad que reemplazará el puente existente sobre la autopista 60 por un nuevo puente de siete carriles.
SERVICIOS FINANCIEROS Y DE GESTIÓN
El Programa CLiC (Computer Learning & Internet Connectivity) Aprendizaje de Computadoras y Conectividad a Internetcontinúa siendo reconocido en todo el estado, ganando recientemente el Premio a la Innovación de la Sociedad de Oficiales de Finanzas Municipales de California (CSMFO). CLiC salva la división digital fomentando la equidad de acceso en el mundo digital.
La Ciudad lanzó una amplia encuesta de banda ancha que tenía como objetivo entender mejor las necesidades de internet de los residentes de Moreno Valley.
La Ciudad dio a conocer el programa de proveedor o MoVal Vendor Preference (MVP), que da a las empresas con sede en Moreno Valley una ventaja a la hora de ofrecer bienes, equipos, suministros y materiales.
PARQUES Y SERVICIOS COMUNITARIOS
El equipo de Parques impartió más de 1,700 clases a lo largo de 2021, y casi 800 clases en el Centro Comunitario De Tercera Edad.
Cientos de residentes de todas las edades asistieron a las jornadas trimestrales de servicio comunitario Beautify MoVal, donde limpiamos los parques de Moreno Valley en toda la ciudad.
La Cuidad se asoció con la superestrella de la NBA Kawhi Leonard para dar a conocer la cancha de baloncesto de Kawhi Leonard en el parque Weston.
El Carla J. Thornton Teen SPOT abrió, ofreciendo un espacio divertido y único para que los adolescentes de Moreno Valley accedan a internet, reciban ayuda para hacer su tarea y socialicen.
PREMIOS
Oficina del Gerente de la Ciudad - División de Medios y Comunicaciones
Premios NATOA a la Excelencia General en Programación Gubernamental, Anuncio de Servicio Público, Producción de Pasantes y Videos de Instrucción/Capacitación.
Premios de Deseño International por el Estado de la Cuidad, Reporte Annual de MVU, Actividad Corriente, y el Guia de Actividades Soaring.
American Advertising Federation Premio de Oro a la Responsabilidad Social Corporativa Televisión.
Premios STAR para Asuntos Públicos y Noticias Semanales o Mensuales.
Premio CAPIO a la Excelencia en Información Pública y Comunicaciones, Producción de Video.
Departamento de Desarrollo Económico y Desarrollo Comunitario
Convirtiendo la Cinta Roja en Alfombra Roja Premio al Uso Innovador de la Tecnología para la Sala de Planes Digitales de Moreno Valley.
Servicios Financieros y de Gestión
Certificado de Logro para la Excelencia en la Información Financiera, Popular Informe Anual de Finanzas, y los Premios de Presentación de Presupuesto Distinguido de la Asociación de Oficiales de Finanzas Gubernamentales (GFOA), que son los premios gubernamentales más altos en la presentación de informes.
Sociedad de Oficiales Financieros Municipales de California (CSMFO) Premio a la Innovación para el programa CLiC (Computer Learning and Internet Connectivity).
División de Servicios Tecnológicos
Asociación Municipal de Sistemas de Información de California (MISAC) premio a la Excelencia en Prácticas de Tecnología de la Información.
Parques y Servicios Comunitarios
Conserve América Hermosa Premio Círculo del Presidente por el programa Beautify de Moreno Valley.
Biblioteca Pública Moreno Valley
Premio Beca del Laboratorio de Innovación de la Biblioteca de Humanidades de California por el proyecto "Celebrando las Culturas MoVal".
# # #
Upon request, this news release will be made available in appropriate alternative formats to persons with disabilities, in compliance with the Americans with Disabilities Act of 1990. Any person with a disability who requires a modification or accommodation in order to participate in this meeting should direct such requests to Guy Pegan, ADA Coordinator, at 951.413.3120 at least 72 hours before the meeting. The 72-hour notification will enable the City to make reasonable arrangements to ensure accessibility to this meeting.