City of Moreno Valley Wins National Cable Television Awards
For immediate release: November 12, 2021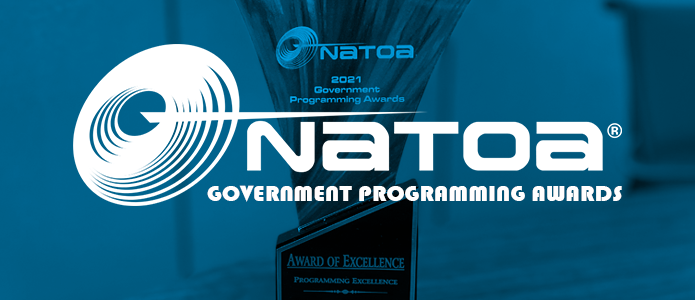 The City of Moreno Valley's Media and Communications Division has garnered national attention, winning multiple cable television awards. This year the National Association of Telecommunications Officers and Advisors (NATOA) awarded the City four coveted Government Programming Awards. Moreno Valley competed against Cities across the country, from California to New York.
NATOA awarded Moreno Valley its top honor in the categories of Overall Excellence in Government Programming, Public Service Announcement, Intern Production, and Instructional/Training Videos.
"Our Media and Communications Division provides outstanding service and vital media content to the Moreno Valley community," said Dr. Yxstian Gutierrez, Mayor of Moreno Valley. "It is particularly gratifying to see their hard work recognized on the national stage."
NATOA is a non-profit professional organization serving local governments and regional authorities in the development, regulation, and administration of cable television stations and other telecommunications systems. NATOA's mission is to support and serve the communications interests and needs of local governments. The association is made up of individuals and organizations responsible for communications policies and services in local governments throughout the country.
Moreno Valley's award winning videos are available on MV3 and the City's YouTube channel
# # #
---
La Ciudad de Moreno Valley Gana Premios
Nacionales de Televisión por Cable
La División de Medios y Comunicaciones de la Ciudad de Moreno Valley ha atraído atención nacional, ganando múltiples premios de televisión por cable. Este año, la Asociación Nacional de Oficiales y Asesores de Telecomunicaciones (NATOA) otorgó a la Ciudad cuatro codiciados premios de programación gubernamental. Moreno Valley compitió contra ciudades de todo el país, desde California hasta Nueva York.
La NATOA otorgó a Moreno Valley su máximo honor en las categorías de excelencia general en programación gubernamental, anuncios de servicio público, producción de pasantes y videos de instrucción / capacitación.
"Nuestra División de Medios y Comunicaciones brinda un servicio excepcional y contenido de medios vital a la comunidad de Moreno Valley", dijo el Dr. Yxstian Gutiérrez, Alcalde de Moreno Valley. "Es particularmente gratificante ver su arduo trabajo reconocido en el escenario nacional".
La NATOA es una organización profesional sin fines de lucro que sirve a los gobiernos locales y autoridades regionales en el desarrollo, regulación y administración de estaciones de televisión por cable y otros sistemas de telecomunicaciones. La misión de la NATOA es apoyar y servir a los intereses y necesidades de comunicación de los gobiernos locales. La asociación está formada por personas y organizaciones responsables de las políticas y servicios de comunicación en los gobiernos locales de todo el país.
Los videos ganadores de premios de Moreno Valley están disponibles en MV3 y en el Canal de YouTube de la Ciudad.
# # #
Upon request, this news release will be made available in appropriate alternative formats to persons with disabilities, in compliance with the Americans with Disabilities Act of 1990. Any person with a disability who requires a modification or accommodation in order to participate in this meeting should direct such requests to Guy Pegan, ADA Coordinator, at 951.413.3120 at least 72 hours before the meeting. The 72-hour notification will enable the City to make reasonable arrangements to ensure accessibility to this meeting.