Moreno Valley's M to be Illuminated in Remembrance of Mayor Pro Tem Victoria Baca
For immediate release: October 18, 2021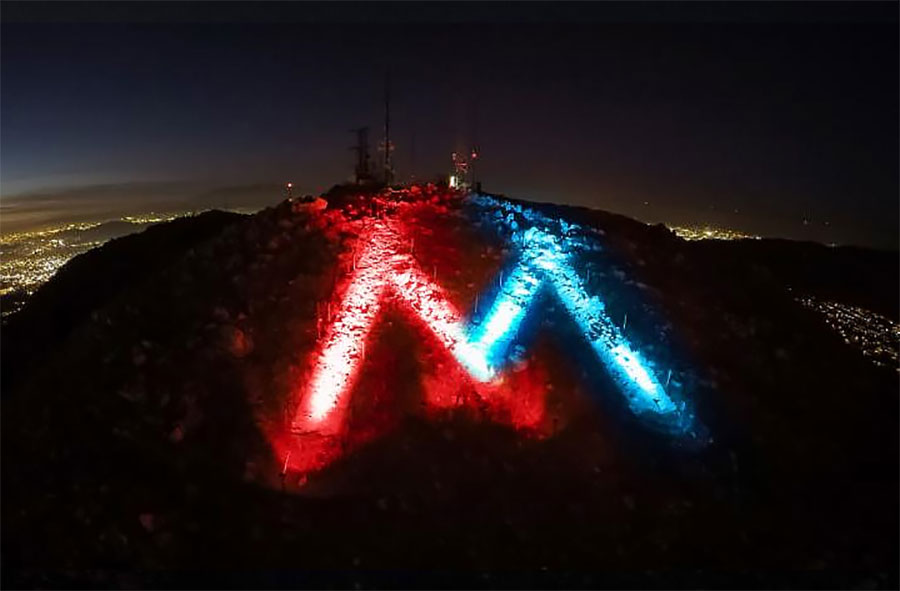 Moreno Valley's iconic M on Box Springs Mountain will be lit red, white, and blue from Monday, October 18 to Friday, October 22 in remembrance of Mayor Pro Tem Victoria Baca.
The M will be illuminated in red, white, and blue in honor of Mayor Pro Tem Baca's public service and her family's storied military background.
"Victoria Baca left an incredible legacy in Moreno Valley. She worked tirelessly to make the City a better place and to lift up everyone around her," said Dr. Yxstian Gutierrez, Mayor of Moreno Valley. "The City Council and I are honored to illuminate the M atop Box Springs Mountain to shine a light on everything she has done for the City she loved."
Mayor Pro Tem Baca passed away on Wednesday, October 6 after battling a long illness. First elected to the Moreno Valley City Council in 2012, Mayor Pro Tem Baca left a legacy of diversity, inclusion, education, and economic growth in Moreno Valley.
On Monday, October 18, the City hosted a memorial service at the Civic Center Amphitheater, where hundreds of family, friends, and members of the community paid their respects to Mayor Pro Tem Baca.
The M is lighted almost nightly in recognition of holidays and observances important to the community. To find out why it's lighted in a particular color, visit www.moval.org/mschedule.
# # #
---
M de Moreno Valley se Iluminará en Recuerdo de la Alcaldesa Provisional Victoria Baca
La icónica M de Moreno Valley en la montaña Box Springs se iluminará en rojo, blanco y azul desde el lunes 18 de octubre hasta el viernes 22 de octubre en memoria de la Alcaldesa Provisional Victoria Baca.
La M se iluminará en rojo, blanco y azul en honor al servicio público de la Alcaldesa Provisional Baca y los antecedentes militares de su familia.
"Victoria Baca dejó un legado increíble en Moreno Valley. Trabajó incansablemente para hacer de la Ciudad un lugar mejor y para animar a todos a su alrededor", dijo el Dr. Yxstian Gutiérrez, Alcalde de Moreno Valley. "El Concejo Municipal y yo tenemos el honor de iluminar la montaña Box Springs para iluminar todo lo que ella ha hecho por la Ciudad que amaba".
La Alcaldesa Provisional Baca falleció el miércoles 6 de octubre después de luchar contra una larga enfermedad. Elegido por primera vez para el Concejo Municipal de Moreno Valley en 2012, la Alcaldesa Provisional Baca dejó un legado de diversidad, inclusión, educación y crecimiento económico en Moreno Valley.
El lunes 18 de octubre, la Ciudad organizó un servicio conmemorativo en el Anfiteatro del Centro Cívico, donde cientos de familiares, amigos y miembros de la comunidad presentaron sus respetos a la Alcaldesa Provisional Baca.
La M se enciende casi todas las noches en reconocimiento a los días festivos y celebraciones importantes para la comunidad. Para saber por qué está iluminado con un color en particular, visite www.moval.org/mschedule.
# # #
Upon request, this news release will be made available in appropriate alternative formats to persons with disabilities, in compliance with the Americans with Disabilities Act of 1990. Any person with a disability who requires a modification or accommodation in order to participate in this meeting should direct such requests to Guy Pegan, ADA Coordinator, at 951.413.3120 at least 72 hours before the meeting. The 72-hour notification will enable the City to make reasonable arrangements to ensure accessibility to this meeting.