City of Moreno Valley Unveils Free
Smoke and Carbon Monoxide Alarm Distribution Program
For immediate release: October 1, 2021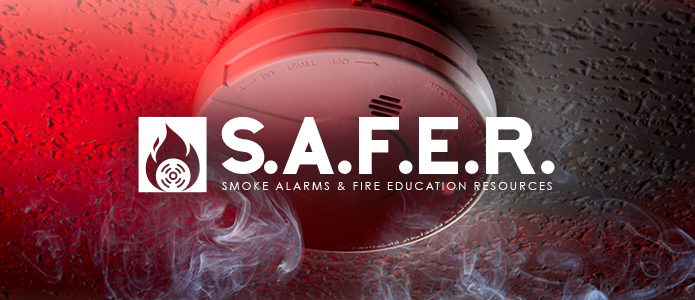 The City of Moreno Valley has unveiled the SAFER program, a trailblazing new safety initiative that gives out free smoke and carbon monoxide alarms to Moreno Valley households.
SAFER, which stands for Smoke Alarms & Fire Prevention Resources, also gives Moreno Valley residents an up to $50 rebate if they show a recent proof of purchase of a battery-operated smoke or carbon monoxide alarm.
"Smoke alarms are a vital component in keeping Moreno Valley families safe and could make a life-saving difference in your home," said Dr. Yxstian Gutierrez, Mayor of Moreno Valley. "We strive to make Moreno Valley a safer place for everyone. And we are doing just that with the City's new SAFER program."
Almost five million households in the US do not have working smoke alarms. More than 400 Americans die each year from unintentional carbon monoxide poisoning, with over 20,000 visiting the emergency room and more than 4,000 hospitalized.
Smoke and carbon monoxide alarms fail mostly due to missing, disconnected, or dead batteries, and the City recommends that you regularly check your smoke and carbon monoxide alarms to make sure they're working properly.
The SAFER program makes sure Moreno Valley households are fully equipped with these life-saving devices.
Moreno Valley residents are invited to visit City Hall during business hours to receive their free Fire Safety Starter Pack, which includes one free smoke alarm and one carbon monoxide alarm. Proof of Moreno Valley residency is required.
Moreno Valley City Hall is located at 14177 Frederick Street in Moreno Valley.
The SAFER program is a partnership between the City of Moreno Valley, Moreno Valley Fire Prevention, Lowe's, Walgreens, and Harbor Freight Tools.
For more information about the SAFER program, as well as fire safety tips for your home, visit moval.org/safer, email safer@moval.org, or call 951.413.3370.
# # #
---
La Ciudad de Moreno Valley Presenta un Programa Gratuito de Distribución de Alarmas de Humo y Monóxido de Carbono
La ciudad de Moreno Valley ha presentado el programa SAFER, una nueva iniciativa de seguridad pionera que ofrece alarmas gratuitas de humo y monóxido de carbono a los hogares de Moreno Valley.

SAFER, que significa detectores de humo y recursos para la prevención de incendios (por sus cifras de ingles), también les da a los residentes de Moreno Valley un reembolso de hasta $50.00 si muestran un comprobante reciente de compra de un detector de humo o monóxido de carbono que funciona con baterías.

"Las alarmas de humo son un componente vital para mantener seguras a las familias de Moreno Valley y podrían hacer una diferencia que salve vidas en su hogar", dijo el Dr. Yxstian Gutiérrez, Alcalde de Moreno Valley. "Nos esforzamos por hacer de Moreno Valley un lugar más seguro para todos. Y lo estamos haciendo con el nuevo programa SAFER de la ciudad ".

Casi cinco millones de hogares en los EE. UU. No tienen detectores de humo que funcionen. Más de 400 estadounidenses mueren cada año por intoxicación involuntaria por monóxido de carbono, con más de 20,000 visitando la sala de emergencias y más de 4,000 hospitalizados.

Las alarmas de humo y monóxido de carbono fallan principalmente debido a baterías faltantes, desconectadas o agotadas, y la Ciudad recomienda que revise regularmente sus alarmas de humo y monóxido de carbono para asegurarse de que estén funcionando correctamente.

El programa SAFER asegura que los hogares de Moreno Valley estén completamente equipados con estos dispositivos que salvan vidas.

Se invita a los residentes de Moreno Valley a visitar la oficina de la Ciudad durante el horario regular para recibir su Paquete de Inicio de Seguridad contra Incendios gratis, que incluye una alarma de humo y una alarma de monóxido de carbono gratis. Se requiere comprobante de residencia en Moreno Valley.

La oficina de la Ciudad de Moreno Valley está ubicada en 14177 Frederick Street en Moreno Valley.

El programa SAFER es una asociación entre la Ciudad de Moreno Valley, Prevención de incendios de Moreno Valley, Lowe's, Walgreens y Harbor Freight Tools.

Para obtener más información sobre el programa SAFER, así como consejos de seguridad contra incendios para su hogar, visite moval.org/safer, envíe un correo electrónico a safer@moval.org o llame al 951.413.3370.
# # #
Upon request, this news release will be made available in appropriate alternative formats to persons with disabilities, in compliance with the Americans with Disabilities Act of 1990. Any person with a disability who requires a modification or accommodation in order to participate in this meeting should direct such requests to Guy Pegan, ADA Coordinator, at 951.413.3120 at least 72 hours before the meeting. The 72-hour notification will enable the City to make reasonable arrangements to ensure accessibility to this meeting.