Mayor Yxstian Gutierrez and Kawhi Leonard
Dedicate Brand-New Basketball Court at Weston Park
For immediate release: September 25, 2021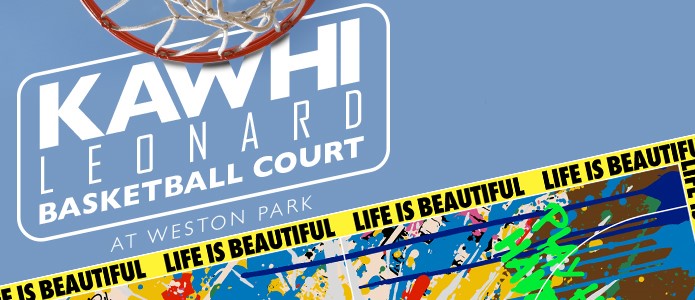 Today, NBA superstar and Moreno Valley native Kawhi Leonard, along with Moreno Valley Mayor Yxstian Gutierrez, officially dedicated the Kawhi Leonard Basketball Court at Weston Park.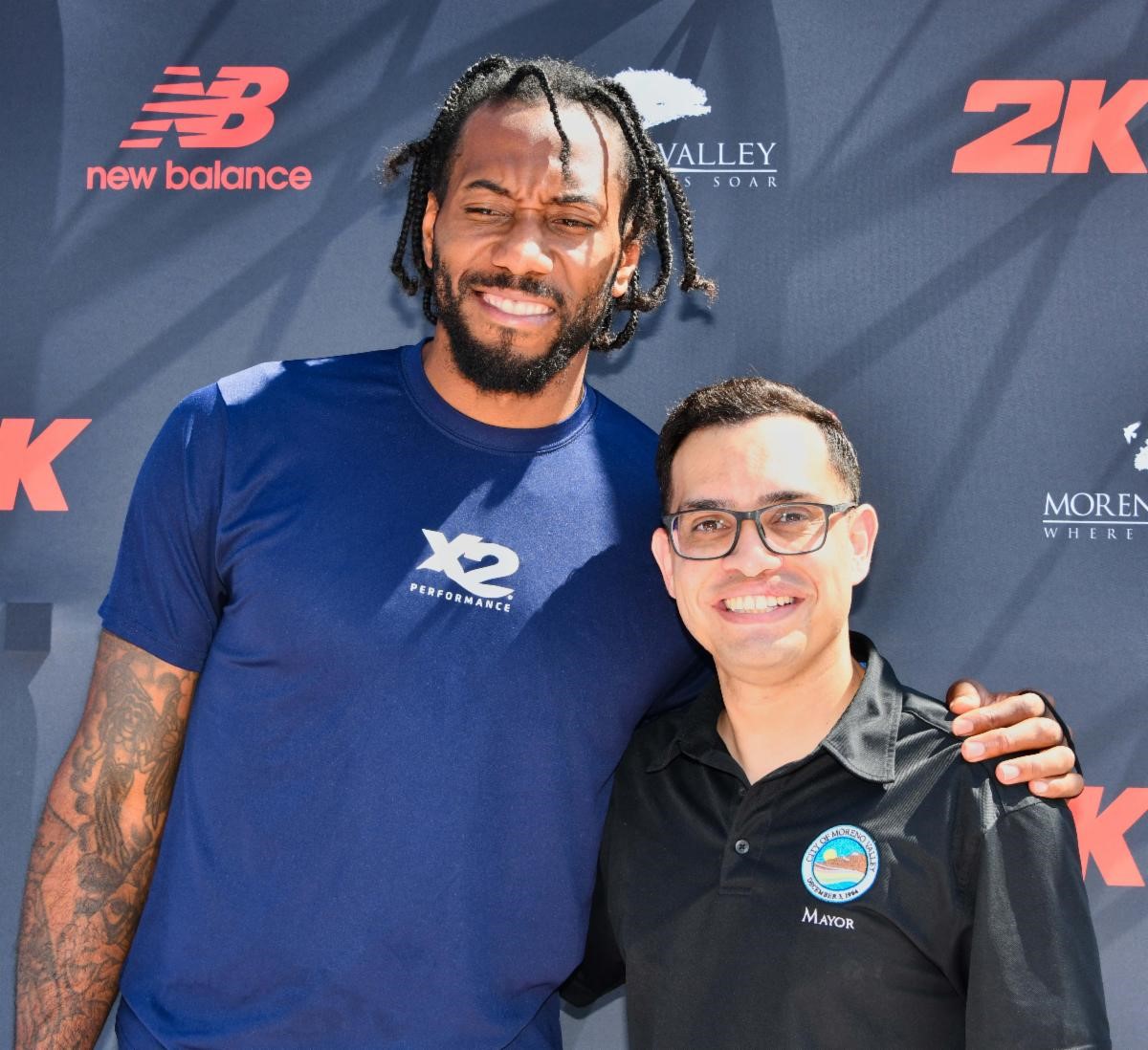 This unique basketball court was designed by street artist Mr. Brainwash and hand-painted by community volunteers, including City staff, City Councilmembers, Kawhi's family, and the Moreno Valley Emerging Leaders Council (ELC). The eye-catching, full-sized court features inspirational slogans such as "You are stronger than you think," and "Life is beautiful."
"By giving back to our hometown, Kawhi and I are hoping to lift up Moreno Valley's young residents," said Mayor Gutierrez. "My hope is that Kawhi's success will inspire kids across the City to let their dreams soar."
At the event, Kawhi met with over a dozen Moreno Valley children, signing basketballs and t-shirts.
"I'm proud of where I come from," said Kawhi Leonard. "Moreno Valley is my hometown, and I will always do whatever I can to give back to this community."
Kawhi and his family are known for their charitable contributions to their hometown. They previously worked with the City on the Kawhi's Kicks giveaway event in April, where over 120 brand-new sneakers were distributed to children from low-income families.
The Kawhi Leonard Basketball Court at Weston Park was made possible through a collaboration with the City of Moreno Valley, the Leonard Family, New Balance, the NBA 2K Foundation, NRG, and Shoe Palace.
Weston Park is located at 13170 Lasselle Street in Moreno Valley.
# # #
---
Alcalde Yxstian Gutiérrez y Kawhi Leonard
Dedican la Nueva Cancha de Baloncesto en Weston Park
Hoy, la superestrella de la NBA y nativo de Moreno Valley, Kawhi Leonard, junto con el alcalde de Moreno Valley, Yxstian Gutiérrez, le dedicaron oficialmente el Kawhi Leonard Cancha de Baloncesto en Weston Park.
Esta cancha de baloncesto única fue diseñada por el artista callejero Sr. Brainwash y pintada a mano por voluntarios de la comunidad, incluyendo personal de la Ciudad, miembros del Concejo Municipal, la familia de Kawhi y el Consejo de Líderes Emergentes de Moreno Valley (ELC). La vistosa y amplia cancha tiene lemas inspiradores como "Eres más fuerte de lo que crees" y "La vida es hermosa".
"Al devolverle a nuestra ciudad natal, Kawhi y yo esperamos levantar a los jóvenes residentes de Moreno Valley", dijo el alcalde Gutiérrez. "Mi esperanza es que el éxito de Kawhi inspire a los niños de toda la ciudad a dejar que sus sueños se eleven".
En el evento, Kawhi se reunió con más de una docena de niños de Moreno Valley, firmando baloncestos y camisetas.
"Estoy orgulloso de mi origen", dijo Kawhi Leonard. "Moreno Valley es mi ciudad natal, y siempre haré lo que pueda para devolverle a esta comunidad".
Kawhi y su familia son conocidos por sus contribuciones caritativas a su ciudad natal. Previamente trabajaron con la City en el evento de regalos Kawhi's Kicks en abril, donde se distribuyeron más de 120 zapatillas deportivas nuevas a niños de familias de bajos ingresos.
La Cancha de Baloncesto de Kawhi Leonard en Weston Park fue posible gracias a una colaboración con la Ciudad de Moreno Valley, la Familia Leonard, New Balance, la Fundación NBA 2K, NRG y Shoe Palace.
Weston Park se encuentra en 13170 Lasselle Street en Moreno Valley.
# # #
Upon request, this news release will be made available in appropriate alternative formats to persons with disabilities, in compliance with the Americans with Disabilities Act of 1990. Any person with a disability who requires a modification or accommodation in order to participate in this meeting should direct such requests to Guy Pegan, ADA Coordinator, at 951.413.3120 at least 72 hours before the meeting. The 72-hour notification will enable the City to make reasonable arrangements to ensure accessibility to this meeting.