Mayor and Council Pay Tribute to
Founding Moreno Valley College President
Mayor's Address to Focus on Community Strength
For immediate release: September 14, 2021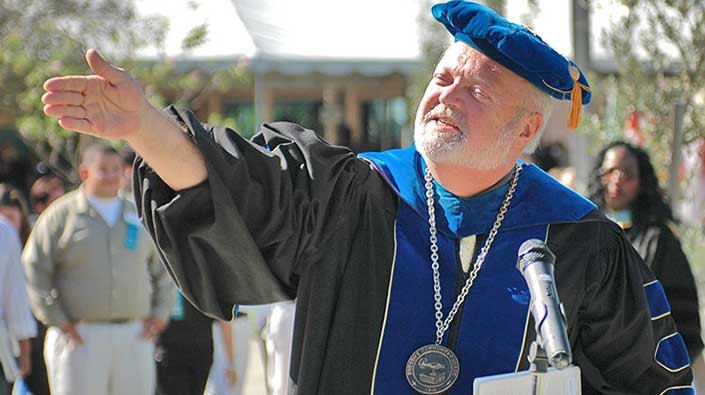 Moreno Valley Mayor Yxstian Gutierrez adjourned Tuesday's City Council Meeting in honor of Richard Tworek, Ph.D., the founding President and Provost of Moreno Valley College who passed away September 5 after battling a long illness.
"Dr. Tworek's legacy is unmatched in Riverside County," said Mayor Yxstian Gutierrez. "He helped designate Moreno Valley College as a beacon campus for health sciences and spearheaded the first physician's assistant program in the County. He also gave me my first job, as a secretary in the dean's office, when I was just 18 years old. He was a great man and will be missed."
In addition to his work at Moreno Valley College, Dr. Tworek served on the Board of Directors for the March Air Reserve Base Health Development Board. He was also on the Board for the Riverside University Health System Foundation and a longtime board member of the Moreno Valley Chamber of Commerce, among many other designations.
"Everywhere I went with Dick, people enjoyed him and loved working with him," said Jamil Dada, President of the March Field Air Museum and a close friend and colleague of Dr. Tworek. "He was very classy, very sophisticated, and he brought everyone along with him to the top. He was that kind of a person. He was larger than life, and we're going to miss him tremendously."
Memorial services have yet to be announced.
# # #
---
El Alcalde y el Consejo rinden homenaje
a la fundación Presidente de Moreno Valley College
El Alcalde de Moreno Valley, Yxstian Gutierrez, suspendió la reunión del consejo de la ciudad el martes en honor a Richard Tworek, Ph.D., el presidente fundador y rector de Moreno Valley College, quien falleció el 5 de septiembre después de luchar contra una larga enfermedad.
"El legado de Dr. Tworek es incomparable en el condado de Riverside", dijo el alcalde Yxstian Gutierrez. "Ayudó a designar a Moreno Valley College como un campus faro para las ciencias de la salud y encabezó el primer programa de asistente médico en el condado. También me dio mi primer trabajo, como secretaria en la oficina del decano, cuando solo tenía 18 años. Era un gran hombre y lo extrañaremos ".
Además de su trabajo en Moreno Valley College, el Dr. Tworek fue miembro de la Junta Directiva de la Junta de Desarrollo de Salud de la Base de la Reserva Aérea de March. También fue miembro de la Junta de la Fundación del Sistema de Salud de la Universidad de Riverside y miembro de la junta de la Cámara de Comercio de Moreno Valley, entre muchas otras designaciones.
"Dondequiera que fui con Dick, la gente lo disfrutaba y le encantaba trabajar con él", dijo Jamil Dada, presidente del March Field Air Museum y amigo cercano y colega del Dr. Tworek. "Era muy elegante, muy sofisticado y llevó a todos a la cima con él. Él era ese tipo de persona. Era más grande que la vida y lo vamos a extrañar tremendamente ".
Los servicios conmemorativos aún no se han anunciado.
# # #
Upon request, this news release will be made available in appropriate alternative formats to persons with disabilities, in compliance with the Americans with Disabilities Act of 1990. Any person with a disability who requires a modification or accommodation in order to participate in this meeting should direct such requests to Guy Pegan, ADA Coordinator, at 951.413.3120 at least 72 hours before the meeting. The 72-hour notification will enable the City to make reasonable arrangements to ensure accessibility to this meeting.