City Enhances Road Safety & Eases Traffic with Moreno Beach Drive Bridge Project
Expect Temporary Road Closures during Major Road Improvements
For immediate release: August 8, 2021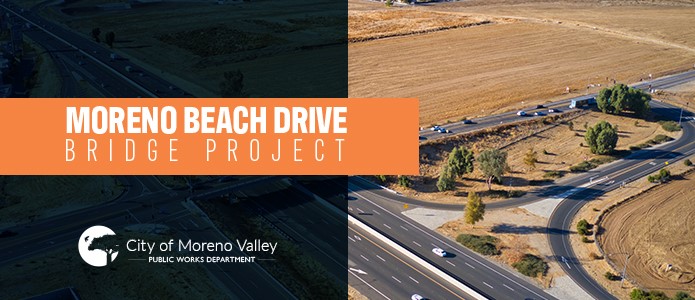 The Moreno Valley City Council has responded to residents' concerns regarding road repairs and traffic relief with multiple projects. The next major project, designed to improve the quality of life in Moreno Valley, will replace the Moreno Beach Drive Bridge. Construction of the new bridge begins this summer.
"Repairing our roads is one of our top priorities, and when Moreno Valley residents voice their concerns, we listen," said Moreno Valley Mayor Dr. Yxstian Gutierrez. "I look forward to the timely completion of this major road enhancement, which will alleviate the safety concerns of many community members."
The project replaces damaged pavement, provides enhanced safety improvements to the fifty–year–old Caltrans bridge, relieves traffic congestion around the freeway interchange, and installs needed underground storm drain facilities to mitigate flooding. The Moreno Beach Drive project will replace a two-lane bridge with a seven-lane bridge and reconfigure the north side of the interchange to allow easier access to and from the freeway. Improvements include a new westbound auxiliary lane and a dedicated southbound Moreno Beach Drive to westbound State Route 60 on-ramp. Funding for this project comes from State/Federal grants, multiple utility agencies, and Development Impact Fees.
There may be short periods when lanes or ramps are closed. Detours and access for pedestrians and bicyclists will be available. Properties and businesses will have consistent access. The State Route 60/Moreno Beach Drive on/off ramps will be closed for several days to expedite construction and provide a safe work environment. The City will provide advanced notice for all closures. The Contractor, Spectrum Construction Group Inc., expects bridge construction to be completed by early 2023.
If you have any questions or concerns, please contact the Moreno Beach Bridge Project Outreach Team at 1.888.306.9012 or email info@morenobeachproject.com.
# # #
---
La Ciudad Mejora la Seguridad Vial y Facilita el Tráfico con el Proyecto del Puente Moreno Beach Drive
Espere Cierres Temporales de Carreteras Durante las Principales Mejoras de Carreteras
El Concejo Municipal de Moreno Valley ha respondido a las preocupaciones de los residentes con respecto a las reparaciones de carreteras y el alivio del tráfico con múltiples proyectos. El próximo gran proyecto, diseñado para mejorar la calidad de vida en Moreno Valley, reemplazará el puente Moreno Beach Drive. La construcción del nuevo puente comienza este verano.
"La reparación de nuestras carreteras es una de nuestras principales prioridades, y cuando los residentes de Moreno Valley expresan sus preocupaciones, los escuchamos", dijo el alcalde de Moreno Valley, el Dr. Yxstian Gutierrez. "Espero la finalización oportuna de esta importante mejora de la carretera, que aliviará las preocupaciones de seguridad de muchos miembros de la comunidad".
El proyecto reemplaza el pavimento dañado, proporciona mejoras de seguridad mejoradas al puente Caltrans de cincuenta años de antigüedad, alivia la congestión del tráfico alrededor del cruce de la autopista y instala las instalaciones de drenaje pluvial subterráneas necesarias para mitigar las inundaciones. El proyecto de Moreno Beach Drive reemplazará un puente de dos carriles con un puente de siete carriles y reconfigurará el lado norte del intercambio para permitir un acceso más fácil hacia y desde la autopista. Las mejoras incluyen un nuevo carril auxiliar en dirección oeste y un Moreno Beach Drive exclusivo en dirección sur hasta la rampa de entrada de la Ruta 60 estatal en dirección oeste. Los fondos para este proyecto provienen de subvenciones estatales / federales, múltiples agencias de servicios públicos y Tarifas de Impacto en el Desarrollo.
Puede haber períodos cortos en los que los carriles o rampas estén cerrados. Se dispondrá de desvíos y accesos para peatones y ciclistas. Las propiedades y las empresas tendrán acceso constante. Las rampas de entrada y salida de la ruta estatal 60 / Moreno Beach Drive estarán cerradas durante varios días para acelerar la construcción y proporcionar un entorno de trabajo seguro. La Ciudad notificará con anticipación todos los cierres. El contratista, Spectrum Construction Group Inc., espera que la construcción del puente se complete a principios de 2023.
Si tiene alguna pregunta o preocupación, comuníquese con el Equipo de Alcance del Proyecto Moreno Beach al 1.888.306.9012 o envíe un correo electrónico a info@morenobeachproject.com.
# # #
Upon request, this news release will be made available in appropriate alternative formats to persons with disabilities, in compliance with the Americans with Disabilities Act of 1990. Any person with a disability who requires a modification or accommodation in order to participate in this meeting should direct such requests to Guy Pegan, ADA Coordinator, at 951.413.3120 at least 72 hours before the meeting. The 72-hour notification will enable the City to make reasonable arrangements to ensure accessibility to this meeting.