Moreno Valley's Iconic M to be Lighted in Rainbow to Celebrate the Culmination of Pride Month
For immediate release: June 25, 2021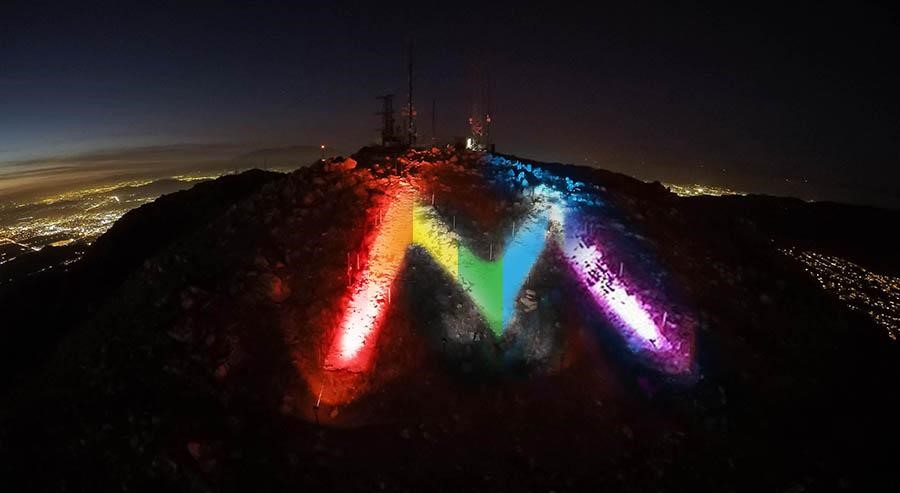 Moreno Valley's iconic M on Box Springs Mountain will sport a rainbow of colors from dusk to midnight, Monday, June 28, to celebrate the culmination of Pride Month 2021, a celebration of the LGBTQ community.
"As Mayor, I am proud to sign a mayoral proclamation identifying June as Pride Month in Moreno Valley, and lighting the M in rainbow colors will serve as a sign of our City's support for inclusivity of all, especially the LGBTQ community," said Dr. Yxstian Gutierrez, Mayor of Moreno Valley.
The M is lighted in recognition of holidays and significant community observances throughout the year. To find out why the M is lighted in a particular color, check the calendar at www.moval.org/mschedule.
# # #
---
La Icónica M de Moreno Valley Será iluminada en Reconocimiento al Mes del Orgullo 2020
La icónica M de Moreno Valley en Box Springs Mountain lucirá un arco iris de colores desde el anochecer hasta la medianoche, el sábado 27 de junio, en reconocimiento al Mes del Orgullo 2020, una celebración de la comunidad LGBTQ.
"Los desfiles del orgullo pueden cancelarse este año debido al coronavirus, pero encender la M en colores del arcoíris servirá como un signo del apoyo de nuestra Ciudad a la comunidad LGBTQ," dijo el Dr. Yxstian Gutiérrez, Alcalde de Moreno Valley.
La M está iluminada en reconocimiento de días festivos y observancias comunitarias significativas durante todo el año. Para averiguar por qué la M está iluminada en un color particular, consulte el calendario en www.moval.org/mschedule.
# # #
Upon request, this news release will be made available in appropriate alternative formats to persons with disabilities, in compliance with the Americans with Disabilities Act of 1990. Any person with a disability who requires a modification or accommodation in order to participate in this meeting should direct such requests to Guy Pegan, ADA Coordinator, at 951.413.3120 at least 72 hours before the meeting. The 72-hour notification will enable the City to make reasonable arrangements to ensure accessibility to this meeting.