Mayor Gutierrez, Kawhi Leonard & Family Have New"Hoop Dreams" for Moreno Valley Community
NBA Superstar, City Team Up to Bring Designer Basketball Court to MoVal
For immediate release: May 25, 2021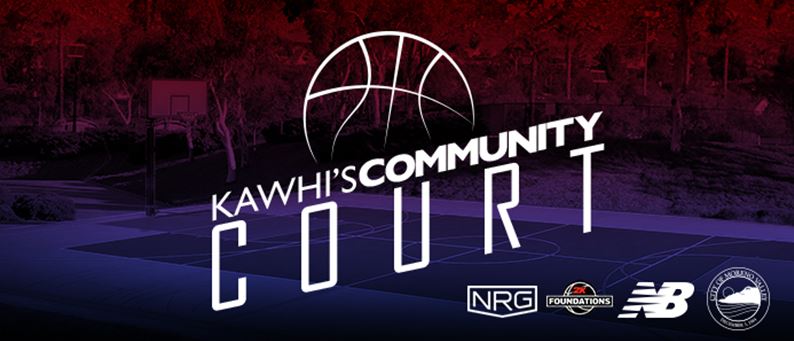 NBA Superstar and Moreno Valley native, Kawhi Leonard, is once again giving back to his hometown of Moreno Valley. Mayor Gutierrez and the Leonard Family are working alongside NRG/New Balance and NBA2K Foundation to sponsor a full-sized basketball court at Weston Park. But, this won't be an ordinary court. The basketball court surface will be a one-of-a-kind community-centric art piece designed by local artists and hand-painted by residents of Moreno Valley. This unique court will not only provide another venue for basketball but will also highlight the importance of art and artistic expression in the City of Moreno Valley.
"I am thrilled to work with Kawhi, and the entire Leonard Team to bring such a great project to our community," said Dr. Yxstian Gutierrez, Mayor of Moreno Valley. "This amazing basketball court is a gift from a Moreno Valley native who has achieved his dreams and will serve as a symbol to MoVal kids that their dreams too can soar."
The Leonard family is well known for their charitable contributions to the Moreno Valley community, sponsoring events such as Kawhi's Kicks, a recent shoe giveaway event for MoVal kids.
Located at 13170 Lasselle Street, Weston Park features a playground, several picnic shelters, and a small baseball field. The amount of open space makes Weston Park the ideal location to add a full-sized community basketball court.
The Moreno Valley Kawhi's Community Court project is set to begin in June.
For more information about Moreno Valley's exciting Parks & Community Services projects, please visit www.moval.org/parks.
# # #
---
El alcalde Gutiérrez, Kawhi Leonard y su familia tienen Nuevos "Sueños de aro" para Moreno Valley
La superestrella de la NBA y la ciudad se unen para traer una cancha de baloncesto de diseño a MoVal
La superestrella de la NBA y nativo de Moreno Valley, Kawhi Leonard, una vez más está retribuyendo a su ciudad natal de Moreno Valley. El alcalde Gutiérrez, Kawhi Leonard y su familia trabajarán junto con NRG / New Balance y la Fundación NBA2K para patrocinar una cancha de baloncesto de tamaño completo en Weston Park. Pero esta no será una cancha ordinaria. La superficie de la cancha de baloncesto será una obra de arte única centrada en la comunidad diseñada por artistas locales y pintada a mano por residentes de Moreno Valley. Esta cancha única no solo proporcionará otro lugar para el baloncesto, sino que también resaltará la importancia del arte y la expresión artística en la ciudad de Moreno Valley.
"Estoy encantado de trabajar con Kawhi y todo el equipo Leonard para llevar un proyecto tan grandioso a nuestra comunidad", dijo el Dr. Yxstian Gutierrez, alcalde de Moreno Valley. "Esta increíble cancha de baloncesto es un regalo de un nativo de Moreno Valley que ha logrado sus sueños y servirá como símbolo para los niños de MoVal de que sus sueños también pueden volar".
La familia Leonard es bien conocida por sus contribuciones caritativas a la comunidad de Moreno Valley, patrocinando eventos como Kawhi's Kicks, un evento reciente de obsequio de zapatos para los niños de MoVal.

Ubicado en 13170 Lasselle Street, Weston Park cuenta con un área de juegos, varias mesas para pícnic y un pequeño campo de béisbol. La cantidad de espacio abierto hace de Weston Park la ubicación ideal para agregar una cancha de básquetbol comunitaria de tamaño completo.
El proyecto de la Cancha de Baloncesto Comunitaria de Kawhi está programado para comenzar en junio.
Para obtener más información sobre los emocionantes proyectos de Parques y Servicios Comunitarios de Moreno Valley, visite www.moval.org/parks.
# # #
Upon request, this news release will be made available in appropriate alternative formats to persons with disabilities, in compliance with the Americans with Disabilities Act of 1990. Any person with a disability who requires a modification or accommodation in order to participate in this meeting should direct such requests to Guy Pegan, ADA Coordinator, at 951.413.3120 at least 72 hours before the meeting. The 72-hour notification will enable the City to make reasonable arrangements to ensure accessibility to this meeting.