Moreno Valley Celebrates Ribbon Cutting for the Business & Employment Resource Center
The Newest America's Job Center of California
For immediate release: May 3, 2021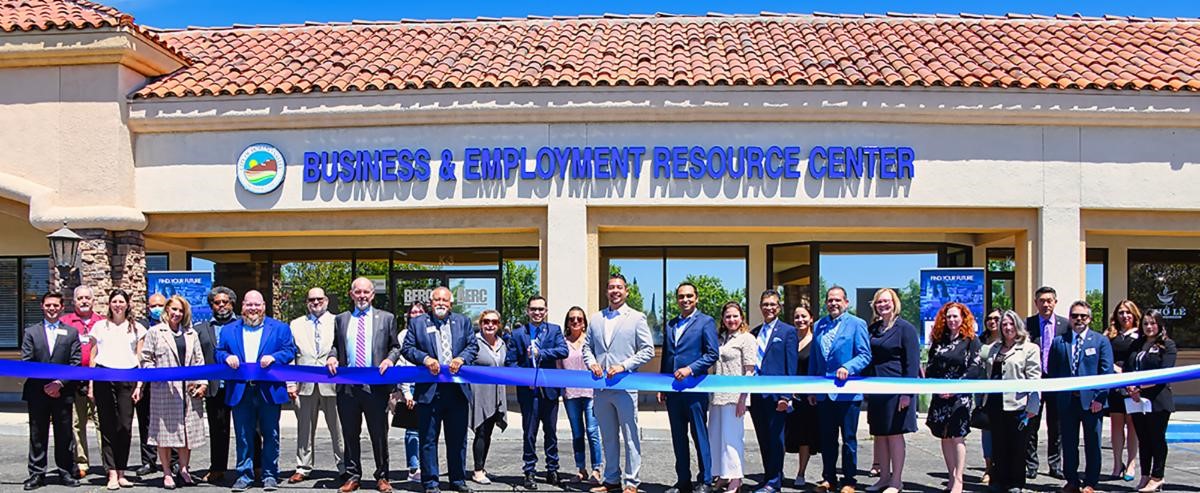 Mayor Yxstian Gutierrez and the City Council cut ribbon on the State of California's newest comprehensive America's Job Center of California (AJCC) and officially dedicated the new Moreno Valley Business & Employment Center (BERC). Formerly known as the Moreno Valley Employment Resource Center (ERC), this state-of-the art facility offers comprehensive development services to jobseekers, small businesses, and local employers.
"The BERC is the where residents connect to jobs and opportunities for advancement in Moreno Valley's growing economy," said Dr. Yxstian Gutierrez, Mayor of Moreno Valley. "Ours is one of the very few Business & Employment Resource Centers that have been open continuously since the pandemic started."
The BERC kept its doors open throughout the pandemic and provided direct access to digital resources such as high speed internet, public desktop computers and free WiFi for individuals to use for applying to jobs, state and federal benefits, as well as work on business plans.
Since it opened in 2009, the BERC has operated as an AJCC Access Point, a satellite office for the Riverside AJCC. The ERC's upgrade to a full-service AJCC office will make it easier for Moreno Valley job seekers and employers to access job-training, career-counseling and employment-recruitment services by providing all of them locally, without having to be referred to the Riverside AJCC office.
"Congratulations to the Moreno Valley City Council for the transition of the City's Business & Employment Resource Center to become a designated America's Job Center of California!" said Dr. Angelo Farooq, Chairman of the California Workforce Development Board. "This timely AJCC designation will help serve the growing needs of families in the broader region to secure quality job opportunities. I commend the successful collaboration between the State, County and City to streamline this process amidst the pandemic crisis."
The BERC is open to the public Monday through Thursday from 8 a.m. to 5 p.m. at 12625 Frederick Street, Suite K-3, and provides a number of online resources available at www.moval.org/berc and weekly webinar workshops.

# # #
---
Centro de Recursos y Empleo de Moreno Valley Se convierte en el Centro de Empleo de América más nuevo de California
El alcalde Yxstian Gutiérrez y el Concejo Municipal cortaron el listón en el más nuevo y completo Centro de Empleo Americano de California (AJCC) del estado de California y oficialmente dedicaron el nuevo Centro de Recursos y Empleo de Moreno Valley (BERC). Anteriormente conocido como el Centro de Empleo de Moreno Valley (ERC), esta instalación de vanguardia ofrece servicios de desarrollo integrales para quienes buscan empleo, pequeños negocios y empleadores locales.
"El BERC es el lugar donde los residentes se conectan con trabajos y oportunidades para avanzar en la economía en creciente de Moreno Valley", dijo el Dr. Yxstian Gutierrez, Alcalde de Moreno Valley. "El nuestro es uno de los pocos Centros de Recursos y Empleo que ha estado abierto continuamente desde que comenzó la pandemia".
La BERC mantuvo sus puertas abiertas durante la pandemia y brindó acceso directo a recursos digitales como Internet de alta velocidad, computadoras de escritorio públicas y WiFi gratuito para que las personas lo utilicen para solicitar trabajo, beneficios estatales y federales, así como para trabajar en planes de negocios.
Desde que abrió en 2009, BERC ha operado como un Punto de Acceso AJCC, una oficina satélite para Riverside AJCC. La actualización del ERC a una oficina de AJCC de servicio completo facilitará que los empleadores y los solicitantes de empleo de Moreno Valley accedan a servicios de capacitación laboral, asesoramiento profesional y contratación de empleo, proporcionándolos todos a nivel local, sin tener que ser referidos a la oficina de AJCC en Riverside.
"¡Felicidades al Concejo Municipal de Moreno Valley por la transición del Centro de Recursos y Empleo de la Ciudad para convertirse en un Centro de Empleo de América designado de California!" dijo el Dr. Angelo Farooq, presidente de la Junta de Desarrollo de la Fuerza Laboral de California. "Esta designación oportuna de AJCC ayudará a satisfacer las crecientes necesidades de las familias en la región para asegurar oportunidades de trabajo de calidad. Felicito la exitosa colaboración entre el estado, el condado y la ciudad para agilizar este proceso en medio de la crisis pandémica".
El BERC está abierto al público de lunes a jueves de 8 a.m. a 5 p.m. en 126252 Frederick Street, Suite K-3, y ofrece una serie de recursos en línea disponibles en www.moval.org/berc y seminarios web semanales.
# # #
Upon request, this news release will be made available in appropriate alternative formats to persons with disabilities, in compliance with the Americans with Disabilities Act of 1990. Any person with a disability who requires a modification or accommodation in order to participate in this meeting should direct such requests to Guy Pegan, ADA Coordinator, at 951.413.3120 at least 72 hours before the meeting. The 72-hour notification will enable the City to make reasonable arrangements to ensure accessibility to this meeting.