Kawhi Leonard, City of Moreno Valley and New Balance Team Up for Sneaker Giveaway Event
For immediate release: April 2, 2021

Mayor Yxstian Gutierrez, NBA Superstar Kawhi Leonard, Moreno Valley advocate Miesha Slayton, and New Balance teamed up to create Kawhi's Kicks, a special "kicks," also known as, "sneakers" giveaway event. The New Balance shoes handed out were donated to Moreno Valley children enrolled in "A Child's Place," the City's after-school child care program.
Children from low-income families were treated to this special pre-Easter shoe and gift giveaway to ring in the Spring season on Thursday, April 1, 2021.
Mayor Yxstian Gutierrez, Members of the City Council, Miesha Slayton, and City Staff worked together to distribute over 120 sneakers at the City's Conference and Recreation Center.
"I am glad that we were able to provide these special gifts to the children of the City's after-school program," said Mayor Gutierrez. "The pandemic has hit our community hard, and I hope that we were able to bring a smile to the faces of both the kids and the parents we helped. I am very grateful to Kawhi, Miesha, and New Balance for their continued support of our community."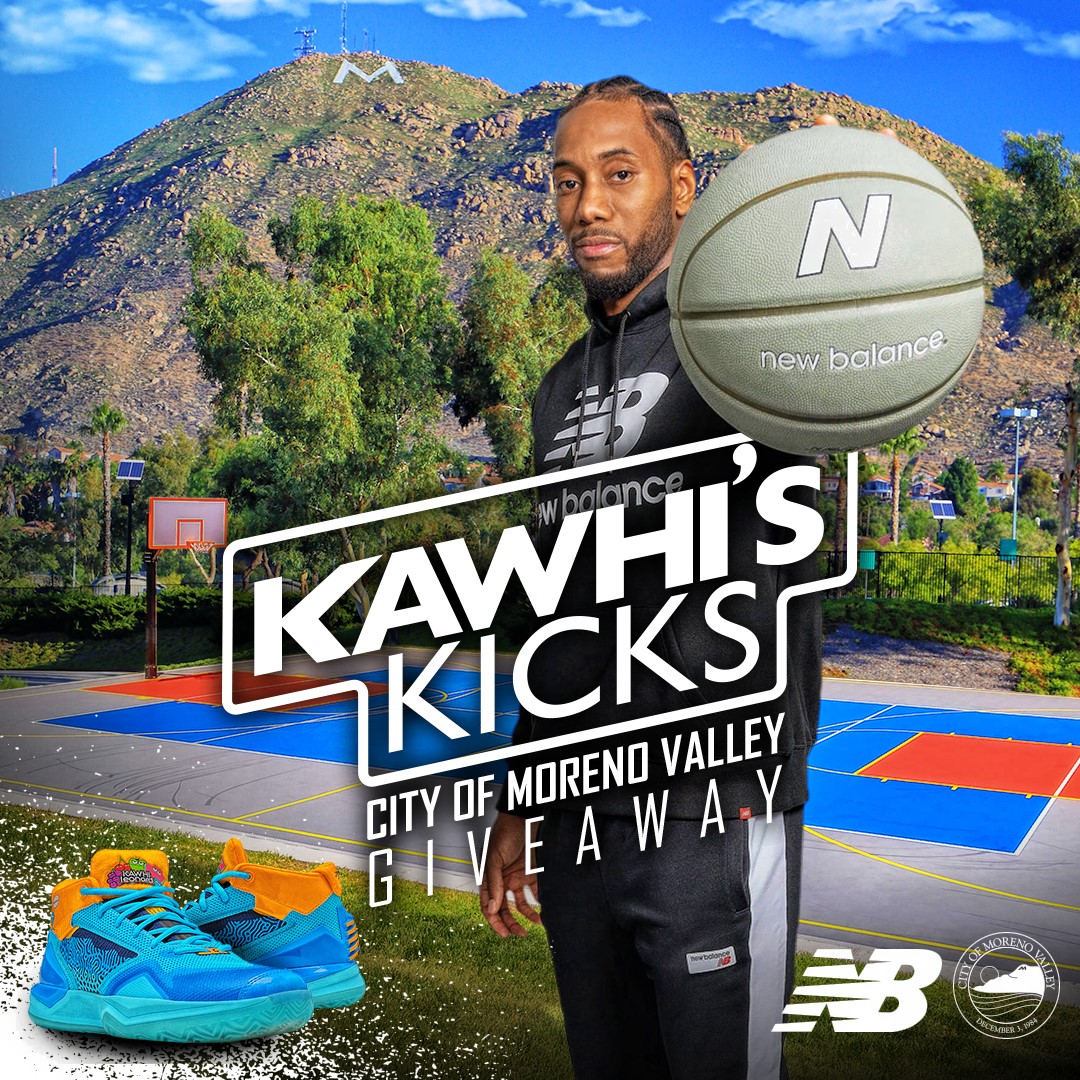 Kawhi Leonard has always been proud of his Moreno Valley roots. Whether he's dominating on the court or out for a jog, he's often seen dawning a pair of custom New Balance shoes that prominently feature Moreno Valley's City Seal.
"I'm proud of where I come from. Moreno Valley is my hometown, and I will always do whatever I can to give back to this community, said Kawhi Leonard. The Leonard family is well known for their charitable contributions to the Moreno Valley community.
"As a resident of Moreno Valley, it was my great pleasure to work with Mayor Gutierrez to help bring this event to my city," said community advocate Miesha Slayton. "My brother Kawhi and I are planning to do more great things in MoVal."
For more information on how to sponsor great events like this or to become a benefactor for the Moreno Valley Community Foundation, visit www.moval.org/donate.

# # #
---
Kawhi Leonard, Ciudad de Moreno Valley y New Balance se unen para un evento de Sorteo de Zapatillas de Deporte
El alcalde Yxstian Gutiérrez, la superestrella de la NBA Kawhi Leonard, la promotora de Moreno Valley Miesha Slayton y New Balance se unieron para crear Kawhi's Kicks, un evento especial de sorteo de "zapatillas de deporte". Los zapatos New Balance entregados fueron donados a los niños de Moreno Valley inscritos en "A Child's Place", el programa de cuidado infantil extraescolar de la Ciudad.
Los niños de familias de bajos recursos fueron atendidos a este sorteo especial de zapatos y regalos previos a la Semana Santa para que suenen en la temporada de primavera el jueves 1 de abril de 2021.
El alcalde Yxstian Gutiérrez, los miembros del Ayuntamiento, Miesha Slayton, y el personal de la ciudad trabajaron juntos para distribuir más de 120 zapatillas deportivas en el Centro de Conferencias y Recreación de la ciudad.
"Me alegra que pudimos entregar estos regalos especiales a los niños del programa extraescolar de la Ciudad", dijo el alcalde Gutiérrez. "La pandemia ha golpeado fuertemente a nuestra comunidad, y espero que hayamos podido llevar una sonrisa a los rostros tanto de los niños como de los padres a los que ayudamos. Estoy muy agradecido a Kawhi, Miesha y New Balance por su continuo apoyo a nuestra comunidad".
Kawhi Leonard siempre ha estado orgulloso de sus raíces en Moreno Valley. Ya sea que esté dominando en la cancha o a fuera haciendo ejercicio, a menudo se le ve amanecer un par de zapatos personalizados New Balance que protagonizan de manera destacada el Sello de la Ciudad de Moreno Valley.
"Estoy orgulloso de dónde vengo. Moreno Valley es mi ciudad natal, y siempre haré lo que pueda para devolverle a esta comunidad, dijo Kawhi Leonard. La familia Leonard es muy conocida por sus contribuciones caritativas a la comunidad del Valle de Moreno.
"Como residente de Moreno Valley, fue un gran placer trabajar con el alcalde Gutiérrez para ayudar a traer este evento a mi ciudad", dijo la promotora de la comunidad Miesha Slayton. "Mi hermano Kawhi y yo estamos planeando hacer más cosas grandes en MoVal".
Para más información sobre cómo patrocinar grandes eventos como este o convertirse en benefactor de la Fundación Comunidad de Moreno Valley, visite www.moval.org/donate.
# # #
Upon request, this news release will be made available in appropriate alternative formats to persons with disabilities, in compliance with the Americans with Disabilities Act of 1990. Any person with a disability who requires a modification or accommodation in order to participate in this meeting should direct such requests to Guy Pegan, ADA Coordinator, at 951.413.3120 at least 72 hours before the meeting. The 72-hour notification will enable the City to make reasonable arrangements to ensure accessibility to this meeting.