Moreno Valley Welcomes Raising Cane's
For immediate release: March 16, 2021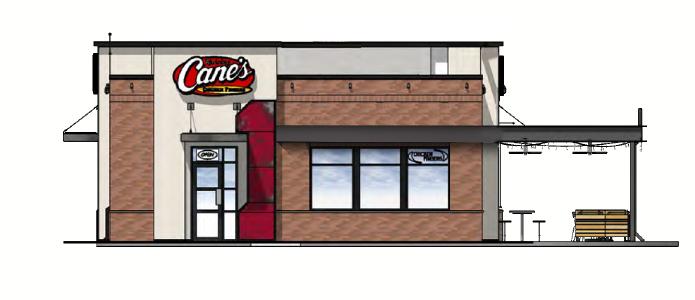 Raising Cane's is bringing its love for quality chicken finger meals to the City of Moreno Valley. MoVal celebrates the construction of a brand new facility at 12625 Frederick Street in the Towngate Center.
"As a patron myself, I'm thrilled to welcome Raising Cane's to Moreno Valley," said Mayor Yxstian Gutierrez. "They value active community partnership and involvement, as well as provide a large number of local jobs. Raising Cane's is a much-anticipated addition to the existing variety of Moreno Valley restaurants."
Based in Louisiana and employing a slogan of ONE LOVE, Raising Cane's Chicken Fingers delivers a menu of chicken finger and sandwich combinations quickly and efficiently. The company has 542 restaurants nationally and internationally and has been recognized for its unique business model and customer satisfaction.
The new Moreno Valley store is projected to open later this year.
# # #
---
Moreno Valley da la Bienvenida a Raising Cane's
Raising Cane's está llevando su amor por las comidas con dedos de pollo de calidad a la ciudad de Moreno Valley. MoVal celebra la construcción de una nueva instalación en 12625 Frederick Street en Towngate Center.

"Como patrocinador, estoy encantado de dar la bienvenida a Raising Cane's a Moreno Valley", dijo el alcalde Yxstian Gutierrez. "Valoran la participación y la asociación activa de la comunidad, además de proporcionar una gran cantidad de puestos de trabajo locales. Raising Cane's es una adición muy esperada a la variedad existente de restaurantes de Moreno Valley ".

Basada en Luisiana y con el tema ONE LOVE, Raising Cane's Chicken Fingers ofrece un menú de combinaciones de dedos de pollo y sándwiches de manera rápida y eficiente. La empresa cuenta con 542 restaurantes a nivel nacional e internacional y ha sido reconocida por su modelo de negocio único y la satisfacción del cliente.

Se proyecta que la nueva tienda de Moreno Valley abra a finales de este año.
# # #
Upon request, this news release will be made available in appropriate alternative formats to persons with disabilities, in compliance with the Americans with Disabilities Act of 1990. Any person with a disability who requires a modification or accommodation in order to participate in this meeting should direct such requests to Guy Pegan, ADA Coordinator, at 951.413.3120 at least 72 hours before the meeting. The 72-hour notification will enable the City to make reasonable arrangements to ensure accessibility to this meeting.