MoVal Rental Rescue Program to Help Low-Income Residents Stay Housed
For immediate release: November 19, 2020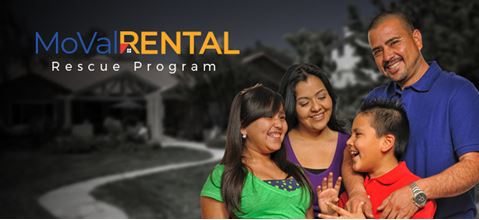 Moreno Valley renters or residents experiencing homelessness who meet the eligibility requirements may receive one-time rental assistance under the newly created Moreno Valley Rental Rescue Program. Eligible households may have access to up to $5,000 to help with past-due rent or utilities, or costs of acquiring permanent housing, such as application fees, security or utility deposits, moving costs, etc.
The MoVal Rental Rescue Program is a partnership between the City of Moreno Valley and Inland SoCal United Way, using $1.68 million in federal CARES Act funding, recently approved by the Mayor and City Council.
"We know that there are many individuals and families in our community who are worried sick about how they're going to pay the rent," said Dr. Yxstian Gutierrez, Mayor of Moreno Valley, "and others are already without housing."
Rental Rescue assistance is reserved for Moreno Valley residents who can document a loss of income due to coronavirus, and whose household income does not exceed 50 percent of the Riverside County Average Median Income by family size; i.e., does not exceed $37,650 for a family of four. Payments will be made directly to landlords or utility/service providers.
For more information and to find out if you might qualify for one-time rental assistance, please contact United Way by calling 2-1-1, or visit www.uwiv.org or www.moval.org/rentalrescue.
The Rental Rescue Program is set to run through March 30, 2021, but may continue should more funding become available.
# # #
---
Programa de Asistencia de Renta de MoVal para Ayudar a los Residentes de Bajos Ingresos a Permanecer Alojados
Los inquilinos o residentes de Moreno Valley sin hogar que cumplan con los requisitos de elegibilidad pueden recibir asistencia de renta por única vez bajo el nuevo Programa de Asistencia de Renta de Moreno Valley. Los hogares elegibles pueden tener acceso de hasta $5,000 dólares para ayudar con la renta o los servicios de utilidades públicos vencidos, o los costos de obtener una vivienda de renta permanente, como costos de solicitud, depósitos de seguridad o de servicios de utilidades públicos, costos de mudanza, etc.
El Programa de Asistencia de Renta de MoVal es una asociación entre la Ciudad de Moreno Valley y Inland SoCal United Way, utilizando $1.68 millones en fondos federales de Ayuda, Alivio y Seguridad Económica por Coronavirus (Ley CARES) y recientemente aprobado por el Alcalde y el Concejo Municipal.
"Sabemos que hay muchas personas y familias en nuestra comunidad que están muy preocupadas por cómo van a pagar la renta", dijo el Dr. Yxstian Gutiérrez, alcalde de Moreno Valley, "y otros ya están sin vivienda".
La asistencia de renta de este programa está reservada para los residentes de Moreno Valley que pueden documentar una pérdida de ingresos debido al Coronavirus y cuyo ingreso familiar no excede el 50 por ciento del Ingreso Promedio del Condado de Riverside por tamaño de familia; por ejemplo, su ingreso no excede $37,650 para una familia de cuatro. Los pagos se harán directamente a los propietarios o proveedores de servicios públicos.
Para obtener más información y saber si puede calificar para asistencia de renta por única vez, comuníquese con United Way llamando al 2-1-1 o visite www.uwiv.org o www.moval.org/rentalrescue.
El Programa de Asistencia de Renta estará disponible hasta el 30 de marzo de 2021, pero puede continuar si hay más fondos disponibles.
# # #
Upon request, this news release will be made available in appropriate alternative formats to persons with disabilities, in compliance with the Americans with Disabilities Act of 1990. Any person with a disability who requires a modification or accommodation in order to participate in this meeting should direct such requests to Guy Pegan, ADA Coordinator, at 951.413.3120 at least 72 hours before the meeting. The 72-hour notification will enable the City to make reasonable arrangements to ensure accessibility to this meeting.