City Council Approves Land Sale for Moreno Valley Town Center Project
For immediate release: October 26, 2020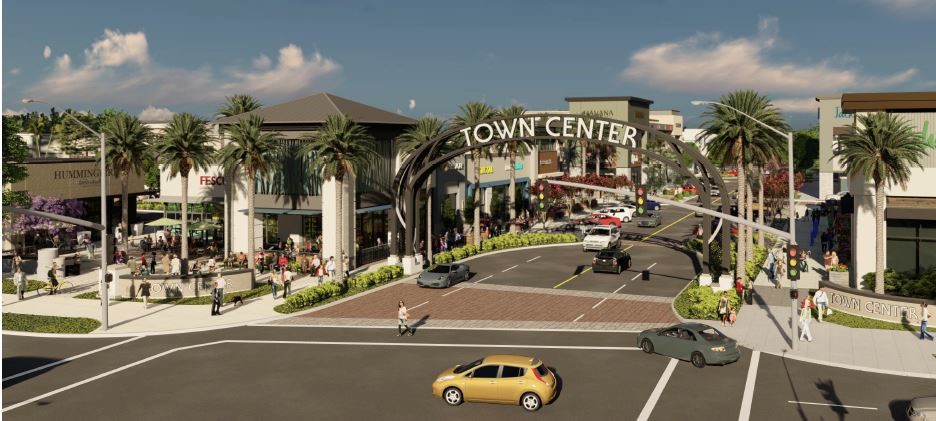 The Moreno Valley City Council has taken the next step in creating a new City core by approving the sale of 56.42 acres at Alessandro Blvd. and Nason St. for development as a mixed-use master-planned Town Center, consisting of commercial, office and public uses. The buyer, Lewis Acquisition Company, is the largest and oldest master-planned community developer in the Inland Empire, with Rancho Cucamonga's Victoria Gardens among its many successful projects.
The Moreno Valley Town Center is intended to provide the City with an attractive new downtown, a destination for residents and visitors, alike. The project envisions commercial uses, including entertainment, hospitality, restaurants, shops and offices; 300-700 luxury residential units; a section for a civic use, such as an Innovation Library/Technology Center; a police substation; public gathering places to host art displays and outdoor music and entertainment; and an area for a major public amenity that will attract more visitors and commerce to Moreno Valley. The project will be designed utilizing inter-connected plazas, urban niches, landscaped open space, walkable streets, and the highest caliber of architectural features.
"We want a destination Town Center to serve as both a beautiful new downtown core for residents and an alluring attraction for visitors," said Dr. Yxstian Gutierrez, Mayor of Moreno Valley. "It will be a beautiful and convenient place to live and work and a fun place to shop and recreate that we can all be proud of."
Lewis Acquisition Company has agreed to pay the fair-market value of $5.6 million, and will contribute another $2 million to create the major public amenity to attract visitors. The company has also agreed to give local residents priority for new jobs.
---
El Concejo Municipal Aprueba la Venta de Terrenos Para el Proyecto del Centro de Moreno Valley
El Concejo Municipal de Moreno Valley ha dado el siguiente paso en la creación de un nuevo centro de la ciudad al aprobar la venta de 56.42 acres en Alessandro Blvd. y Nason St. para el desarrollo como centro de planificación general de uso mixto, que consiste en usos comerciales, de oficinas y públicos. El comprador, Lewis Acquisition Company, es el desarrollador comunitario de planificación más grande y antiguo del Inland Empire, con Victoria Gardens en Rancho Cucamonga entre sus muchos proyectos exitosos.
El Centro de Moreno Valley tiene como objetivo proporcionar a la Ciudad un nuevo y atractivo centro de la ciudad, un destino tanto para residentes como para visitantes. El proyecto incluye usos comerciales, como entretenimiento, atenciones sociales, restaurantes, tiendas y oficinas; 300-700 unidades residenciales de lujo; una sección para uso cívico, como un centro de tecnología/biblioteca de innovación; una subestación de policía; lugares de reunión públicos para mostrar exhibiciones de arte y música y entretenimiento al aire libre; y área para un servicio público importante que atraerá más visitantes y comercio a Moreno Valley. El proyecto se diseñará utilizando plazas interconectadas, nichos urbanos, espacios abiertos ajardinados, calles caminables y el más alto nivel de características arquitectónicas.
"Queremos que el centro de destino sirva como un nuevo y hermoso lugar para los residentes y una atracción atractiva para los visitantes", dijo el Dr. Yxstian Gutiérrez, Alcalde de Moreno Valley. "Será un lugar hermoso y conveniente para vivir y trabajar y un lugar divertido para comprar y recrear del que todos podemos estar orgullosos".
Lewis Acquisition Company ha acordado pagar el valor justo de mercado de $5.6 millones de dólares y contribuirá con otros $2 millones para crear el principal servicio público para atraer visitantes. La compañía también ha acordado dar prioridad a los residentes locales para nuevos empleos.
# # #
Upon request, this news release will be made available in appropriate alternative formats to persons with disabilities, in compliance with the Americans with Disabilities Act of 1990. Any person with a disability who requires a modification or accommodation in order to participate in this meeting should direct such requests to Guy Pegan, ADA Coordinator, at 951.413.3120 at least 72 hours before the meeting. The 72-hour notification will enable the City to make reasonable arrangements to ensure accessibility to this meeting.