MoVal Marks Digital Inclusion Week by
Celebrating its New CLiC Initiative
For immediate release: October 5, 2020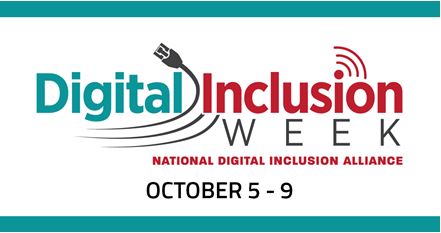 The City of Moreno Valley is marking national Digital Inclusion Week by celebrating its work to narrow the digital divide.
The City's new CLiC initiative (Computer Learning & Internet Connectivity), launched Oct. 1 and intended to bring more residents into the digital age, includes 150 WiFi hotspots that can be borrowed from the City's three library branches; creation of WiFi Garden locations (free WiFi access at various City facilities -- see the searchable map here); public-use computers at libraries and the Senior Center, when it reopens; and a free, comprehensive virtual community portal filled with information to help build users' computer knowledge and skills.
"Especially now, with so many people looking for work and students having to learn from a distance, internet access and computer proficiency should be universal in our City," said Dr. Yxstian Gutierrez, Mayor of Moreno Valley. "CLiC is a great start that gives us a firm foundation on which we will continue to build toward that goal."
The new CLiC portal, located on the City of Moreno Valley website at www.moval.org/clic, provides helpful information about free and low-cost ways of getting a computer and accessing the internet, and a wealth of free resources to help users take advantage of their internet access to enhance learning, seek employment, manage their finances, do business, and even have some fun online. The CLiC portal is available in English and Spanish.
---
MoVal Marca la Semana de Inclusión Digital
Celebrando Su Nueva Iniciativa CLiC
La Ciudad de Moreno Valley está celebrando la Semana Nacional de la Inclusión Digital con la celebración de su trabajo para reducir la división digital.
La nueva iniciativa CLiC de la ciudad (Aprendizaje Computadoras y Conectividad a Internet), lanzada el 1 de octubre y destinada a llevar a más residentes a la era digital, incluye 150 puntos de acceso WiFi que se pueden tomar prestados en las tres bibliotecas de la ciudad; creación de localidades WiFi Garden (acceso WiFi gratis en varias instalaciones de la ciudad -- consulte el mapa de búsqueda aquí); computadoras de uso público en las bibliotecas y el Centro para Personas Mayores, cuando se reabra; y un portal de comunidad virtual gratis e integral lleno de información para ayudar a desarrollar los conocimientos y habilidades de computación de los usuarios.
"Especialmente ahora, con tantas personas buscando trabajo y los estudiantes que tienen que aprender a distancia, el acceso a Internet y el conocimiento de computadoras deben ser universales en nuestra Ciudad", dijo el Dr. Yxstian Gutiérrez, Alcalde de Moreno Valley. "CLiC es un gran comienzo que nos da una base firme sobre la cual seguiremos construyendo hacia ese objetivo".
El nuevo portal CLiC, ubicado en el sitio web de la ciudad de Moreno Valley en www.moval.org/clic, ofrece información útil sobre maneras gratis y de bajo precio para obtener una computadora y acceder el Internet, y una gran cantidad de recursos gratis para ayudar a los usuarios a que aprovechen su acceso a Internet para mejorar el aprendizaje, buscar empleo, administrar sus finanzas, hacer negocios e incluso divertirse en línea. El portal CLiC está disponible en inglés y español.
# # #
Upon request, this news release will be made available in appropriate alternative formats to persons with disabilities, in compliance with the Americans with Disabilities Act of 1990. Any person with a disability who requires a modification or accommodation in order to participate in this meeting should direct such requests to Guy Pegan, ADA Coordinator, at 951.413.3120 at least 72 hours before the meeting. The 72-hour notification will enable the City to make reasonable arrangements to ensure accessibility to this meeting.