City Council Breaks Ground on Moreno Valley's 33rd Park
Diagnostic & Treatment Center is Beginning of Kaiser's 20-year Expansion Plan
For immediate release: August 24, 2020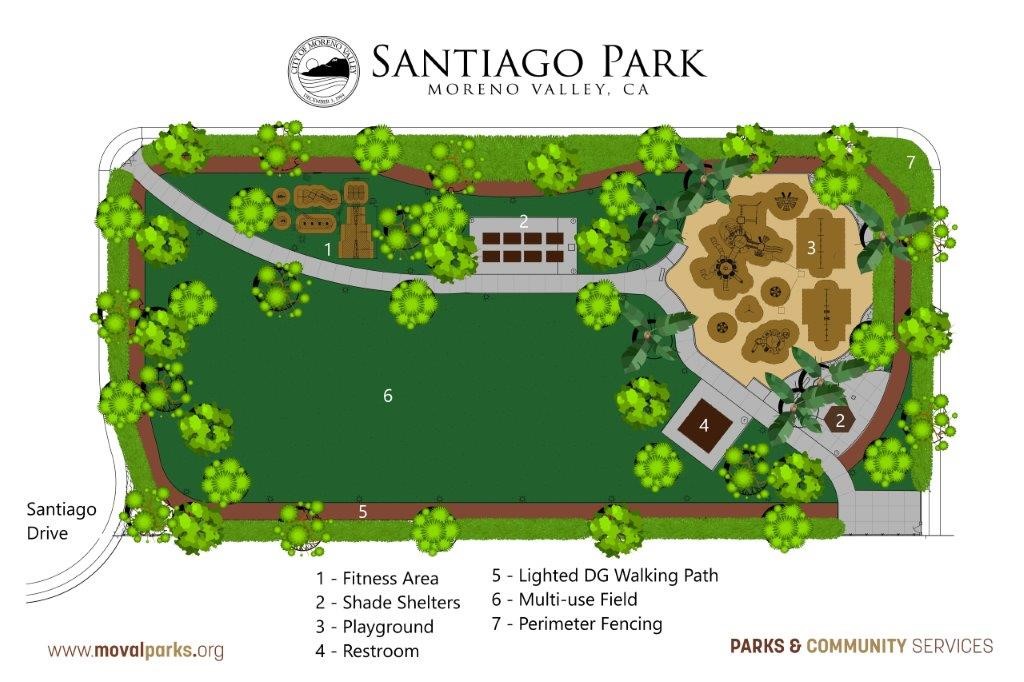 One of the points of pride for the City of Moreno Valley is its extensive system of 32 beautiful and well-maintained parks. The City Council broke ground today on what will be the 33rd, Santiago Park, next to March Middle School.
"Moreno Valley is a very family-friendly community and our park system is an important part of that," said Dr. Yxstian Gutierrez, Mayor of Moreno Valley. "And the community is very protective and proud of their parks, which helps us keep them so well maintained."
The nearly four-acre park will feature a fitness apparatus that can accommodate 84 different exercises, the first of its kind in Southern California.
"Parks are a key component of a successful and thriving community," said District 4 City Councilmember Ulises Cabrera, "and I'm so excited that our newest park will benefit the families and residents of District 4."
---
El Consejo Municipal Inicia la Construcción
de Parque 33 de Moreno Valley
Uno de los puntos de orgullo de la Ciudad de Moreno Valley es su extenso sistema de 32 parques hermosos y bien mantenidos. El Consejo Municipal inició hoy las obras de lo que será el parque 33 de la Ciudad, Parque Santiago, cerca de la Escuela Secundaria March.
"Moreno Valley es una comunidad muy familiar y nuestro sistema de parques es una parte importante de eso", dijo el Dr. Yxstian Gutierrez, Alcalde de Moreno Valley. "Y la comunidad protege y está orgullosa de sus parques, lo que nos ayuda con el mantenimiento".
El parque de casi cuatro acres contará con un aparato de ejercicios con capacidad para 84 ejercicios diferentes, el primero de su tipo en el sur de California.
"Los parques son un componente clave de una comunidad próspera y exitosa", dijo Ulises Cabrera, concejal de la ciudad del Distrito 4, "y estoy muy emocionado de que nuestro parque más nuevo beneficiará a las familias y los residentes del Distrito 4".
# # #
Upon request, this news release will be made available in appropriate alternative formats to persons with disabilities, in compliance with the Americans with Disabilities Act of 1990. Any person with a disability who requires a modification or accommodation in order to participate in this meeting should direct such requests to Guy Pegan, ADA Coordinator, at 951.413.3120 at least 72 hours before the meeting. The 72-hour notification will enable the City to make reasonable arrangements to ensure accessibility to this meeting.