Moreno Valley's Healthcare Sector Grows with Kaiser Permanente Groundbreaking Photo Opportunity
Diagnostic & Treatment Center is Beginning of Kaiser's 20-year Expansion Plan
For immediate release: July 16, 2020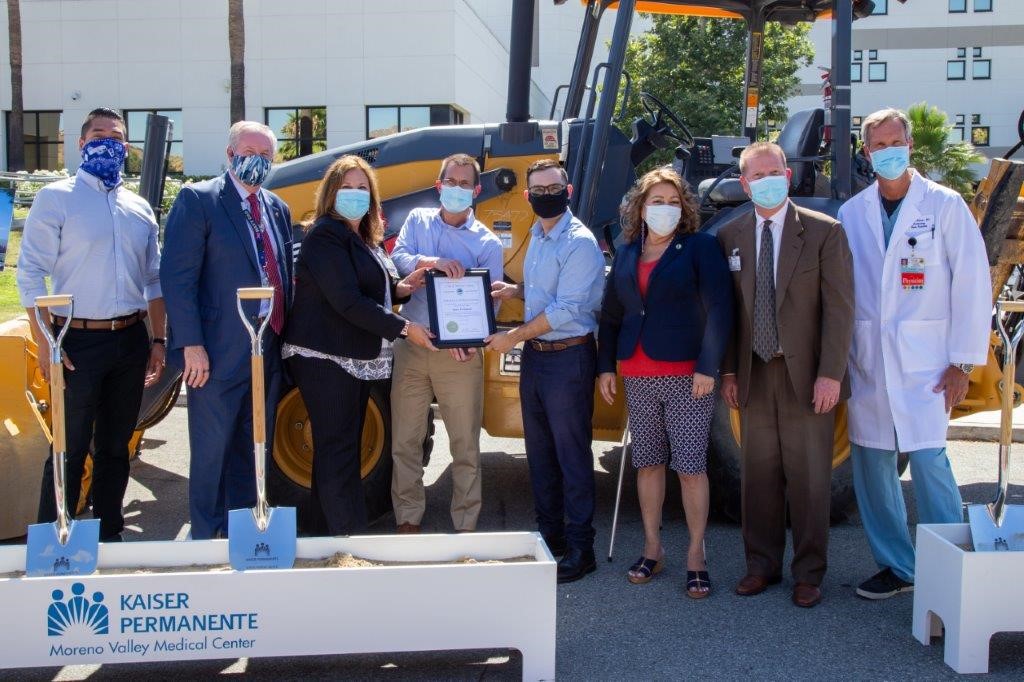 The healthcare footprint in Moreno Valley grew again this week with the groundbreaking photo opportunity for Kaiser Permanente Medical Center's new 95,000 square foot Diagnostic & Treatment Center. The project is the first in a three-phase, 20-year expansion plan approved by the City in May.
Kaiser Permanente, located on a 30-acre site at 27200 Iris Ave., will ultimately add 1,125,000 square feet of medical services space, including an expansion of its current 100-bed hospital to an eventual 460-bed facility.
"Healthcare is a growth industry," noted Dr. Yxstian Gutierrez, Mayor of Moreno Valley, "and it creates good jobs. We congratulate Kaiser Permanente and welcome its long-term vision and commitment to Moreno Valley."
Kaiser expects its 20-year build-out will add 4,000 new healthcare jobs.
Earlier this year, Riverside University Health System Medical Center, located at 26520 Cactus Ave., also expanded its operation with the opening of its new medical office building.

---
El Sector de Salud en Moreno Valley crece con Kaiser Permanente Oportunidad para Tomar Fotos en la Inauguración
El Centro de Diagnóstico y Tratamiento es el Comienzo del Plan de expansión de 20 años de Kaiser
El cuidado de la salud en Moreno Valley volvió a crecer esta semana con la oportunidad para tomar fotos del nuevo Centro de Diagnóstico y Tratamiento de 95,000 pies cuadrados del Centro Médico de Kaiser Permanente. El proyecto es la primera fase de tres fases de un plan de expansión de 20 años aprobado por la Ciudad en mayo.
Kaiser Permanente, ubicado en un sitio de 30 acres en 27200 Iris Ave., finalmente agregará 1,125,000 pies cuadrados de espacio para servicios médicos, incluida una expansión de su hospital actual de 100 camas a una instalación eventual de 460 camas.
"La atención médica es una industria en crecimiento", señaló el Dr. Yxstian Gutiérrez, Alcalde de Moreno Valley, "y crea buenos empleos. Felicitamos a Kaiser Permanente y les damos la bienvenida a su visión y compromiso a largo plazo con Moreno Valley".
Kaiser espera que su construcción de 20 años agregue 4,000 nuevos empleos de atención médica.
A principios de este año, el Centro Médico del Sistema de Salud de la Universidad de Riverside, ubicado en 26520 Cactus Ave., también expandió su operación con la apertura de su nuevo edificio de oficinas médicas.
# # #
Upon request, this news release will be made available in appropriate alternative formats to persons with disabilities, in compliance with the Americans with Disabilities Act of 1990. Any person with a disability who requires a modification or accommodation in order to participate in this meeting should direct such requests to Guy Pegan, ADA Coordinator, at 951.413.3120 at least 72 hours before the meeting. The 72-hour notification will enable the City to make reasonable arrangements to ensure accessibility to this meeting.